San Pedro Triathlon Committee's Garifuna Settlement Day cycling classic
Monday, November 26th, 2012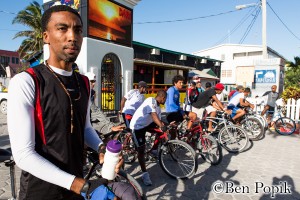 For the first time this year, the San Pedro Triathlon Association organized and executed the first ever Garifuna Settlement Day cycling race. The purpose of the race was to raise funds and awareness about the San Pedro Triathlon Team: Kent "Bob" Gabourel and Eric Donis. (The hope is to have more athletes sign up to be part of this ambitious and talented team.) Signing up for the competition were 16 aspiring cyclists at a registration cost of $20.00.
The race began shortly after 7:30am. The race took cyclists from Central Park to Belize Bank, west on Caribeña St to Pescador Drive; south on Pescador Drive through Coconut Drive and Seagrape Drive to the three mile marker – (junction of the San Pedro Dumpsite). From there the competitors went north bound taking a similar route – going up Barrier Reef Drive – hitting Lagoon St. across the bridge to Grand Caribe. They took the same route a second time then ended at the Central Park.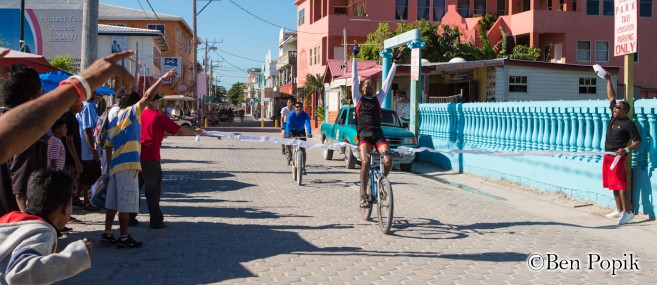 At the end of the race, first place winner Kent "Bob" Gabourel clocked in at 1hr 15minutes. For his efforts, he took home a round trip ticket on Tropic Air. Second place went to Andrew Vasquez. He got $100.00 cash and a 24 hour Golf Cart Rental. Third place went to Daniel Caliz who won $50.00 and dinner for two at Elvis Kitchen.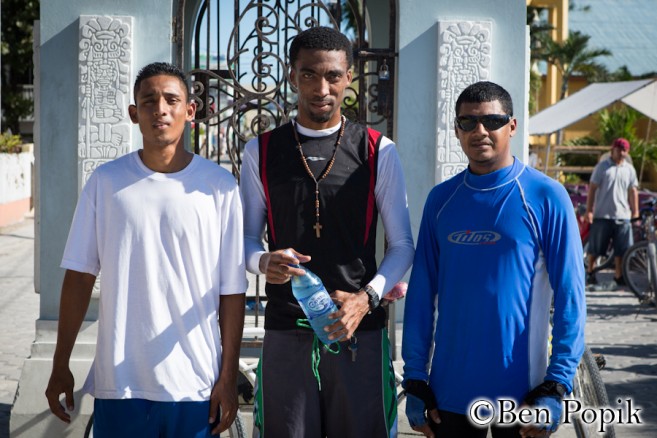 The organizers would like to extend much thanks to the following individuals and establishments that chipped in to make the race a success: San Pedro Traffic Department, Ben Popik, Logan, Suga and Lobo; Captain Morgan's, Tropic Air – Gary Grief; Chuck & Roby's Dive shop, Elvis Kitchen, Polo's Golf Cart Rental, Latitudes Café, Bernie's #2, Ballers Barber Shop, Marina's Grocery Store, LC Distributors, Liquor Box, Abner Rivera, DJ's Burgers & more, SanCas Group Ltd, 3 brothers pawn shop, Anthony hunter, Curl Bell and David Baker.
The committee is presently working on preparing the team to compete in this year's end of year marathon – a 26 miles run in southern Belize on December 9th. Individuals wishing to sponsor the team can do so by contacting Kent Bob Gabourel at 604-9013 and DJ's Burgers at 635-6158 and Eric Donis at 631-5949.
Photo Gallery
Follow The San Pedro Sun News on Twitter, become a fan on Facebook. Stay updated via RSS