Male Senior Teams face off in second week of 5-a-side Football Tournament
Thursday, December 24th, 2015
The second round of games for the Island Citizens Sporting Club (ICSC) and the San Pedro High School (SPHS) 5-a-side Football Tournament took place on Saturday, December 19th. Island football fans definitely enjoyed a fun night of football action. 12 of the senior teams faced off in six intense matches at the Angel Nuñez Auditorium starting at 5PM. Playing for the night were Green Hornets FC, Real Jr. FC, Island Boys FC, SPHS Boys, United FC, Harmouch FC, Mata Chica FC, Los Dorados FC, Victoria's House FC, We Them Boys, Pro Divers FC and reigning 5-a-side champs, Los Catrachos FC.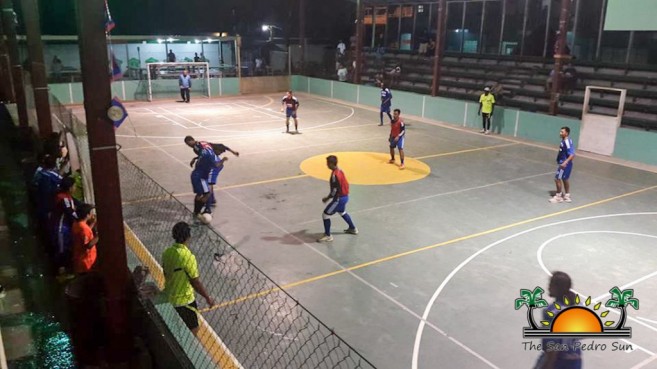 In the first match, Green Hornets FC faced Real Jr. FC, who took the win in a 6 to 1 point game, with Christian Medina scoring one goal, Dixon Paguada scoring four goals and Arnold Flowers scoring one goal. Orlando was the single scorer for Green Hornets FC. In the second game, Island Boys FC defeated SPHS Boys in a grueling 6 to 3 point game. Scoring in this match were Ian Pou with three goals, David James with two goals and Josue Marin with one goal for Island Boys FC, while Walter Aguilar scored one goal and Sergio Salguero scored two goals for SPHS Boys. The third match saw United FC taking on Harmouch FC. In a 4 to 2 point game, United FC defeated Harmouch FC. Marvin Centeno and Gabriel Hernandez score two goals each for United FC, while Osmar Perez and Francisco Nah scored one goal each for Haramouch FC. The fourth match ended in a stunning 4 to 0 win for Los Dorados FC over Mata Chica FC. Scoring for Los Dorados FC were Nestor Heredia and Marly Lino with two goals each. Victoria's House FC took on We Them Boys in the fifth match which ended in a win for We Them Boys in a 12 to 1 point game. Adrian Amaya was the single scorer for Victoria's House FC, while scoring for We Them Boys were Gene Mclaughlyn with three goals, Nestor Cerpa with five goals, Lloyd Bodden with two goals and Daniel Caliz with two goals. The last match of the night was between Pro Divers FC and Los Catrachos FC. It was a tight match, but Los Catrachos managed to out edge their competition and take the win in a 4 to 3 point game. Scorers for this match were Jesse Smith and Hazael Requena both with two goals for Los Catrachos, and Ethnie Figueroa with two goals and Mario Chimal with one goal for Pro Divers FC.
The next round of games will be played on Sunday, December 27th starting at 11AM. For more information on the tournament, contact head organizer Alex Noralez directly at 631-0711.
Follow The San Pedro Sun News on Twitter, become a fan on Facebook. Stay updated via RSS