Island athletes continue to shine at Mayor's and Minister's Cup
Wednesday, January 20th, 2016
The Mayor's and Minister's Cup continued this past weekend on its fourth round at the Honorable Louis Sylvester Sporting Complex. Twelve teams and a total of six games once again brought the excitement of football to island fanatics. Paired with good food and refreshments, fans enjoyed a fun weekend full of spectacular sporting fun.

On Friday, January 15th at 7PM, the first of two games started with Catrachos defeating Belize Pro Divers 3-1. Ambergris Divers then beat San Mateo boys with a whopping 7-3 score.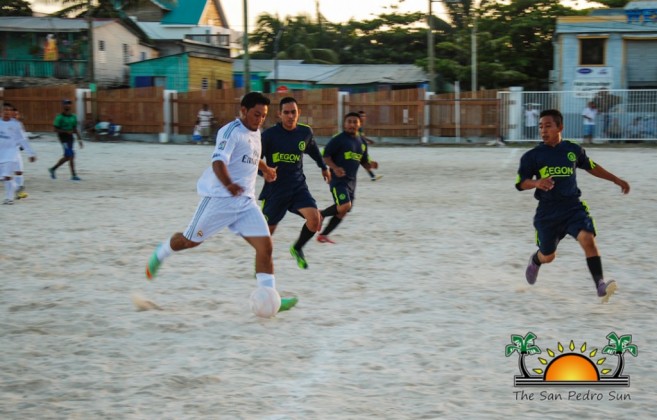 The action continued on Saturday, with Jokers FC facing PSG. Despite pressure from PSG, the Jokers weren't kidding as they won with a clean score of 7-4. Following the first game of the evening, San Pedro Junior College took a big defeat from the Veterans, falling with a 6-2 game.

On Sunday, during a bright and clear afternoon, the last two games of the round started at 3PM sharp. Serious Warriors easily overcame Sky Energy team, walking away with the final score of 4-1. The last game for the weekend was between Peace Makers and Progresso Boys. Progresso Boys were fan favorites, playing has as they heard fans cheering. However, at the end only one could be victorious, and after a full 90 minutes of intense battle in the pitch, Progresso Boys conceded defeat to Peace Makers in a 6-3 game final.

At the end of the fourth round of the tournament, the top teams in their respective groups are as follows: Group 1 Progresso Boys continue to lead with 4 points, followed by Group 2's Veterans leading with 9 points. Meanwhile in Group 3, Ambergris Divers are on top with 9 points as well.

After three weeks of competition these are the top ten goal scorers who are in the race to obtain the trophy for the most goals in the tournament, 'The Golden Boot.' The list is as follows:
1. #9 Kenny "Maestro" Witzil, Veterans 12 goals
2. #8 Randel Martinez, Peace Makers 9 goals
3. #10 Nestor Heredia, Progresso Boys 7 goals
4. #20 Jesse "Pinchi" Smith, Ambergris Divers 7 goals
5. #99 Eddy Caliz, Ambergris Divers 5 goals
6. #9 Nestor "Neto" Cerpa, Belize Pro Team 4 goals
7. #11 Dennis Westby, Progreso Boys 4 goals
8. #11 Melvin "Picachu" Trujillo, Sky Energy 4 goals
9. #15 Pedro "Pedrito" Tzul, Sky Energy 3 goals
10. #7 Luis "Chicken" Hernandez, San Mateo 3 goals

Games continue this weekend, starting on Friday, January 22nd at 7PM sharp. The schedule is as follows: Friday, Belize Pro Team vs PSG and San Mateo vs Veterans. Saturday: Catrachos vs Sky Energy and Ambergris Divers vs Progresso Boys. Sunday: Jokers FC vs Peace Makers, and San Pedro Junior College facing vs Serious Warriors.

All fans are encouraged to continue supporting their favorite teams each weekend as the competition progresses towards the championship in the next two months.
Follow The San Pedro Sun News on Twitter, become a fan on Facebook. Stay updated via RSS