Dia de San Pedo celebrations closes with Kayak Race
Thursday, July 7th, 2016
Dia de San Pedro 2016 festivities culminated on Sunday, July 3rd with a kayak race that saw nine teams paddling around the island in hopes of winning the grand prize. Participants competed in the Male, Female and Junior categories, racing from Boca del Rio Park to around the southern part of the island.
Shortly after 10AM, kayakers went past the Sir Barry Bowen Bridge, headed to the leeward side of the island. They made their way through thick mangrove wetlands and circled round the southern portion of the island after navigating through a small channel that connects the lagoon and the Caribbean Sea.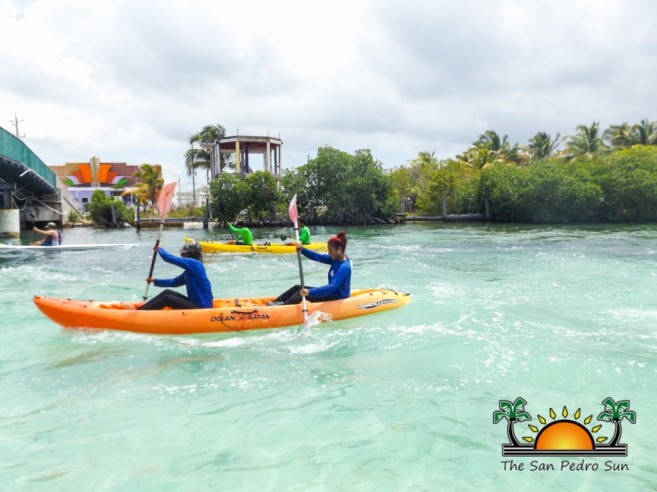 During the last phase of the race, kayakers struggled as they paddled against the strong currents and Easterly winds. The leading teams kept in a steady pace as they braced for the final sprint to the finishing line. After nearly three hours of paddling, and having covered 13.5 nautical miles, the race came to an end in front of the Central Park.
In a fast sprint, Team Paddle Stop comprised of Chris Guydis and Amado Cruz, crossed the finish line first, taking the top prize in the male category with a total time of 2:47:09. They received a cash prize of $500 along with their medals. In second place was Team Double Impact comprised of Wilberto Daniels and Kenrick Daniels who finished with a time of 2:51:45. They took home a cash prize of $400 and medals. In third place was Team Moringa A with solo member Earnie Martin who finished the race with a time of 2:53:25 and winning a cash prize of $300.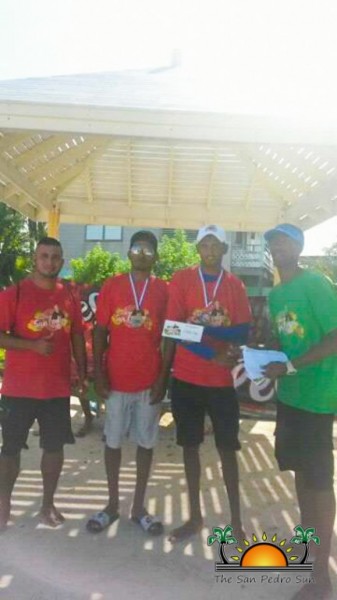 In the Juniors Category, Belmopan Active Youths with team members Derocy Haylock and Jahrodd Guy took first place with a final time of 3:34:19 and a cash prize of $300. In second place was Team Wayo's Boyz comprised of Gilbert Alamilla and Henry Gonzalez. They received a prize of $100 and also an award for being the team with the youngest paddler (Henry Gonzalez 13 years old).
In the Female Category, first prize went to Team Island Girls, comprised of Emelie Cerpa and Venancia Choc; they received a cash prize of $200. Team Guydis Girls, with Avis Guydis and Christa Guydis, was also awarded for their participation with a cash prize of $175. There was a moment when this team was about to quit the race when one of the paddlers was unable to continue, however, their dad, Chris Guydis assisted the team in finishing the race.
Organizer of the event, Sports Coordinator at The San Pedro Town Council Kent 'Bob' Gabourel, would like to thank everyone who participated in the race. Thanks go out to the sponsors as well: The San Pedro Town Council, San Pedro Sports Committee, Paddle Stop, Captain Shark's Blue Heaven Dive Shop, Chuck and Robbie, Castillo's Hardware Limited, Hol Chan Marine Reserve, Traveller's Rum, Wayo's Beach Bar, Tony Maldonado and Corona del Mar Resort.
Follow The San Pedro Sun News on Twitter, become a fan on Facebook. Stay updated via RSS