SPHS Female Football team are regional champions
Wednesday, February 8th, 2017
The San Pedro High School (SPHS) female football team returned to La Isla Bonita as the Northern Regional Football Champions for 2016-2017. Through the National Secondary Schools Sports Association (NSSSA), both male and female football teams of SPHS competed against neighboring schools on Saturday, February 4th in the Corozal District.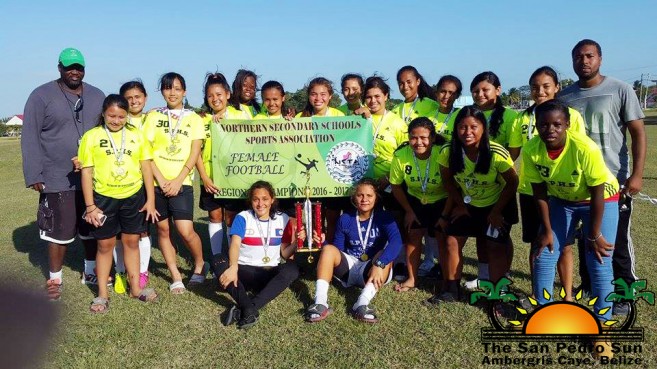 Saturday morning saw both teams playing simultaneously at different field grounds. The SPHS male football team played against Corozal Institute for Technical and Vocational Education and Training, (CITVET) in a grueling match that ended in a 3-2 score in favor of CITVET. In the first half, SPHS boys had a great start, leading with one goal. CITVET then drew with SPHS during the second half, before SPHS scored another goal for the lead. Near the final minutes of the match, CITVET tied the game, and overtime was allotted. Both teams got an extra 15 minutes to break the tie, and CITVET took the victory with a 3-2 score. CITVET then advanced to the championship round, where they soundly beat Corozal Community College (CCC) 4-0.
Meanwhile, the SPHS female footballers were matched against Belize High School of Agriculture (BHSA). The SPHS girls dominated the game from the start, scoring two goals before BHSA responded with one. With a final score of 2-1, the SPHS girls advanced to the championship game. The final game saw the SPHS girls take on CCC. With momentum building, the girls displayed their talent and skill, and left no room for CCC to score. The SPHS girls won the regionals in a 1-0 final score.
Coach Alex Noralez was more than excited over the girls' win, and explained the setback with the SPHS boys. "The girls were locked in from the beginning, and they knew what they wanted. I am very proud of them, and their hard effort they put into the games. I believe the males were prepared, but because of not being fully concentrated, it cost us the game. They had many mental collapses after the second half. We were back to back champions, and we came out thinking it was going to be granted to us again. All we can do is learn from our mistakes and try harder next time," said Noralez.
Noralez also dedicated the win to his fallen friend, and god-brother, Felix Ayuso. "It was difficult for me being in Corozal knowing that they were burying Felix. There's nothing much I was thinking other than being with his family. I think the least I could do is dedicate this win to him. He really supported me. He would call me up now and then to see what I was doing. Even when I was bickering with someone on Facebook, he would advise me to take it down. So this win is just in memory of him," said Noralez.
Both teams will continue their workouts as scheduled with the coaching staff, and Noralez stated that, SPHS will be seeking two teams to play a friendly match against the SPHS girls in the weeks ahead.
Noralez extends thanks to the girls who brought back a National Regionals Championship back to the island, SPHS Sports Director Paul Kelly, SPHS Assistant Coach Elshadai Bent, SPHS Principal Emil Vasquez, all the teachers, staff, his wife and children for their support. He also thanks all those that contributed one way or another to both teams: Hector Alamilla, Francisco Javier Quiroz, Jorge Lopez, Marion Mejia, Jamie Rosado, Gabriel Nunez Sr., Pete Salazar, Elito Arceo and everyone else who made a donation.
Congratulations to SPHS Female Football Team on winning the regionals!
Follow The San Pedro Sun News on Twitter, become a fan on Facebook. Stay updated via RSS