SPHS' Male and Female Basketball teams win northern regionals!
Friday, December 9th, 2016
There's no doubt that San Pedro has talent, especially when it comes to sports. With the help of Coach Paul Kelly, the San Pedro High School's (SPHS) male and female basketball teams came back to La Isla Bonita as Regional Champions. Both matches were played on Saturday, December 3rd at the Multipurpose Complex in Orange Walk Town.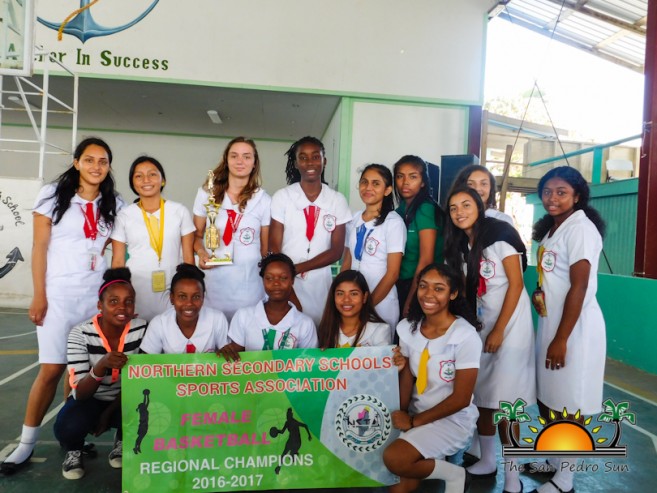 The female basketball team consisted of team players: Princess Bailey, Baybee Lopez, Rebecca Barkhouse, Ariene Benguche, Jucely Rosalez, Ada Cordova, Aliyah Elliott, Sophie Guan, Lisandra Novelo, Aaliyah Pilgrim, Sueny Vasquez, Karina Ayala, Laisha Gamez, Joshana Soberanis, and Natividad Cawich.
In the first female match, the SPHS girls' basketball team played against Belize Rural High School, where they dominated and won 27-4. The second game was also the championship match, and SPHS girls played against Muffles College, emerging victorious with a 29-7 win.
Playing for the male basketball team were: Leonard Lopez, Tyrese Arzu, Zimmer Perez, Guillermo Nunez, Christian Orellana, Robert Palacio, Tyrese Martinez, Tyreek Azu, Jahson Salgado, Glendford Cadle, and Zian Bulnes. The SPHS boys' first match saw them teamed up against Orange walk Technical High School. It was a close match, but SPHS boys still managed to win with a 79-69 score. The second game was the championship match between SPHS boys' anf Corozal Community College (CCC). It was another tight match, but SPHS managed to get a 7 point lead and win over CCC, with the final score of 45-38.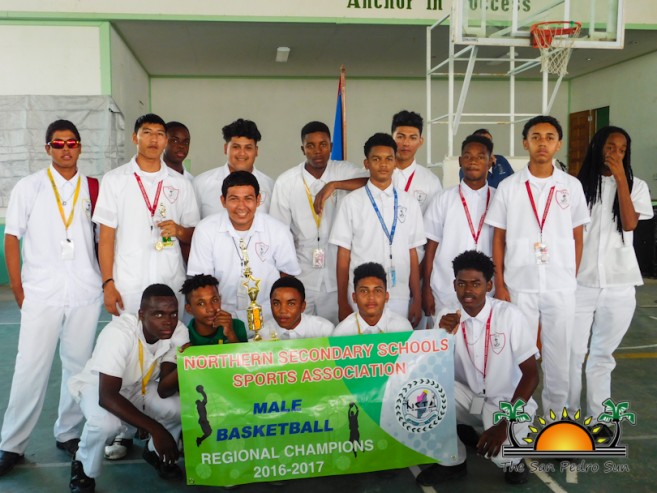 With both SPHS basketball team placing as regional champions, Coach Kelly was very proud of his student athletes. When they arrived back to school on Monday, December 5th, both teams were formally acknowledged during the school's Founder's Day celebration. Each one of the players from the basketball team was called up to center stage to receive a group trophy. Ada Cordova was the Most Valuable Player (MVP) in the female category, while Zimmer Perez was MVP for the male category. The SPHS student body cheered loudly for both regional championship teams.
Coach Kelly credits his team's hard work and training as their secret to success. "We train every day from 4PM to 6PM. I must say I wasn't surprised to see that they excelled and became the regional champs! It has been done before in both basketball and volleyball, but I am always proud of our students in victory or defeat," said Kelly.
Both teams will be playing in the National Tournament in Dangriga on Friday, December 16th and Saturday, December 17th. The San Pedro Sun congratulates the male and female basketball team on their victory, and wish them the best at the Nationals!
Follow The San Pedro Sun News on Twitter, become a fan on Facebook. Stay updated via RSS