Football Federation of Belize reports recent activities
Tuesday, February 6th, 2018
The Football Federation of Belize (FFB) held its first meeting with members of Congress for the presentation of the 4-year plan for football for Belize. The session was opened by President Sergio Chuc who welcomed all members and introduced the new Technical Director Phillip Marin. Mr. Marin became the Technical Director with effect from February 1, 2018. Mr. Marin was also named Ambassador of the International Coaching Course (ITK) in January of this year. This course is supported and sponsored by the Federal Foreign Office, Germany.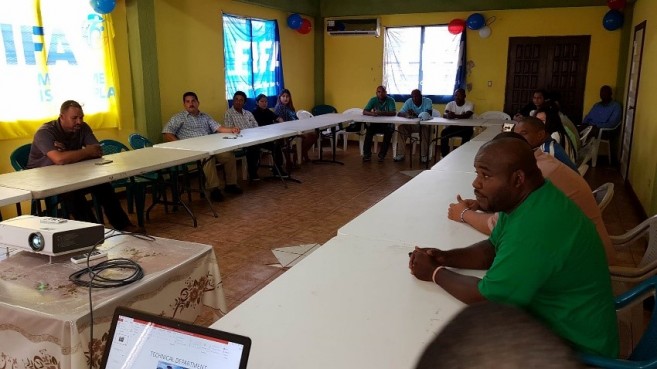 Mr. Marin introduced program plans for 1. Grassroots, 2. Youth football, 3. Women's football, 4. Futsal and beach soccer, and 5. Coaching Education.
Mr. Marin also introduced the names of the persons heading these programs who are listed below.
1. Grassroots – Stanley Reneau
2. Youth Football – Luis Pena
3. Women's Football – Iris Centeno
4. Futsal and Beach Soccer – Joshua Rivera.
5. Coaching Education – Phillip Marin.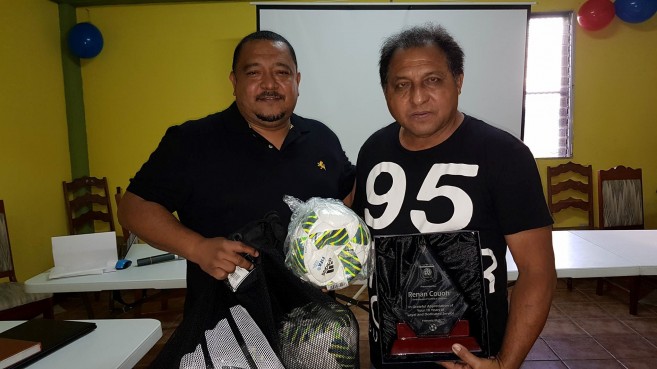 In other FFB news, on Friday February 2, 2018, farewell ceremony for Mr. Renan Couoh was held. At this ceremony President Chuc thanked Renan for 10 years as the Technical Director of the Federation during which years he assisted in the development of many programs leaving a legacy for the new Technical Director Mr. Phillip Marin to continue.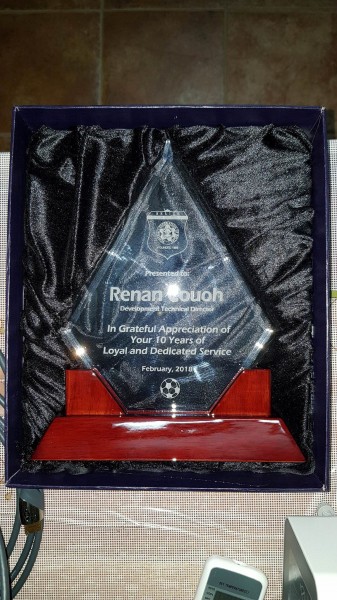 At this ceremony, President Chuc also handed Mr. Couoh a plaque for his services and a bag full of footballs in support of Mr. Couoh's new program the Warriors Football Academy. President Chuc also promised his continuing support to his program.
On the following day, Saturday February 3rd, over 30 referees gathered at the Marion Jones Stadium for a physical fitness test conducted by FIFA Instructor Erick Samayoa. While the test was initially designed for our two international referees, interest spread very quickly and thus over 30 referees showed up. In the end 5 assistant referees passed and 3 referees as well. These numbers should not be seen as an indictment of the referees but more as an incentive to keep up their training to become physically fit since for most this was the first time participating in this test.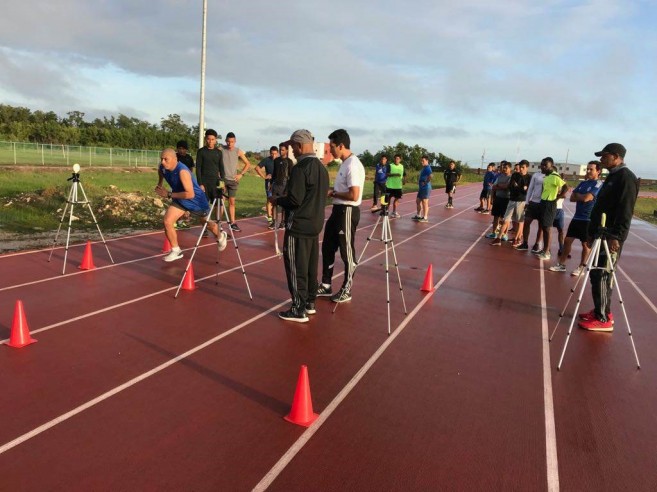 Notably, 17-year-old Justin Milligan from the Belize District caught the attention of the FIFA instructor when he passed the physical fitness test. He is a great prospect for Belize and other youths are encouraged to join as there are many opportunities available in the CONCACAF region.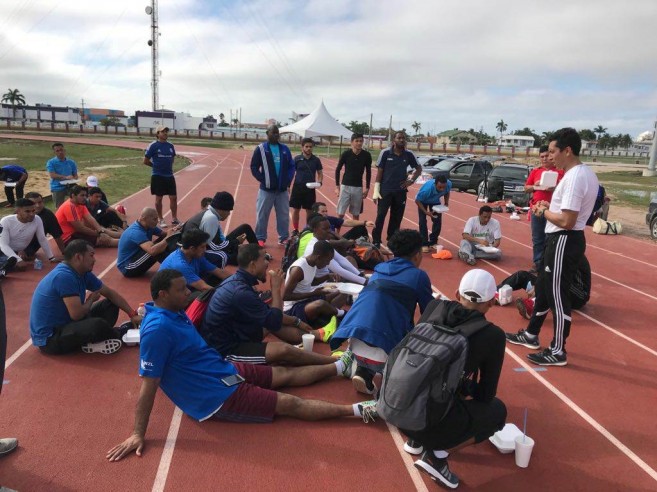 See link below for more information on the fitness test. https://www.dutchreferee.com/fifa-fitness-test-for-referees/
The FIFA fitness test for referees (men and women) is introduced to measure the physical ability of match officials. The test has been renewed in 2016 and a different test have been made for assistant referees. Official fitness test for football referees consists of two tests. Test 1, Repeated Sprint Ability (RSA), measures the referee's ability to perform repeated sprints over 40m. Test 2, Interval Test, evaluates the referee's capacity to perform a series of high-speed runs over 75m interspersed with 25m walking intervals.
Follow The San Pedro Sun News on Twitter, become a fan on Facebook. Stay updated via RSS