San Pedro Pirates' 2019 PLB Opening Season journey comes to an end.
Thursday, December 5th, 2019
San Pedro Pirates F.C fell short during the semifinal round of the Premiere League of Belize 2019 Opening Season against Belmopan Bandits and have been eliminated. For the second match of the PLB semifinals, the island team traveled to Belmopan City to go against Belmopan Bandits at the Isidoro Beaton Stadium on Saturday, November 30th. The San Pedro Pirates gave their best and won the match 1-0, taking the accumulative score to a 2-2 draw. However, the Belmopan Bandits advanced to the finals due to scoring two goals in an away match versus Pirates' one goal.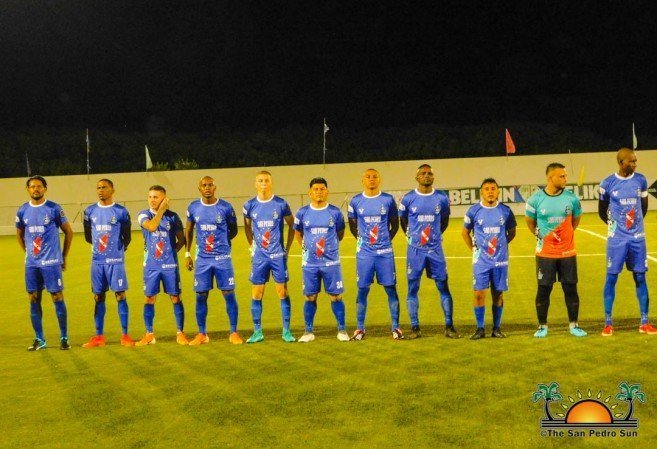 The intense second semifinals match kicked off at 7:30PM, with both teams aiming to score and advance to the PLB finals. Strong defense from both teams and equal control of the ball didn't allow any goals to enter the net. Therefore, the first half came to an end with no one making it to the scoreboard.
After the break, both teams came back with a more aggressive stance. There were many attempts at goals, but both goalkeepers managed to block them all. It wasn't until minute 83 that San Pedro Pirates Mailson Moura managed to nail a goal for his team. Shortly after, the long whistle blew, giving San Pedro Pirates a 1-0 victory. However, Belmopan Bandits were declared the champion of the semifinals, advancing to the finals since the PLB rules state that in the event of a draw in the semifinals round, the team with most 'away goals' advances to the champions round.
Belmopan Bandits will be going against San Ignacio's Verdes F.C in finals to become the PLB 2019 Opening Season Champions. The San Pedro Pirates F.C would like to thank their fans and sponsors for their support during this season. They hope to come better prepared next season. The San Pedro Sun joins the community in congratulating the island team on a job well done in this year's PLB season.
Follow The San Pedro Sun News on Twitter, become a fan on Facebook. Stay updated via RSS