Verdes FC takes the lead in the first round of PLB's finals
Thursday, May 25th, 2023
The first leg of the Premier League of Belize (PLB) closing championship ended with an upset after Verdes FC defeated San Pedro Pirates FC, 1-0 on their home turf on Wednesday, May 24th. The match's only goal happened during injury time of the second half, and it came as an unexpected hit to the island team and hundreds of fans attending the game at the Ambergris Stadium.
The ball started rolling at 6:30PM, and for the first 45+ minutes, both teams made close attempts to open the score without any luck. Every time San Pedro approached Verdes' goal area, the fans on the bleachers would cheer loudly, waiting for a score. The fans would also cheer and applaud when the San Pedro defence and goalkeeper dwarfed any attempts from Verdes. The first half of the game ended with a 0-0 score.
During the match's second half, both teams continued trying to find the opportunity to take the lead. But that anticipated goal by both sides never came in the second 45 minutes. The match then rolled into injury time. The intensity continued as the clock ticked off. During the fourth minute of injury time, a spot kick was called in favor of Verdes. Cristian Ramirez took the responsibility and let go of a powerful shot defeating San Pedro Pirates' goalkeeper. Both San Pedro players and fans were in disbelief. The chances to tie the game and continue trying to win the match disappeared when the long whistle blew.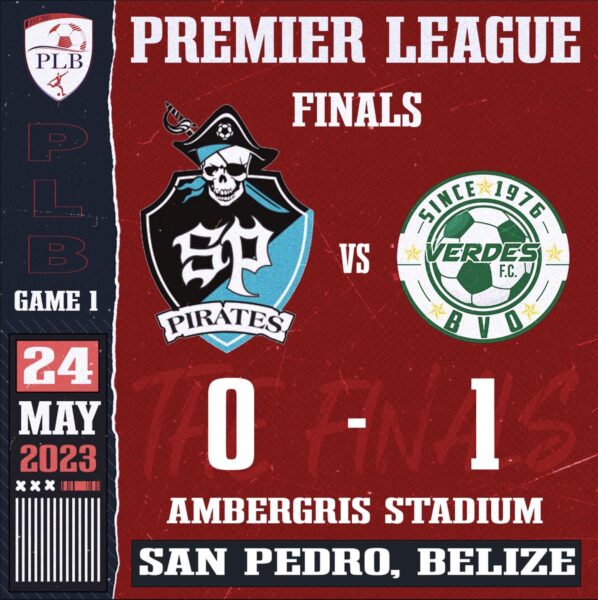 Verdes has taken the lead in the tournament's finals, and the second and decisive leg of the championship takes place on Sunday, May 28th, at the Norman Broaster Stadium in San Ignacio Town, Cayo. The win in San Pedro put Verdes at such an advantage that they could win the championship even with a draw. If San Pedro wins, it will tie the finals due to the points of each team. If this happens, there will be over time to decide on this year's PLB's closing season winner.
Anyone interested in traveling with the Pirates on Sunday can make arrangements by calling 630-5935.
Follow The San Pedro Sun News on Twitter, become a fan on Facebook. Stay updated via RSS