Editorial: If you don't like it, go somewhere else.
Saturday, April 18th, 2015
What if your favorite restaurant, the one that you have gone to for years, stopped serving a popular dish that happened to be your favorite as well? What if when you complained about this they told you things have changed, and if you don't like it go somewhere else? How would that make you feel? Angry… disappointed…maybe a little of both? After all, you've given them years of your business and this is how they treat you? Chances are you wouldn't go back, and you certainly would do your best to spread the word that not only had the place changed, but they didn't give a damn what their long-time customers wanted.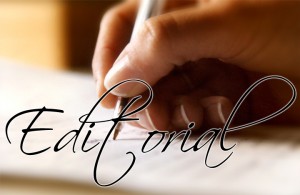 What if, over time, no one really liked the changes at this popular restaurant, nor did they like their attitude towards customers who were unhappy? What do you think would happen to this arrogant restaurant after customers found a different place to eat? What would happen when they told their friends about a new great place they found to dine at, where their business was valued and the customer was always right? It would just be a matter of time before the arrogant restaurant would be hurting for customers, and maybe even forced to close their doors. What would happen to those who worked at the arrogant restaurant? What would happen to the owners who owed money to the bank?
You may be thinking, how foolish of this business. Don't they know that this is a terrible way to treat the hand that feeds them? What were they thinking when they told unhappy customers to go somewhere else? We all know that's no way to run a business!
Now, let's imagine that instead of a restaurant the business is tourism, which happens to be the business of San Pedro Town and Ambergris Caye. Imagine the tourists who have been vacationing here for years, the ones who have seen many changes, not all for the better. Imagine when they complain about the busy traffic, the garbage and the dangerous boat traffic where they like to swim, we say 'things have changed…if you don't like it go somewhere else'. You can bet they will do just that.
Here at The San Pedro Sun we have seen an increase in letters to the editor from unhappy tourists. Many letters we do not print because the writers want to come back to the island without consequences. Many of these letters are observations, not rants, and simply state that we (as a tourist destination) are on a slippery slope of losing something special. They love us, and they want us to be careful…we are close to being a place many will not want to visit.
What would this mean for San Pedro? Imagine SLOW season 12 months out of the year…need I say more?
Interestingly enough many of the issues that visitors to the island find unappealing are the same things that are diminishing the quality of life for island residents. No one living here LIKES the god-awful traffic in town, or the garbage or the dangerous speeding boat-ridden waters where we like to swim. Life on La Isla is simply out of control.
Changes need to be made, if not for the tourist, then for the people who call the island home. We need a City Planner! Our problems are not unique, and growing communities world-wide have successfully tackled these issues. We can't figure it out by ourselves; we need to call on the expertise of others to help us. We need that expert advice and we need to act on it now, before not only tourists stop coming, but residents look for homes elsewhere.
Is this attitude of 'if you don't like it go somewhere else' going to be the end of life as we know it on La Isla?
Follow The San Pedro Sun News on Twitter, become a fan on Facebook. Stay updated via RSS