Emergency Organization Committee tour San Pedro as Hurricane Ernesto moves north
Tuesday, August 7th, 2012
In the late afternoon of August 7th, the Chairman of the Emergency Operation Committee (EOC) of the National Emergency Management Organization (NEMO) in San Pedro, Hon. Manuel Heredia Jr. and the San Pedro Town Council took an official tour around the island to get a first hand overview of the island as it braces for the effects of Hurricane Ernesto.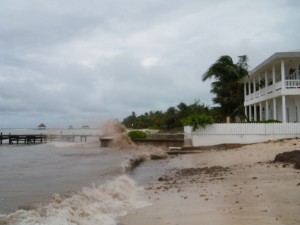 The officials toured the low-lying areas and were accompanied by the national and local media. In speaking to the press, Heredia said that, "we want to ensure that everything is in place and to ensure that islanders have taken the necessary preparations for the effects of Ernesto." Some residents that live in flood prone areas and whose homes are more vulnerable decided to make use of the hurricane shelters that were open since 2PM. Those locations include the buildings at the San Pedro High School, New Horizon Seventh Day Adventist School, Shalom Church, Living Word Church and the San Pedrito Evangelical Church.
As off yesterday the San Pedro EOC has been advising residents living in the low-lying areas of Ambergris Caye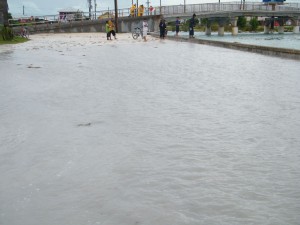 to evacuate voluntarily to higher grounds. Low lying areas include the San Mateo area, areas in San Pedrito, Elliot and DFC subdivisions. NEMO reported that over 1,000 people evacuated the island by air and sea.
Boats have been secured in safe harbor and NEMO asks that they remain so until the "all clear". Businesses that were selling alcohol after the midday deadline were closed down by law enforcement agencies.
NEMO in San Pedro along with the police will be enforcing a curfew from 10 PM on Tuesday August 8th on Ambergris Caye until after the all clear is given. Meanwhile San Pedro Town Mayor Daniel Guerrero continues to advise his residents to listen for the official NEMO bulletins and to stay informed.
Photo Gallery
Follow The San Pedro Sun News on Twitter, become a fan on Facebook. Stay updated via RSS