2016 Hurricane Forecast Released
Thursday, May 5th, 2016
It's never too soon to prepare for the upcoming hurricane season, as it officially begins on June 1st and runs through November 30th. With the impending season, accredited meteorologists have released a 2016 Hurricane Forecast indicating a "Near-normal" to "Hyperactive" season. With 13 named storms, six hurricanes and two major hurricanes predicted, 2016 is expected to be the most active season since 2012.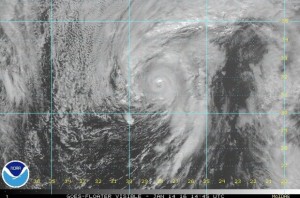 In recent years, meteorologists have continuously predicted "Average" or "Below Average" seasons due to the El Niño effect, but with the La Niña effect currently in play, 2016 could bring in a higher number of hurricanes. La Niña is characterized by unusual cold ocean temperatures in the Equatorial Pacific, compared to El Niño, which is characterized by unusually warm ocean temperatures in the Equatorial Pacific. In fact, this year has already seen an out-of-season hurricane. Hurricane Alex was the first Atlantic hurricane of 2016 which formed in the Bahamas back in January. While Alex did not cause any major damage, it did bring heavy rains to the region. The remaining tropical storm and hurricane names for this year are: Bonnie, Colin, Danielle, Earl, Fiona, Gaston, Hermine, Igor, Julia, Karl, Lisa, Matthew, Nicole, Otto, Paula, Richard, Shary, Tomas, Virginie, and Walter.
In San Pedro, the National Emergency Management Organization (NEMO) remains active when it comes to hurricane preparedness. From hosting trainings to creating emergency plans and visiting schools to discuss community preparedness with students, NEMO is taking the necessary steps to ensure a safe hurricane season. Currently, NEMO San Pedro has 13 sub-committees which can be mobilized in case of emergencies, and each committee is responsible for updating their committee plan. In addition, vulnerability surveys have been done to get an approximate figure as to how many individuals will need to be evacuated in case of a major hurricane.
According to Winston Frank Panton, who temporarily took over the responsibility of NEMO following the transfer of Jeromey Timrose Augustine-Cayetano, "the hurricane predication is that this season will be normal over the North Atlantic Basin. There is a 24% chance that at least of one major hurricane will make landfall in the northwest Caribbean and that is the area around Jamaica and Belize." He also reiterated that the community take caution as "it only takes one hurricane making landfall to make it an active season. They should prepare the same for every season, regardless of how much activity is predicted."
Even though Panton is currently overseeing NEMO responsibilities on the island, the question still remains as to whether or not San Pedro will have a permanent representative before the official hurricane season commences. Unfortunately, Pantoon was recently diagnosed with cancer and his state of health will determine his ability to continue his duties in San Pedro.
According to Augustine-Cayetano, "a replacement is soon forthcoming, but exactly who and when has not been determined. Preparations are ongoing and hopefully soon San Pedro will have their official representative."
The San Pedro community is encouraged to make an evacuation plan, stock up non-perishable canned food, flashlights, water, sanitary supplies, and keep all important documents safe. NEMO will continue informing people about hurricane guidelines and important safety tips throughout hurricane season.
Follow The San Pedro Sun News on Twitter, become a fan on Facebook. Stay updated via RSS