Heavy rain causes severe flooding in Belize
Tuesday, October 29th, 2013
Heavy rainfall over the past few days has caused severe flooding in various areas of the country. The five districts that have been affected the most are Cayo, Stann Creek and Toledo, Belize and Orange Walk districts.
According to the Weather Channel, turbulent weather is being caused by The Madden–Julian Oscillation (MJO) which is causing thunderstorm production over the western Caribbean, the eastern Pacific and south/southwest of Mexico. The MJO is an intra-seasonal fluctuation or "wave" that occurs in the tropics when atmospheric circulation meets oceanic circulation.
On Friday, October 25th, the National Emergency and Management Organization (NEMO) issued a public advisory stating that non-stop rain was affecting both the Cayo and Stann Creek Districts and that the Mullins River was 3ft above normal. Rainfall was also reported in most areas of Toledo. In Aguacate Village the water was one foot above the bridge and rising, in Blue Creek Village the water was three feet above normal and receding slowly. Corazon Village Creek was one foot over the bridge deck and three feet on the road sides approaching the bridge. In Jordan Village the water was 13 feet above normal and still rising. Reports from CISCO also indicated heavy flooding in Pueblo Viejo. Flood Watch remained for San Benito Poite, Jordan, Aguacate, Crique Sarco, Bladden, and Corazon Village over the weekend.
The Cayo District has also suffered severe flooding. The road between Bullet Tree Village and Santa Familia Village remains under two feet of water and is passable only by large vehicles. On Saturday, October 26th, the Roaring Creek Bridge was reportedly under water, but water levels have slightly receded and vehicles are now able to pass.

As the weekend progressed, NEMO reported further flooding in the Belize River, Sibun River and Crooked Tree Lagoon. The north was also being affected by the rain as of Sunday, October 27th, as Grace Bank , Hattieville, May Pen, Burrell Boom, Fresh Pond, Gracie Rock, Free Town Sibun, Lemonal, Scotland Half Moon, Rancho Dolores (crops ), St. Pauls Bank, Willows Bank, La Democracia, Sand Hill and San Estevan Villages were experiencing flooding.
On Sunday, October 27th University of Belize Gymnasium in Belmopan was open to flood refugees from the surrounding area. In the Cayo District, flooding continued in Belmopan, Salvapan, San Martin, Maya Mopan, Camalote, Teakettle, Roaring Creek, Bullet Tree, Santa Familia, and Buena Vista. The low-lying wooden bridge in San Ignacio and Santa Elena and the Buena Vista bridges were impassable on Sunday. In the Stann Creek District the Mullins River, San Roman, Valley Community, Hope Creek Hopkins, Sittee River, Sarawee, Dangriga, Santa Rosa, Cow Pen, San Quan Village were also still flooded as of Sunday. And in the Toledo District, Aguacate, Santa Ana, Blue Creek, Bladden, Santa Rosa, San Benito Poite, Jordan, Crique Sarco, Corozon were also flooded. Flood Watches remained in effect for: Santa Rosa, San Benito Poite, Jordan, Aguacate, Crique Sarco, Bladden, and Corozon Village. NEMO will continue to monitor all these areas until the flooding seizes.

On Monday, October 28th, NEMO announced that water service is currently disrupted in San Ignacio and Santa Elena due to flood waters affecting the BWS distribution system. Residents of the Cayo district are also informed that the By-pass by the Valley of Peace Road is under one foot of water and is impassable to traffic. NEMO has also reported that water has receded in Buena Vista Village and is now open to traffic, while the road in and out of San Pablo is closed to traffic on the Southern Highway.

Latest update from NEMO issued on Tuesday, October 29th states that river flood levels now increasing in the Belize District, as the Mopan and Macal Rivers are raising and emptying into the Belize River at Branch Mouth and coastal communities in the south. The flood waters are now starting to impact the Belize District. People are asked to secure any important documents and property and evacuate early especially folks living in Hattieville, Free Town Sibun, Gracie Rock, La Democracia, Gales Point, Ladyville, Lords Bank, Burrell Boom, Fresh Pond, Crooked Tree, Sand Hill, Grace Bank, May Pen, Bomba, Scotland Half Moon, Lemonal, Rancho Dolores, Willows Bank, and St. Pauls Bank Village.
NEMO has also announced that in the Mountain Pine Ridge Area several bridges have been damaged by the flood,the northern side of the Privassion bridge approach washed away, only small vehicles can access the bridge with extreme caution, the Little Vaqueros bridge entrance is partly washed away, and the Guacamallo bridge is under water. Aswell the road network in the lower reaches of the Mountain Pine Ridge is severely eroded. Flash Floods are also being reported in El Progresso seven miles farm area. The Hammock Bridge at Branch Mouth has washed away and the low lying Bridge in San Ignacio and Santa Elena is still under water and remains closed. The Iguana Creek Bridge is also still under water and the Baking Pot Ferry remains closed and the Culvert between La Gracia and Buena Vista has been washed away the road has been closed to traffic.
In the Southern districts of Belize, the road in and out of San Pablo on the Southern Highway remains closed to traffic. In the Toledo District, Indianville, Magoon and Monkey River Village area is now experiencing flooding, with three feet of water across the roads. School buses cannot leave the Villages, the roads are impassable.On the Hopkins Road there are some sections that are under 14 inches of water.
The Ministry of Health has also issued a public advisory warning resident of the southern and western Districts on contaminated water. Households are being asked to properly treat drinking water in order to avoid becoming ill. It is also highly recommended that persons living in rural areas that are experiencing flooding and use well water, to also treat their drinking water as it may not be safe for consumption. Water that is dark, has an odor or has floating objects should not be used and should be disinfected.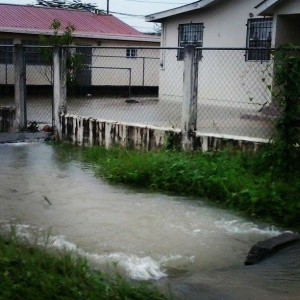 The Belize National Weather Bureau has reported that more rainy and unstable conditions will continue to dominate our weather for the remainder of the week. Showers and isolated thunderstorms are expected through Friday.
Motorists are asked to exercise extreme caution when passing flooded areas and while travelling on the highways as rains have affected most major and secondary roads and streets throughout the country. Rain is expected to continue throughout Thursday, and residents in the mainland are asked to exercise caution when travelling and to avoid contact with flood water as it can be contaminated. Flood warnings have been issued for the Belize District, Belize Rural and Central areas, Gracie Rock, Crooked Tree, Bomba, Grace Bank, Hattieville and other communities that are likely to flood such as: May Pen, Burrell Boom, Fresh Pond, Gracie Rock, Free Town Sibun, Lemonal, Scotland Half Moon, Rancho Dolores (crops), St. Paul's Bank, Willows Bank, La Democracia and Sand Hill. Flooding continues throughout most parts of Belize. All communities are asked to take these flood warnings seriously. To report emergencies contact Belize District Emergency Coordinators: Calbert Budd at 602-8632 or Kevin Pollard at 621-2275.
Update: BEL Advisory Relating to Flooding
Belize Electricity Limited (BEL) advises the public to take the necessary precautions as flooding continues to affect several communities across the country. The Company provides the following safety tips:
· If you are leaving your premises and suspect that there will be flooding, turn off the main circuit breaker and all appliances before you leave.
· Do not touch appliances, cords or electrical tools or plugs with wet hands or while standing on a wet surface. Do not put electrical tools, appliances or cords in water. Do not use power tools that were immersed in water.
· Turn off the main breaker if the water level threatens to rise near or above outlets and ensure that the entire premise is disconnected from any electrical source. Do not walk into any area of water that may be connected to an electrical source.
· Call BEL immediately if water is threatening to rise near or above your electrical meter so that power can be disconnected to reduce the risk of electrical hazards.
· Keep away from fallen power lines. Assume all wires on the ground are electrically charged. This includes cable TV feeds.
· Report fallen power lines to BEL immediately.
· Do not go to any of BEL's power stations or substations.
· Make sure you have battery operated lights for emergency lighting.
· In the event there is loss of power supply due to damages caused by flooding, the Company will dispatch crews to conduct power restoration works as soon as it is safe to do so.
BEL encourages customers to report damages to the power system by calling 0-800-BEL-CARE or 0-800-235-2273. If there are damages to the power system, customers are advised to be prepared for related power outages. Keep listening to your radio and television stations for advisories from BEL.
Photo Gallery
Please help support Local Journalism in Belize
For the first time in the history of the island's community newspaper, The San Pedro Sun is appealing to their thousands of readers to help support the paper during the COVID-19 pandemic. Since 1991 we have tirelessly provided vital local and national news. Now, more than ever, our community depends on us for trustworthy reporting, but our hard work comes with a cost. We need your support to keep delivering the news you rely on each and every day. Every reader contribution, however big or small, is so valuable. Please support us by making a contribution.
Click to Donate
Follow The San Pedro Sun News on Twitter, become a fan on Facebook. Stay updated via RSS