Miss San Pedro 2018 contestants involved in traffic accident in Mexico
Wednesday, August 22nd, 2018
Mexican news outlets reported a traffic accident involving Belizeans on Monday, August 20th between Playa del Carmen and Chetumal Quintana Roo. Some of the persons involved in the incident were four of the five contestants of the upcoming Miss San Pedro Pageant: Seleny Borges, Janelly Aban, Daisy Martinez, Chelsea Muñoz, as well as the reigning queen Virginia Vasquez, and four chaperones, Shamir Guerrero, Andy Nuñez, Yakarelis Hernandez and Councilor Flora Ancona. While the Belizean delegation did not present any serious injuries, everyone was taken to a nearby medical center for further check-ups. They returned home on Tuesday, August 21st sound and safe.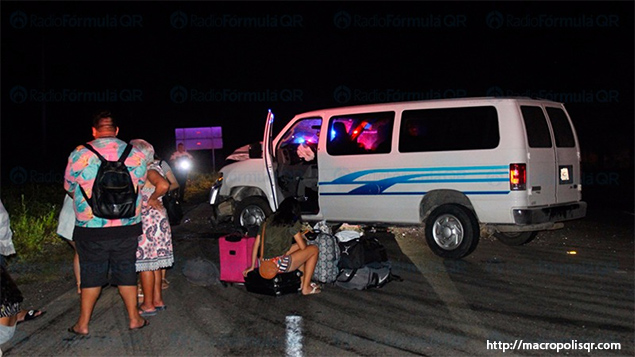 According to reports, the Belizean group was traveling in a chartered Ford van type E350 with Belizean license plates. The accident occurred around midnight, as the van was heading towards Chetumal after the contestants had been shopping for their pageant in Playa del Carmen. When they passed the intersection of the highway Federal Reforma-Puerto Juarez Kilometre 82, a Toyota vehicle coming from the east slammed into them. Apparently, the driver of the Toyota ignored the stop sign at the junction, impacting the left side of the Belizean vehicle. After the accident, the said driver abandoned the area, leaving his injured passengers on their own.
The four persons inside the Toyota sustained minor injuries. Hernandez, who was sitting next to the Ford van driver, also received minor injuries when the airbag deployed. The Belizeans were assisted by the Honorary Consul of Belize in Quintana Roo, manned by Dr. Luis Montero. They were reportedly taken to a clinic in Chetumal before they returned to Belize on Tuesday, August 21st.
Despite other media houses alleging the Playa Del Carmen trip was unauthorized, one chaperone confirmed to The San Pedro Sun that it was indeed part of their itinerary.
Follow The San Pedro Sun News on Twitter, become a fan on Facebook. Stay updated via RSS