Carnaval 2013: "Comparsas y Pintura, Nuestra Cultura"
Friday, January 25th, 2013
With all the controversy surrounding the original changes that the San Pedro Town Council had initially put forth for the 2013 celebrations, there has been a compromise reached, with a request from the council that participants respect the new rules. There was a lot of back and forth in regards to the initial changes which wanted a painting zone declared from the beach by Wet Willy's dock to the Boca Del Rio park. However, there has been a new venue announced, and painting will take place in town, from the beachside in front of Rubies' Hotel all the way down to the cemetery.
There will be a lot more policing of activities, and participants are urged to follow the rules to make for a safe carnaval for everyone involved. Below find the new rules and a program of events for the 2013 revelry.
CARNAVAL RULES & REGULATIONS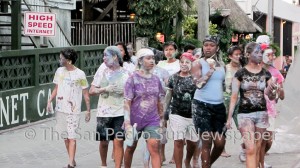 1. Traffic:
– Close Barrier Reef to all vehicular traffic from 4pm – 10 pm from Sunday to Tuesday.
– Traffic Officers will be assign to comparsas
– No parking on Barrier Reef Drive & Pescador Drive
2. Security/Supervision:
– Police presence in Barrier Reef Drive, Park and Beach.
– Hired carnaval wardens for additional security.
3. Painting:
– Recommended that only children allowed to paint on Sunday
– Community asked to refrain from painting on Monday at the request of the San Pedro Catholic Church due to the Virgin Fatima's Visit (only this year)
– Painting ONLY on the beach from Rubies to the Cemetery and on Barrier Reef Drive
– Painting only until 10 pm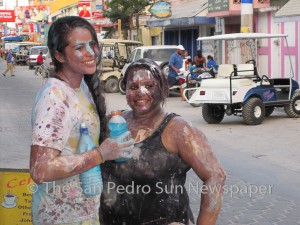 – No painting of comparsas participants
– No painting of signs, properties and vehicles
– No painting of people not playing
– No painting of people in uniforms
– No oil paint or spray paint
– No bottle squeezers
– No rotten eggs
– No throwing of eggs
4. Clean Up & Post Mortem:
– Hose down on Tuesday night by Fire Dept.
– Community Service by SPHS
– Offender MUST help clean up (3 hrs. community Service)
PROGRAM OF EVENTS
SATURDAY: SABADO DE BANDO (MASQUERADE & BLOCK PARTY)
• Opening Ceremony
• Dance Show
• Performance by Los Mascarados
• Historical/Traditional Comparsas presentation
• Coronation of Carnaval Queen
• Live Music & DJ Music
• Food Booths
**Venue: Central Park
**Time: 7:00 pm
SUNDAY: DOMINGO DE CARNAVAL
• Comparsas (Street Performances) & Painting
• Performances by Karaoke singers, Valentino Caliz, San Pedro got talent, Mr. Jade
• Dance performances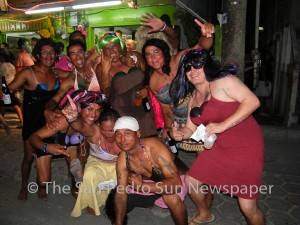 MONDAY: LUNES DE CARNAVAL
• Comparsas (Street Performances)
TUESDAY: MARTES DE PINTADERA
• Comparsas (Street Performances)
• Martes de Pintadera Beach Party (4:00 pm – 10:00 pm)
• Creative Carnaval Arts
• Final Comparsas Dance Presentation (9:00 pm)
• Award Ceremony at Central Park
WEDNESDAY: DON JUAN CARNAVAL
• Reading of the Will of Juan Carnaval
• Funeral Procession of Juan Carnaval
• Burning of Juan Carnaval
Follow The San Pedro Sun News on Twitter, become a fan on Facebook. Stay updated via RSS