Marco Gonzalez Spring Equinox Event a Grand Success
Sunday, March 25th, 2018
Press Release – Marco Gonzalez Archaeological Reserve – March 21, 2018 – A very successful Spring Equinox event was held at the Marco Gonzalez Archaeological Reserve on March 18th and was wrapped up on Tuesday with La Sirene General Manager Greg Pisarczyk and Daniel Matusiak, Director of Marketing/Sales, presenting a Gold Sponsor check of $2,000 to Jan Brown, Chairman of the Board, MGMSAC, Ltd. "We are delighted to be the best of neighbors with La Sirene to our south," said Ms. Brown. "They have been a sponsor before and we appreciate this wonderful donation."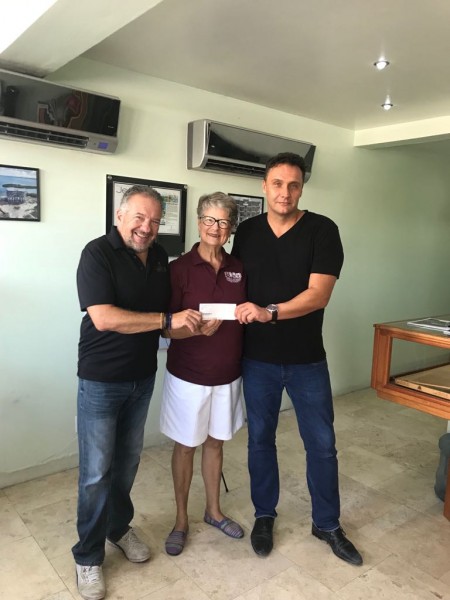 The Non-Profit Organization MGMSAC, Ltd, holds an annual fundraiser to welcome in a season change. This year the Spring Equinox was a winner indeed with the dry weather, beautiful day and very little mosquitoes ("hey, we're in the mangrove marsh!") The morning welcomed over 100 guests and volunteers and started with Maya Priest/Elder Martin Choc of San Marcos Village, Toledo District. His Grandson translated the Kekchi' language spoken to bless the land, people, and town of San Pedro. Following the blessing was a performance by the Yo Creek Masaewal Culture dancers with skirts swirling and flower baskets or bottles balanced on their heads. During the morning, guests were entertained by archaeologists from the Institute of Archaeology, Belmopan, with site tours and – the hit of the day – spear throwing using the Maya tool Atlatl. Always interesting was the use of the mano and metate by Belize Chocolate Co. showing how the cacao bean is ground to a powder before transforming to traditional ceremonial drink or used in cooking. Rounding out the activities, the San Pedro House of Culture displayed ancient Maya items used in daily life, as well as hosted artifacts found at Marco Gonzalez during past excavations. The guests were treated to delicious pork tacos donated by Carlo & Ernie's Runway Bar & Grill and topped off with cold beverages!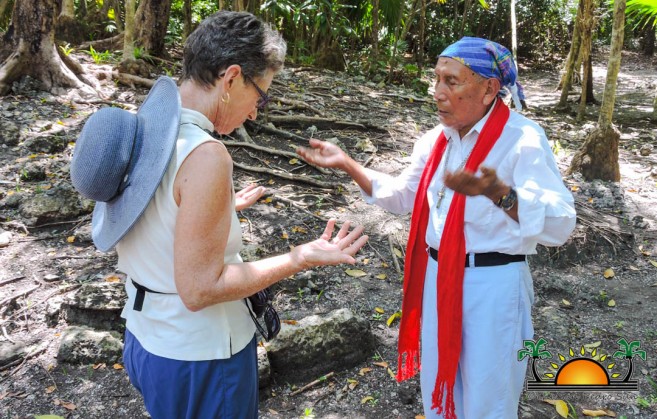 "If all that wasn't enough to enjoy, our guests and friends were able to participate in a wonderful raffle," stated Brown. "Only five items comprised our raffle, but the ticket was valued at $1,200USD!" Raffle winners are Belize Parasail Plus – Joanne Zore; The Dirty Martini – John Speasl; Ramon's Dive Shop – Janice and Brad; Chuck & Robbie's Diving – Don McKenna; and Belize Pro Divers Center – Lorraine McKenna. Congratulations and thank you!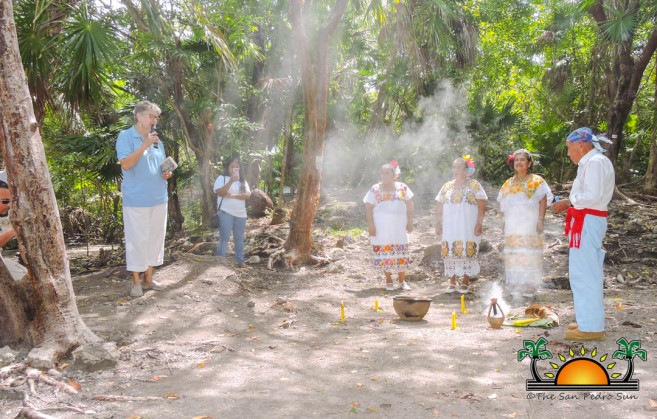 Exciting things are starting to happen for the Marco Gonzalez organization. The land by the road has been purchased to accommodate a new Visitor/Educational Center to showcase Maya history from the Marco Gonzalez site and to offer a place for the public to study Maya island history. Capital fundraising will soon begin and work with the government will also begin to determine what will be exhibited to the public. In the meantime, the Spring Equinox event raised money for the everyday activities at the site such as equipment and maintenance of the boardwalk.
No event is complete without saying Thank You to the wonderful sponsors. Gold Sponsor: La Sirene; Silver Sponsor: Carlo & Ernie's Runway Bar & Grill; Bronze Sponsors: San Pedro BTIA, Caribena/CCV, Dr. Scott Simmons, Pete Miron; Friends: ATM Golf Cart Rental, Banana Beach Resort, Belize Parasail Plus, Belize Pro Divers Center, Belizing.com; Black Orchid Restaurant, Chuck & Robbie's Diving, Mermaid Grocery, NICH/BZ Institute of Archaeology, Ramon's Divers, San Pedro Belize Express, The San Pedro Sun, Lone Star Grill & Cantina, Kenny Guinn/J & J Laundry sound equipment, Travellers Rum and M & M Williams. Welcome and thanks to the Destination Belize photography team. Finally a very special thank you to Dr. Kay McCarron, archaeologist/host/ceramic study in the MG lab. AND to all the volunteers who cheerfully helped serve beer, food and/or assisted where needed. "I owe special thanks as well to employee Jerry Choco and his crew for getting the boardwalk repaired, the grounds cleared and working tirelessly for two weeks so all could enjoy the Maya Heritage of Marco Gonzalez. Come see us again soon!" exclaimed Brown.
Follow The San Pedro Sun News on Twitter, become a fan on Facebook. Stay updated via RSS