Remembering Jerry Jeff Walker and Camp Belize
Monday, October 26th, 2020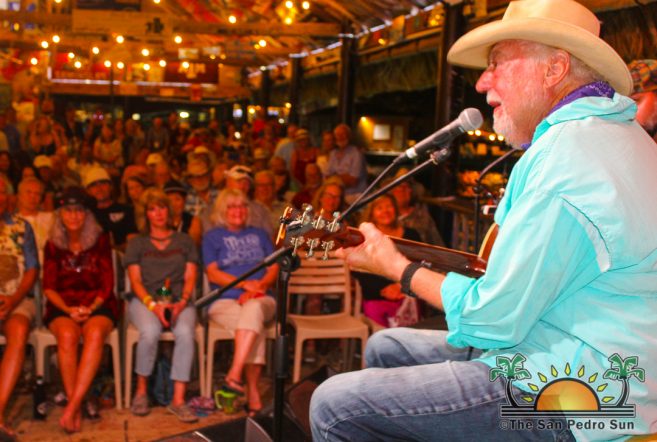 Submitted by Mar Dusz for The San Pedro Sun
Many hearts mourn the loss of the legendary Jerry Jeff Walker, who left us on October 23, 2020.
San Pedro, Belize has become synonymous to many of Mr. Jerry's fans due to his yearly shows on the island and his love for Ambergris Caye.
"Come Away To Belize With Me" is a favorite song of his Camp Belize attendees. This song was written by Jerry Jeff and recorded live at Fido's for his album Cowboy Boots & Bathing Suits. The year was 1998. This was the early days, some will say the best days, of attending.
Jerry Jeff performances in the heart of San Pedro Town. Walker Fans had already been making their way to this beautiful island for several years to absorb all things San Pedro and Jerry Jeff. A line from this same song, "see how beautiful life can be, long lazy days in the sun where it seems everyone has a smile when they meet," describes exactly what has been drawing the crowd to see Jerry Jeff Walker perform in San Pedro for over 25 yrs.
Our tiny little island with sandy streets and very few golf carts has changed tremendously since the days of the performances taking place at The Victoria House with a smaller, more intimate gathering.
The love affair Walker had with the island of Ambergris Caye has been one of mutual respect and giving back. San Pedro's offer to Mr. Walker was a freedom of movement, a step back in time where life surrounded him in a more simpler way. Walker's love of the Belizean people was often spelled out in verse. He and his wife/Manager, Susan Streit Walker, built a beautiful home South of town, and the annual event was changed to several weeks each year.
The shows have always been relaxed, a bit unpredictable due to weather, and more of a yearly reunion of sorts. The venues changed over the years to accommodate the larger crowds, at times 250 + people.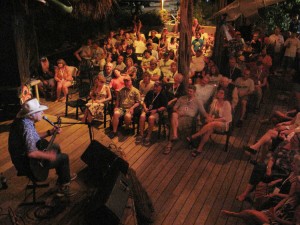 For many years, Wet Willy's (now the site of The Palapa Bar) was the home base for what became known as Camp Belize until moving inside to Fido's. Shows have been on the beach at Ramons, at Fido's, and Wet Willy's outside when there was a big deck. And not to forget the early, all-inclusive Victoria House days.
At Jerry Jeff's Annual Birthday Bash held in Austin Texas, a facsimile of the Victoria House bar was built on the stage of the Paramount Theatre. A favorite bartender from the Victoria House days, Hardee, was flown in exclusively to be the stage bartender during the show, all this much to the delight of the audience.
The numbers speak as to how these shows boosted the economy on the island. Hotels and restaurants have always been welcoming to the fans arriving from many parts of the world. These special weeks located in the beautiful tropics has morphed into a musical mecca welcoming other musicians, filling their free time with their own music and fun. What began as a handful of porch pickers has grown into more organized events of daily shows, at many establishments with all levels of talent and style, many of whom are crowd favorites.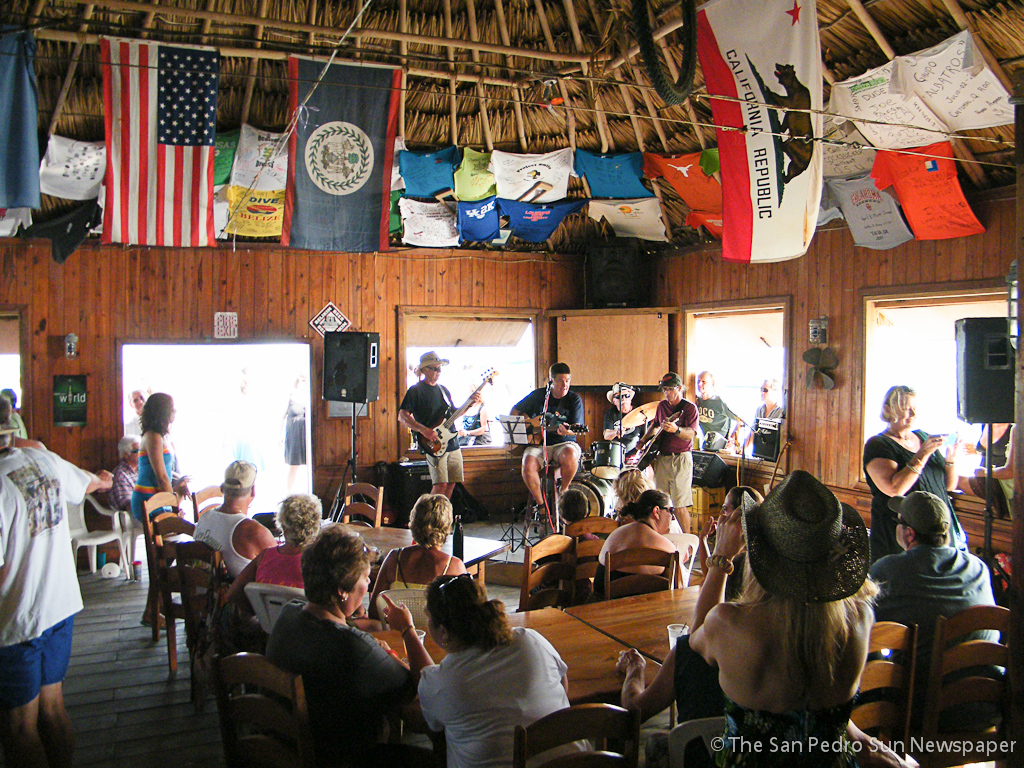 The Camp Belize folks are also very aware of supporting the local musicians residing on the island during the weeks of what is referred to as "Picking Parties." Along with the music, there are days of fishing, catamaran cruises, Saga Dog Walking, and a lot of old fashioned socializing.
The Camp Belize attendees have long supported island Charities. Jerry Jeff and Susan have been instrumental in their support of island needs. Hurricane relief was a big push during one year of Camp Belize, even adding a 4th show benefitting the island rebuild. SAGA Humane Society has been able to pass the Big Hat during the concerts for many years.
The Camp Belize attendees, many referring to themselves as FFL's, Friends For Life, coined from a song written by Gary P Nunn, are willingly charitable to the island. The Music Program at San Pedro High School and various other island schools over the years have received generous donations. Hope Haven has been a benefactor of the charitable crowd that Jerry's music brought to the island as well as donations when the fire engulfed a part of middle street several years ago, just to name a few. The giving back to the island. An example set by The Tried and True organization.
Many, many people and only some of us have been fortunate enough to be able to travel to Belize, are mourning this loss. The music and the Man, there are many years and many stories. Sincere deep sympathies go out to the Walker family. Susan, Jesse, and Django, our hearts hurt for you and we all thank you for sharing so much time with us during this extraordinary career.
A special musician, a special time and a special place, Ronald Clyde Crosby. "Just Another Gringo In Belize," a song Mr. Jerry covered written by Dennis Wolfe, is catchy and a testament of how things could be on La Isla Bonita. I am paying homage to a certain Gringo who will always be fondly remembered on Ambergris Caye and I am taking the liberty to say "Not Just Another Gringo but a Special Gringo in Belize," the Man who brought so much to so many people. The Man who took us away to that special place for several weeks every year, Camp Belize.
"We've been here a week or so; now it's finally time to go. Can't believe how quickly time has flown. Packing up the bathing suits, getting out the cowboy boots. Now it's time we must be going home."
Sail home Jerry Jeff Walker; peace be with you.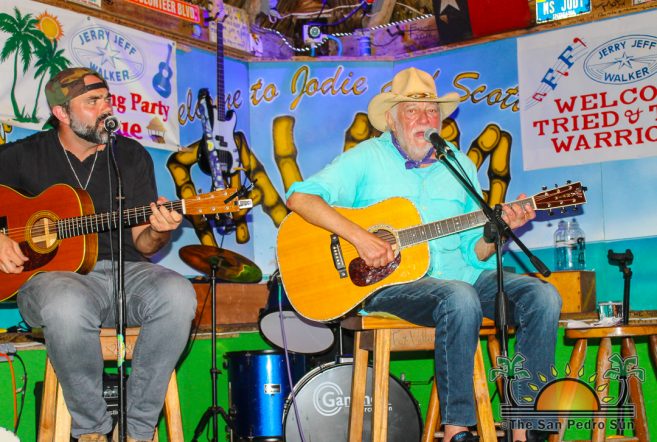 Jerry Jeff Walker last performed in San Pedro on January 31, 2020
Follow The San Pedro Sun News on Twitter, become a fan on Facebook. Stay updated via RSS