Former Colombian President Ivan Duque Marquez to speak at Belize Investment Summit in San Pedro
Wednesday, August 30th, 2023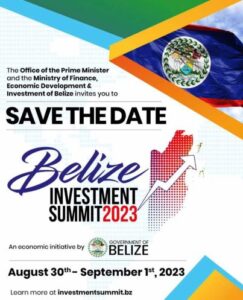 The second edition of the Belize Investment Summit will officially open with an inaugural ceremony on Thursday, August 31st, at the Grand Caribe Resort north of San Pedro Town. The event, held every two years, aims to showcase the investment opportunities in Belize and inspire current stakeholders to expand. The summit welcomed potential investors and stakeholders with motivational speakers from Belize and abroad. Attending the event this time as the keynote speaker is former President of Colombia, Ivan Duque Marquez. He is considered very vocal about the importance of the Orange Economy, which Marquez will promote at the summit.
The Orange Economy, also known as the creative economy, includes all sectors whose goods and services come from creating intellectual property, such as design and visual arts, tourism, and cultural heritage. San Pedro, Ambergris Caye, and the country's overall focus on tourism, an area Marquez will highlight. Colombia's president from 2018 to 2022, Marquez, is viewed as a leader who propelled his country's investor-friendly policies. According to reports, his government's main priorities focused on legalities and entrepreneurship. As per information summit organizers, the 47-year-old former president arrived in San Pedro on Wednesday, August 30th, via a helicopter transfer from the mainland. Marquez was said to have been impressed with Belize's Caribbean coastline.
The Belize Investment Summit celebrated under the theme 'Belize: Endless Opportunities,' will also include presentations from Prime Minister Honourable Dr. John Briceño, Deputy Prime Minister Honourable Cordel Hyde, Minister of Education, Culture, Science and Technology, the Honourable Francis Fonseca, and Minister of Sustainable Development, Climate Change, and Disaster Risk Management, the Honourable Orlando Habet among other government officials and guests.
The event, ending on Friday, September 1st, will see current businesses and new entrepreneurs with endless options. Throughout the Grand Caribe compound, meetings will be taking place discussing opportunities in the expo and pitch sessions in the following areas: the Blue Zone, the Green Hour, and the Orange Economy, which the Colombian former president will be championing.
Follow The San Pedro Sun News on Twitter, become a fan on Facebook. Stay updated via RSS