Island ex-pat encounters crocodile on Ambergris Caye; sustains minor injuries
Friday, October 4th, 2013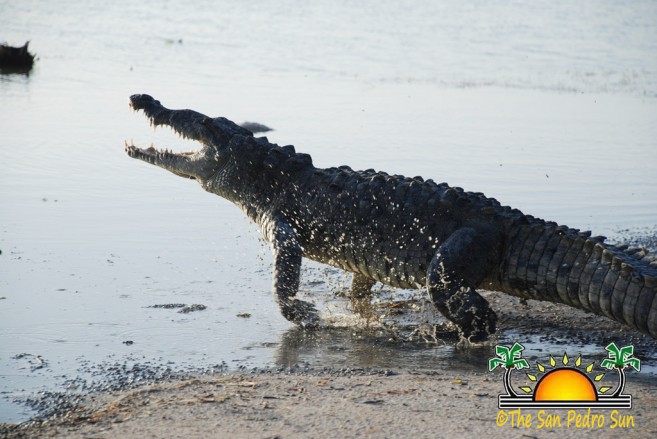 A US expat is lucky to be alive after he was bitten by an American Salt Water Crocodile while in the water southeast of San Pedro Town. The incident occurred shortly around 8AM on Wednesday, October 2nd. Because of the encounter, the American Crocodile Education Sanctuary (ACES) has issued an advisory alert for the Mosquito Coast area of Ambergris Caye.
According to Cherie Chenot-Rose ACES biologist, the victim of the encounter, who asked to remain anonymous, was swimming from one dock to another trying to spearfish when he was bitten. "It was about 8AM, the peak time when these types of apex predators feed. He reported that the area had a lot of debris, which is a perfect hiding place. But because of the way the encounter happened, we don't believe it was hunting for food," explained Chenot-Rose. The local croc expert explained that the man may have "invaded" the animal's space and in defense it snapped at him. "From the type of wounds on the man, we believe the crocodile just reacted in defense. The crocodile may have feared the person near it. If the croc was hunting for food, the injuries could have been worse or probably fatal." In most cases, when crocodiles attack for food, a single grip is all the animal needs for it to be a deadly success for the croc. However, when they feel threatened, they are known to just give a warning snap and leave the area.
The injured American man was taken to a private doctor who certified his injuries as crocodile bites. He was treated and released since the injuries received were not life threatening. Chenot-Rose explained that while the man's injuries were superficial, the wetsuit he was wearing helped him from sustaining worse injuries. The person sustained bites to the left shoulder and under the armpit.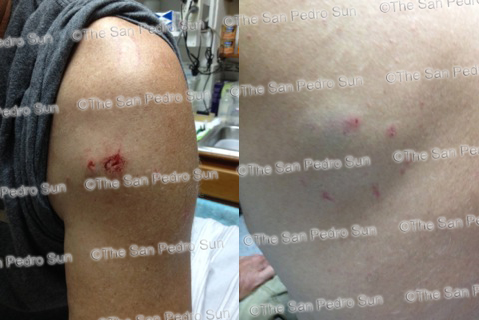 ACES believes that given the size of the bite and the reports of the sighting, the crocodile may be a five or six footer. The organization also reports that there is a second crocodile roaming in the area that is about 10 feet in size. Because of the encounter ACES sent out an alert asking swimmers and snorkelers to refrain from water activities at dusk and dawn near the Mosquito Coast area. Those venturing into the water at various times of the day are also advised be extra cautious and not to swim blindly under docks and near mangrove areas. ACES will be setting live snares and a trap in the area to try and catch the crocodile.
Anyone living in the southern portion of the island, especially near the Mosquito Coast area are asked to please call and report all sightings to Vince Rose at 631-6366 anytime. All sighting reports will aid in capturing the problematic crocodile.
Follow The San Pedro Sun News on Twitter, become a fan on Facebook. Stay updated via RSS