San Pedro Junior Sailing Club to host 5th National Ranking Regatta
Monday, June 30th, 2014
The San Pedro Junior Sailing Club (SPJSC) has been dominating the 2014 Sailing Season, and on Saturday, July 5th and Sunday, July 6th they will be hosting the first ever San Pedro Sailing Regatta. This regatta is the fifth Belize Sailing Association rational ranking regatta of the season. The 2014 Sailing Season consists of nine regattas with six considered national ranking. National ranking determines the sailors who will participate in the National Champions Regatta (BIZ14) scheduled for November 8th and 9th.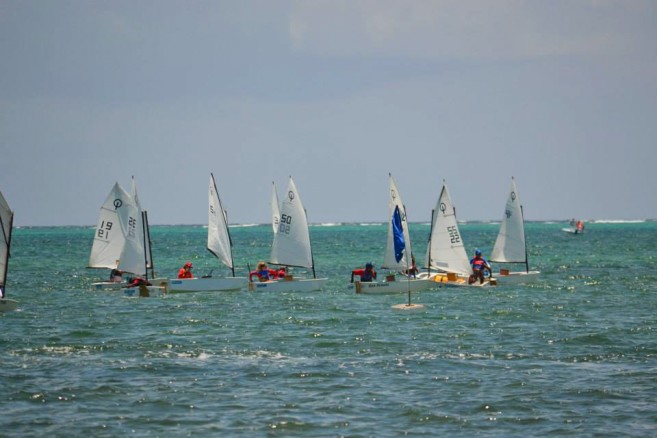 The regatta will be held at the Boca del Rio Park, where sailors will take to the seas from the Boca del Rio channel up to the Tres Cocos Cut. The two day regatta will consist of advanced sailing and intermediate sailing fleets. The advanced sailors will be wearing purple and must have over a year of experience. Intermediate sailors will be wearing green and must have under a year of sailing experience. The first day of the regatta will see four races and the second day will see two races, all starting at 11AM. An award ceremony will follow immediately after. Participating teams will include SPJSC, Sea Scouts, Belize City Sailing Club (BCSC), Corozal Bay Sailing Club (CBSC), Placencia Sailing Club (PSC) and San Pedro Sailing Club (SPR). The regatta is being sponsored by Re-Max Southwind Belize.
SPJC has placed first in the four previous national ranking regattas and are looking for yet another, made even sweeter as it would be a home win. SPJC's advanced fleet members are Jerdon Anderson, Blanca Velasquez, Faith Noel, Samantha Velasquez, Rashawn Gonzalez, Christian Trejo, Davin Puc, Katherine Salinas and Kevin Velasquez, while SPJSC's intermediate fleet are Gabbi Knox, Pedro Heredia, Divya Wadwa, Kenny Velasquez, Angel Navidad, Sergio Bardalez, Ernesto Navidad, Davin Wolfe and Leroy Johnston.
Boat captains are asked to drive with care while in the sailing zone, both during regular practice and especially during the regatta.
Follow The San Pedro Sun News on Twitter, become a fan on Facebook. Stay updated via RSS