San Pedro Sailing Club Participates in International Friendly Invitational Regatta
Sunday, August 31st, 2014
Press Release – San Pedro Sailing Club – August 26, 2014
On August 16 and 17, the San Pedro Sailing Club hosted an International Invitational Regatta in the beautiful waters off Boca del Rio Park. Sailors from the United States, Mexico and Belize came together in the spirit of sportsmanship and enjoyed healthy competition while learning from one another and developing new and lasting friendships. The course was an Olympic Triangle Course. Sailors sailed four races on Saturday and two on Sunday with one drop rule. The best of five races were accumulated for the lowest point system.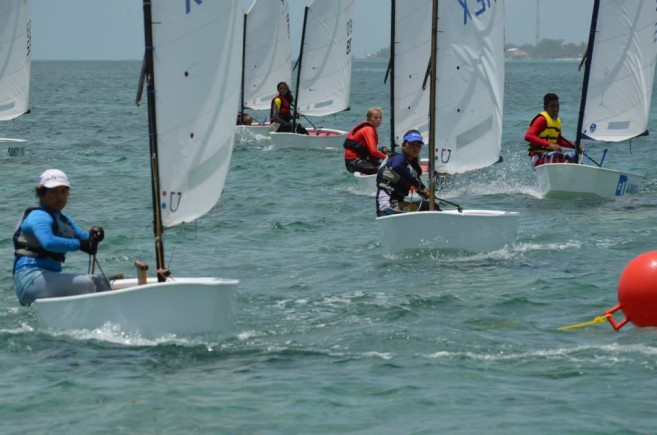 The final results of the regatta show its true International flair! In the top 5 was a sailor from the USA, 2 sailors from Mexico, and 2 sailors from San Pedro Sailing Club! Congratulations to 1st place BRYCE TONE, 2nd Place Magdalena Brito, 3rd Place LAURA ZUNIGA, 4th Place JERDON ANDERSON and 5th place DAVIN PUC.
In total, 24 sailors participated in the Regatta and associated social events; 1 from the USA, 4 from Mexico, 5 from Caye Caulker Sailing Club, 2 from Corozal Bay Sailing Club, 1 from Belize City Sea Scouts and 11 representing San Pedro Sailing Club. All sailors were accompanied by their coaches, commodores and/or team supporters. A special thank you goes out to Daniele Gracis, Mexico, for inspiring us to hold an International Invitational after two of our sailors participated in an Invitational in Mexico. A HUGE thank you goes to Karen Tone, USA, for taking a chance on us and coming all the way from Florida with her sailing son, Bryce. We are so looking forward to continuing to sail, learn and develop as sailors and global citizens.

Results:
USA Bryce Tone sailed flawless with a total of 5 points
MEXICO Magdalena Brito sailed into second with 11 points
MEXICO Laura Zuniga and BELIZE Jerdon Anderson tied points wise of 22 total for 3rd, but overall total average gave Laura third and Jerdon fourth place.
BELIZE again taking 5th was Davin Puc with 27 points
BELIZE 6th Christian Trejo with 30 points
BELIZE 7th Faith Noel with 32 points
MEXICO Renee Martinez taking 8th with 37 points
BELIZE Trent Hardwick in 9th place with 46 points
BELIZE Blanca Velasquez taking 10th with 47 points
BELIZE Christopher Young took 11th with 49 points
MEXICO Alex Rinaldelli took 12th with 50 points
BELIZE Jasmine Compos brought in 13th place with 56 points
BELIZE Katherine Salinas took 14th with 62 points
BELIZE Rashawn Gonzalez took 15th place with 64 points
BELIZE Harrison Cadle Jr. took 16th with 72 points
BELIZE Angel Navidad brought in 17th place with 80 points
BELIZE Glenford Barrera took 18th place with 85 points
BELIZE Divya Wadwa taking 19th place with 91 points
BELIZE Gabbi Knox brought 20th place with 92 points
BELIZE Ronald Po took 21st place with 103 points
BELIZE Alanis Badillo took 22nd place with 106 points
BELIZE Pedro Velasquez took 23nd place with 117 points
BELIZE Malik Jones brought in 24th place with 119 points
Next year will be here before you know it and the "Mayan Mile," our next International Invitational will be fabulous!
Follow The San Pedro Sun News on Twitter, become a fan on Facebook. Stay updated via RSS