Felix Alamilla stabbed to death; common-law wife in custody
Wednesday, July 23rd, 2014
Police in San Pedro Town are investigating the circumstances surrounding a domestic dispute that has left an islander dead. The victim has been identified as 28-year old Felix Alamilla, a caretaker of a Mosquito Coast Area of Ambergris Caye. Police have since arrested the common-law wife of the victim, a mother of two, pending charges.
According to the investigating officer, Sergeant of Police Lenacio Bol, initial investigations suggest that sometime around 6AM on Wednesday July 23rd, Alamilla was stabbed while sleeping inside a building located four miles south of San Pedro Town. "A male person visited the police station and reported that his friend was stabbed and was transported to a private clinic in San Pedro Town. We visited the San Carlos Clinic where we observed the body of a male Hispanic with stab wounds to the left upper thigh, the left upper shoulder and the left upper portion of his head. Investigation suggests that sometime after 5AM, Alamilla was sleeping on a sofa inside a building when he was attacked by his common-law wife, who is now a suspect in the investigation," said Bol.
Sergeant Bol added that the victim was not alone inside the building when the incident happened. According to police, Alamilla was with one of the caretakers of the same building that is in construction phase and police are treating that caretaker as a witness. Police indicated that during the commotion of the stabbing, that witness fled from inside the building. "Based on information received and investigation conducted, we have detained the suspect who remains under police custody pending charges." That suspect has been identified as 36-year old Anabel Matilde Bacelis Kumul, a Mexican of Otton P Blanco, Chetumal City Quintana Roo who is a resident of the Mosquito Coast Area of South Ambergris Caye.
Edgar Santos Obando, one of the caretakers who was one of the first to see Alamilla injured said he had just left a few moments and was returning when he learned of the incident. "I was here like up to about 5AM and I left. When I was on my way back, I noticed Alamilla coming on a golf cart but he was already injured and bleeding. I was made to understand that his wife jumped on him and began stabbing him… I know she was going through stressful times with her dad who is not doing well and perhaps all that led her to frustration. I believe if I was here, I could have calmed her and the situation would have played out differently."
According to Dr. Giovanni Solorzano of San Carlos Medical Clinic, he believes the victim bled to death. "He had three visible injuries; a small minor cut to his head less than three centimeter in diameter, a second injury to his chest which was above the heart and was about one inch in diameter and the third injury on his left upper extremity of his leg. It was obvious he bled the most from the leg injury. In my humble opinion, I believe he bled to death," explained Dr. Solorzano who certified Alamilla dead on arrival.
As for the motive of the stabbing, police believe it has to do with Alamilla having been out of his home drinking with friends for two days prior to the incident. "The deceased went out for a day or two, which may have created some rage for the suspect, which may have led to the incident. She was trying to reach him and she couldn't, and she found out where he was and went for him. A caution statement from the suspect has been recorded." While police would not go into details, Bol did confirm that several knives have been recovered from the area.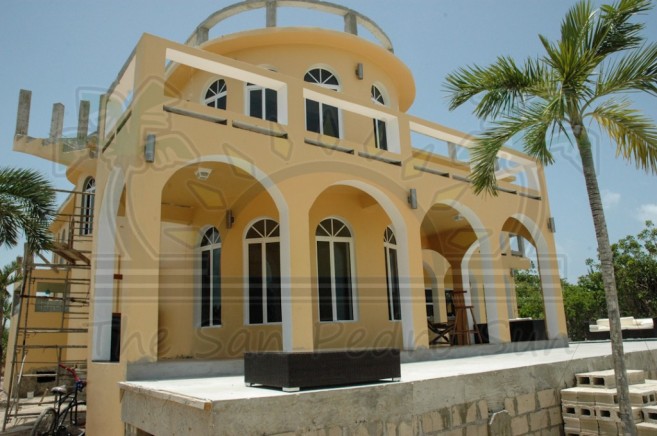 The San Pedro Sun understands that before Alamilla was taken to Dr Solorzano, family members tried accessing medical help from Dr Otto Rodriguez San Pedro PolyClinic II and other private clinics but were unsuccessful. According to Solorzano, had Alamilla received the immediate medical help, there was a possibility that he could have been saved.
Beside Kumul, police have also detained two other people, a male and another female as part of the investigation. Alamilla's body has since been transported to the Karl Heusner Memorial Hospital in Belize City for a post mortem examination.
Alamilla and Kumul had two children and have been living together not too far away from where the incident happened. Police expect to charge Kumul for murder before the end of the week.
Follow The San Pedro Sun News on Twitter, become a fan on Facebook. Stay updated via RSS