Shooting in San Juan Area leaves more questions than answers
Friday, April 25th, 2014
Shortly after 9PM on Thursday April 24th, San Juan residents ran for cover as gunshots rang through the neighborhood. The sound of gunfire is sadly not uncommon for the area, and residents are understandably upset.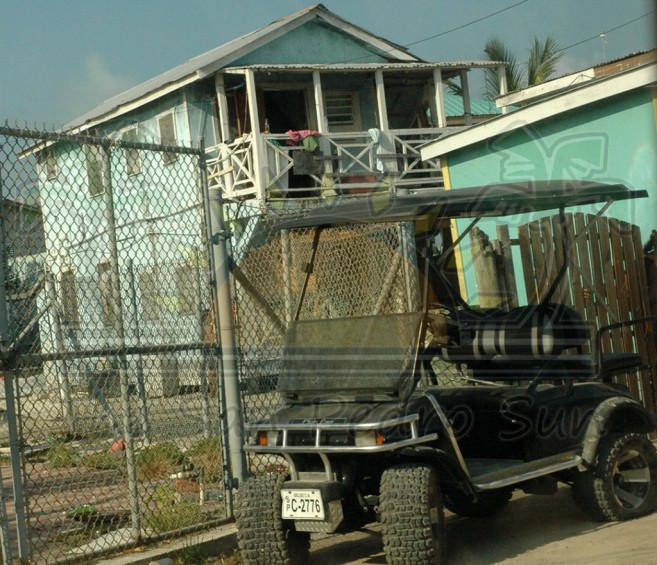 A few witnesses who asked to rename anonymous for safety reasons told The San Pedro Sun that sometime around 9PM, six gunmen, dressed in full black and wearing bandanas [on their faces]came from a mangrove area along the lagoon side. One witness stated that the men pulled out several guns and aimed them towards a group of men sitting on two separate golf carts in front of the Campos residence situated on Caniste Street. The barrage of bullets (some residents claim hearing as many as 16 shots) sent the group of men running for cover, while scared neighbors, including children, ran inside their homes. The gunmen then jumped inside a waiting vessel and fled the area.
A police report indicated that searches within the area led police to the recovery of 12 expended 9mm shells from the scene. According to the report, no one was injured in the shooting. However, bullet holes were clearly visible on the windshield of a parked golf cart and on the western side of a plywood house.
"We are tired of living in this situation. Every night we hear gunshots in our neighborhood and we are scared to even walk outside our home. This is affecting the lives of our children and even us adults who have no other option but to live here, terrorized by gunshots every night. One of these days, these people will kill our children who have no idea as to the activities of these people doing the shooting," said a resident, who is calling on authorities to maintain a visible presence in the area. Those who spoke to The San Pedro Sun stated that they fear the gunmen will return to finish the job, and in the process, possibly injure innocent citizens.
Meanwhile, local police believe that the incident is drug related and indicated that their investigation continues.
If the Campos residence rings a bell, that is because it was considered a part of a murder scene back in May of 2013. Police said that on May 20, 2013, Jeremy Baptist got into an altercation at the Campos residence with a group of males where he was reportedly shot multiple times, killed and then taken up the lagoon in a boat and was disposed of. His body has not been recovered.
Follow The San Pedro Sun News on Twitter, become a fan on Facebook. Stay updated via RSS