SICA Foreign Minister discusses steps to trade with CARICOM
Thursday, September 18th, 2014
As part of the Pro-Tempore Presidency of the Central American Integration System (SICA), Belize hosted the summit of Council of Foreign Affairs Minister. The event took place on Ambergris Caye on Friday September 12th and was a follow up to a two-day technical meeting held the days prior to the ministerial summit. The meeting focused on five areas and saw the Foreign Ministers discussing and brainstorming ideas related to trade and reaching out to other regional organizations such as the Caribbean Community (CARICOM).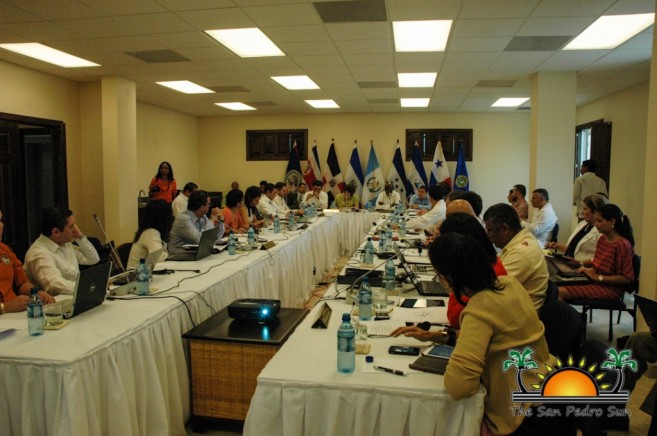 Hosting the event was Belize's Minister of Foreign Affairs, Wilfred Elrington. He was flanked at the high level meeting by the Secretary General of SICA, Dr. Victoria Marina Velasquez de Aviles, the first female to ever head the regional organization. "As regional leaders, you are expected to set a tone, example and pace in the building, and consolidation of our integration agenda. Integration can only take place through close and constant communication, cooperation and interaction between the populations of our individual countries in life's daily pursuits," explained Elrington in his opening remarks.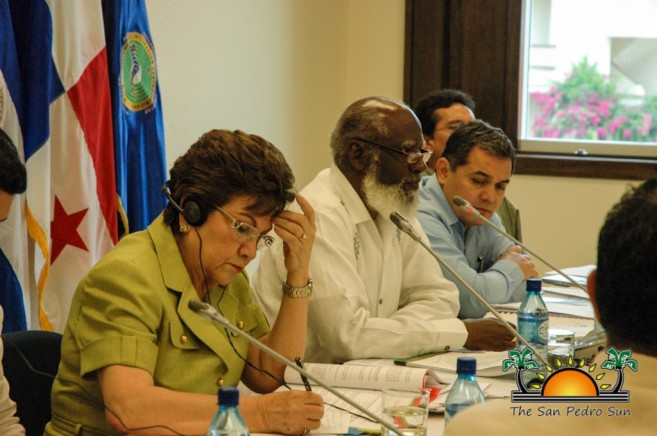 Elrington told his Central American counterparts that SICA should try reaching out to fellow CARICOM members to advance the region's agenda of free trade. Belize, who is the only CARICOM member that also belongs to Central America, said that if SICA wants to advance in trade, it is essential to reach out to CARICOM. "Essentially, from our perspective here in Belize, we would wish to flesh out the convening of the intersectoral meeting with the private and public sector leaders of SICA countries. This was one of the principal mandates given by our heads at the last meeting in Punta Cana (Dominican Republic)… We should do all within our power to facilitate trade amongst our countries. We hope that we can flesh out the steps we will take to convene the first intersectoral meeting… We are also very interested in ensuring that we make closer ties and contact with CARICOM. We had, since 2007, a proposal for a free trade agreement with CARICOM which has stagnated somewhat. We need as a grouping to enhance this process by trying to meet with the CARICOM counterparts in the margin of the upcoming UN General Assembly meeting. We need to ignite the fire to move forward with our free trade agenda."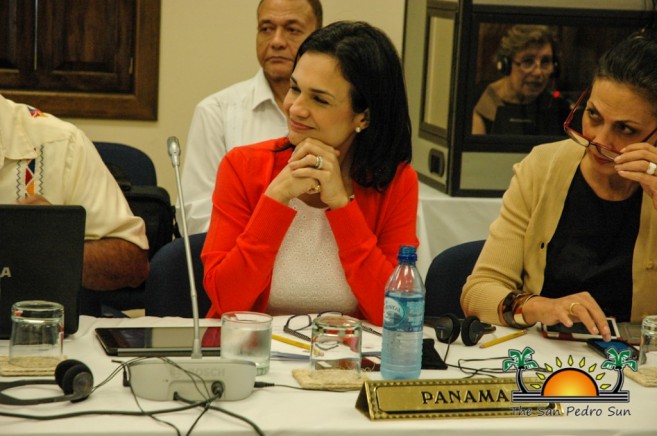 Elrington said that as Foreign Ministers, they have five main areas of priority as outlined by the Heads of Government of the region that were discussed. "These areas included climate change, disastrous management, democratic security, economic integration, social inclusion, poverty alleviation and institutional strengthening. They are all excited by the prospect of working more closely with CARICOM in matter of climate change, with which CARICOM has some expertise with the area of energy. We are working together dealing with security and crime, and we are also very much concerned with the economic development of the region. Perhaps one of the most exciting things is that it has been agreed that we are going to host the very first meeting of government officials in Belize in October. Regional government officials will look at the trade situation in Belize-obstacles to trade and what needs to be done to facilitate the removal of those obstacles."
For her part, SICA's Secretary General believes that one way to achieve better outcome from the organization is to revamp the approach by including the general populace in the integration movement. "We need to work towards an integration that ensures better and accepted living conditions for our population of this region. This is our fundamental challenge that we should all work towards accomplishing, because the inequality that we have as a region, is certainly unjust. I believe that we should have an integration system that reaches to the core of our populace, so that they can feel as part of the process. When we achieve this milestone accomplishment, then we will see successes for each and every one of us," said Dr. Velasquez de Aviles.

Of interest to note is that there are new faces in the SICA council of Foreign Ministers. Newly elected foreign Minister and Vice President of Panama, Isabel de Saint Malo de Alvarado and the newly appointed Foreign Minister of Guatemala Chancellor Carlos Raul Morales are the new addition to the regional ministerial grouping. Other attendees included Vice Foreign Minister of the Dominican Republic Cesar Dargam Espaillat, Ministers of Foreign Affairs of Costa Rica Manuel Gonzalez Jimenez, Mireya Aguero de Corrales of Honduras, Hugo Martinez of El Salvador and His Excellency Gilda Bolt, Nicaragua's Ambassador to Belize.
Follow The San Pedro Sun News on Twitter, become a fan on Facebook. Stay updated via RSS