Kids in Action Summer Camp graduates 34 new open water divers
Wednesday, August 2nd, 2017
A total of 34 persons, including children, successfully concluded the annual Kids in Action Diving Summer Camp on Saturday, July 29th. The two-week summer program was organized by the San Pedro Tour Operators Association in collaboration with San Pedro Tour Guide Association (SPTGA),and aimed to train participants in open water diving, while passing down skills from older professionals to the young generation. At the end of the camp, participants were recognized as certified open water divers.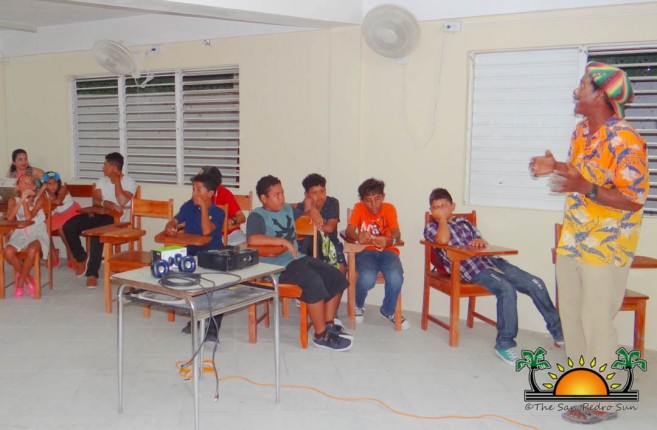 At the graduation ceremony held inside the San Pedro High School, parents and friends joined the enthusiastic students as they prepared to receive their certificates of completion. Billy Leslie from the SPTGA thanked all participants and tour guides for another successful camp. "I am happy for our new group of young divers," he addressed them. "Some of you were afraid, doubtful if you could complete the course. Today you have been rewarded for your accomplishment as you all have been exposed to world class diving, which will hopefully encourage you to take care of our marine ecosystem and become productive citizens of the community and the country." According to Leslie, the new divers are expected to remain active, volunteer in future programs such as reef monitoring, reef surveys and mangrove reforestation.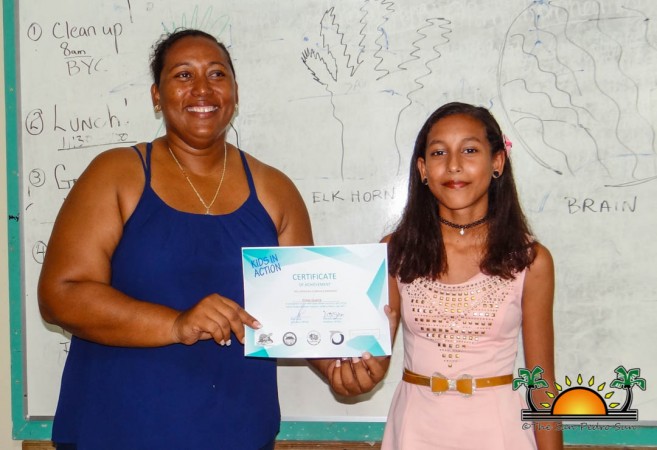 Prior to the award ceremony, Everett Anderson, one of the camp's instructors, shared a delightful collage of photos in the form of a movie. There were also videos showing the students' journey to certification. Following the short presentation, each student was presented with their certificate of completion. The new divers were also invited to take their identification picture for their Professional Association of Diving Instructors (PADI) Diving Card. The card will officially certify them as junior scuba divers. At the same time, the different diving instructors and establishments that participated were then issued with a special certificate of appreciation.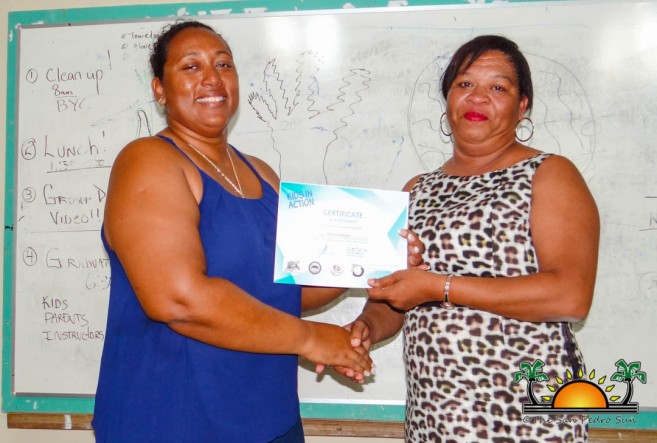 The students enjoyed the camp and were happy to have participated in such unforgettable experience. Kai Acosta a student from New Horizon Seventh Day Adventist School stated that he learned a lot from the summer activity. "My instructor taught me how to dive and overcome my fear. I enjoyed seeing the different corals and fishes, now I am sure that I want to become a dive master," he said.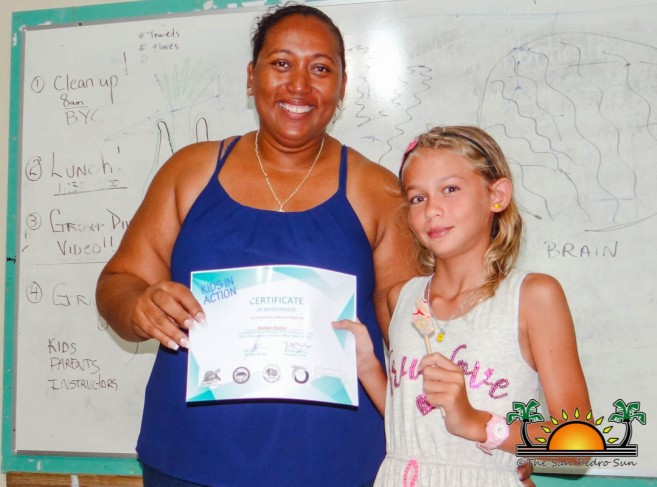 Diana Sanchez, who studies Biology in Chetumal, Mexico shared that it was a great experience for her which came very handy with the current studies. "I enjoyed the underwater environment. The different types of marine life were amazing, and made me very proud of our Belizean marine ecosystem… it does encourage me to further my studies in marine biology," said Sanchez.
As for the public servants from the San Pedro Police Department and the Dr. Otto Rodriguez San Pedro Polyclinic II, they believe that the new skill will make them more efficient in times of volunteering and in responding to any emergency out at sea. They agree that this additional skill also gives them the opportunity to enjoy the beautiful Belizean underwater world of Belize.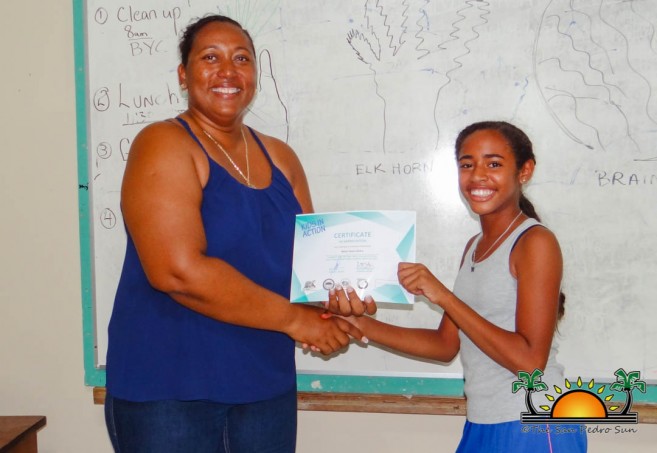 The camp costs over $30,000 BZ, to run, however, thanks to kind volunteers and donations from the many businesses and dive shops on the island, the event has been taking place for the past six years. One of the instructors who was delighted to volunteer his time is Steve Bowen of Belize Ocean Divers (Scuba Steve). "I was amazed with everyone that took this course, and their interest in learning how to dive and know more about our marine ecosystem. My student came with all the intentions to excel and was able to master the course like a professional," said Bowen. "These students were fast learners, very cooperative and followed all the regulations as the book says. To add to the grand success of the camp, we were blessed with beautiful clear weather."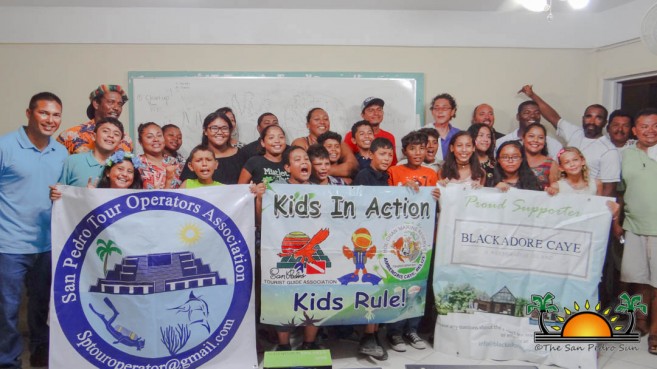 After the ceremony, the newly graduated divers and invited guests were invited to enjoy refreshments in celebration. Each diver was also informed that they were all insured, free of charge, in the event of any diving accident for an amount of up to $250,000.
The SPTGA would like to thank all its participants, volunteers and sponsors for making the camp possible. Kind thanks go to the main contributors: San Pedro Tour guide Association, San Pedro Tour Operators Association, Hol Chan Marine Reserve, Blackadore Group, Guadalupe 'Valentine' Rosado, and Oceana in Belize. Organizers also thank the dive shops: Ramon's Village, Belize Pro Diver, Tuff E Nuff, Reef Adventures, Scuba School, Belize Action Dives, Scuba Steve, Ambergris Diver, Aqua Scuba, Belize Diving Adventures, Chuck and Robbie, Blue Heaven Dive Tours, Sea Star and Island Diver. A BIG thank you also goes out to instructor Rolando Caceres, Adolfo Ayuso, Andy Albeño, Billy Leslie, Venancio Tillett, Yemir Tillett, Steve Bowen, Felicito Castellanos, Ruben Navidad, Enez Ramirez, Everette Anderson, Dereck Angele, Jaime Vasquez, Rudy Duran.
Follow The San Pedro Sun News on Twitter, become a fan on Facebook. Stay updated via RSS