Caye Talkers Donates $10,000 to Hope Haven Children's Shelter
Saturday, August 12th, 2017
Press Release – Raise Me Up (Belize NGO) – August 10, 2017 – Raise Me Up has received a donation of $10,000 towards the Hope Haven (Children's Shelter) project by Caye Talkers Limited, located in Belize City. Raise Me Up board members received this donation at the shelter, which is currently under construction, located across from the Maya Island Air terminal.
Raise Me Up will utilize this substantial donation to assist in the completion of the development phase of the project, and it comes at a time that is crucial to purchase the necessary construction materials to complete the first floor, which will serve as the community center (operated by SHINE).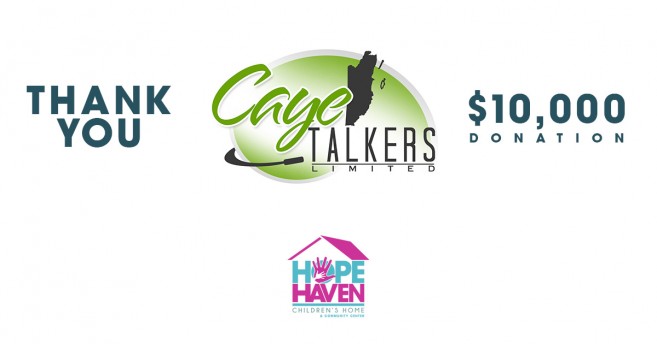 The donation not only allows for the purchase of materials, but shows the commitment of Belize-local organizations that endorse the need for a children's home and services center on the island of Ambergris Caye. Caye Talkers joins the list of Belizean company donations towards Raise Me Up and its projects, alongside Belize Bank Limited, Atlantic International Bank, Belize Telemedia Limited, and Benny's along with Grand Caribe.
"We at Caye Talkers believe in the power of giving and having a passion for the continued development of our home, Belize," stated Katherine Meighan, VPCC/Director of Caye Talkers Ltd. "Your very honorable cause helps us to play a role in making this combined mission come to life. We are also honored and happy to contribute towards this project and look forward to further collaboration with Raise Me Up, SHINE, and San Pedro Lions Club."
According to Raise Me Up, the project is merely months away from completing the construction phase. The second floor (children's dormitories) renovations are completed, and will be ready to open as furnishings are built or donated and put into place. The first floor is undergoing major renovations, and a new layout has been drafted. Construction and renovations are well underway, but ongoing donations of money, materials, and volunteer time could be greatly utilized to expedite the completion of the current phase. The first floor will serve as the "SHINE Center", a community center that will be operated by SHINE, which will provide play therapy, counseling, community services and activities for the children, as well as the community of San Pedro, Belize.
To learn more about Hope Haven and benefactor opportunities, please email [email protected] or visit raisemeupbelize.org or facebook.com/raisemeupbelize. For more information about Caye Talkers Limited, please visit cayetalkers.com. For more information about SHINE, please visit facebook.com/shinebelize.
About Caye Talkers Limited
Caye Talkers is a progressive and innovative Belizean call center that primarily services partnerships in the United States by leveraging their leading technology and "at-home" and "in-office" business model. Through research and constant development, they aim to be the leader in the industry by being the "first voice" of business to their customers by evaluating rapidly, quantifying professionally, implementing efficiently, and ultimately monetizing significantly.
Caye Talkers' vision is to maintain a competitive advantage while maximizing revenue opportunities by being a progressive company that understands customer experience comes first.
About Hope Haven
Hope Haven is the first dedicated children's home and shelter to be built on the island of Ambergris Caye. The facility will host dozens of children vetted by the Human Services Department of Belize. Hope Haven will provide long-term foster care for children, as well as immediate emergency foster services. Hope Haven will also provide therapy and counseling to the fostered children, as well as to the community of San Pedro, Belize.
About SHINE
SHINE (Shaping Healthy Identities through Nurturing and Empowerment)
The goal is to offer hope, empowerment, and a brighter future to young women and men. SHINE's focus includes outreach, aftercare, and empowerment. SHINE provides therapy to youth (boys & girls) and young women who have experienced difficult life situations, assisting them to find resources for a better future. SHINE has organized and hosted fundraisers to raise awareness of the community needs and has created strong relationships with the local community of Belize to help support the ministry efforts.
About San Pedro Lions Club
The San Pedro Lions Club was founded in 1975 for the purpose of serving the community of San Pedro. Accomplishments have included the founding of and continued support of the first health care facility on Ambergris Caye. Since its founding the Lions have successfully carried out numerous community projects which have benefited the local schools, elderly and poor in the community.
Follow The San Pedro Sun News on Twitter, become a fan on Facebook. Stay updated via RSS