2017 September Celebrations officially begin
Tuesday, September 5th, 2017
Under the theme "Belize: Confronting Challenges! Celebrating Triumphs! Renewing our Resolve!", Belizeans ushered in the most patriotic time of the year during the official launch of the 2017 September Celebrations. Held at the Muffles College Auditorium in Orange Walk Town on Sunday, September 3rd, the ceremony saw government officials, dignitaries and citizens come together to celebrate the 219th Battle of Saint George's Caye and the 36th Independence Day of Belize.
The ceremony commenced promptly after 1:45PM with the march procession by the Belize Defence Force (BDF). Following the arrival of honored guests, the BDF band led the singing of the National Anthem. Governor General of Belize, His Excellency Sir Colville Young then inspected the Guard of Honor as per tradition.
Those in attendance then gathered in prayer as Reverend Eric Richards of St. Peter's Parish, Anglican Diocese delivered an invocation calling for continued blessings for Belize.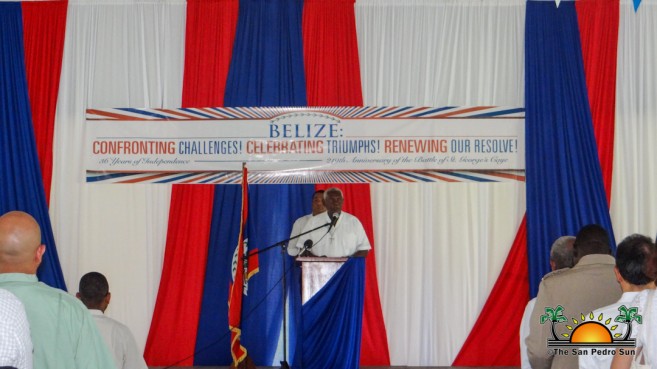 Giving the welcome remark was Mayor of Orange Walk Town, His Worship Kevin Bernard. "This September and all other days, let us remember the accomplishments and triumphs we have seen, and let us strengthen our resolve to unite against our challenges. I have faith in my people and faith that one day we will be one Belize," said Bernard.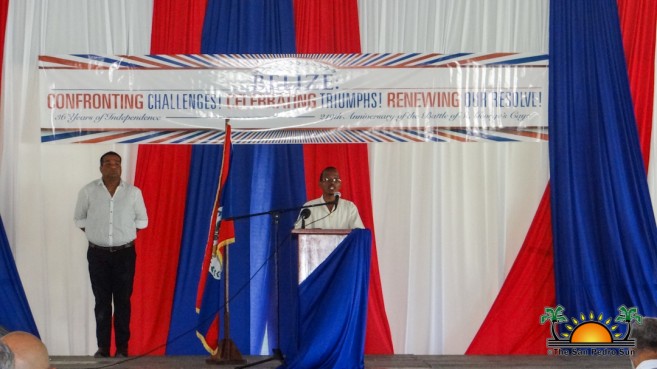 The Chairman of the National Celebrations Commission, Deputy Prime Minister Honorable Patrick Faber then delivered the official September Celebrations address. "This year's theme reflect the perseverance of the Belizean people who are aware of the global economic and political conflicts that inevitable, creates challenges for all of us. But our people have strong resolve to confront these issues. We recognize that there needs to be a time where we pause to celebrate our triumphs. After all, it is our ability to work hard, to persevere, to recreate ourselves and to enjoy life, that makes us truly Belizeans," said Faber.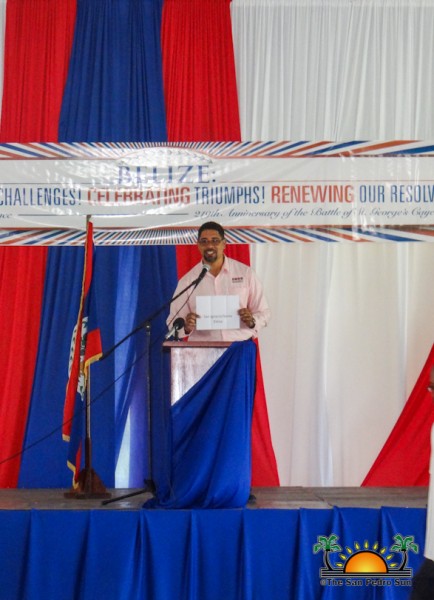 With the official addresses over, the National Celebrations Commission then acknowledged Janine Sosa for submitting the winning theme for the 2017 September Celebrations. The selection of the venue for next year's Launch of the September Celebration was also held at this time. Through a lottery draw, San Ignacio Town was selected as the host for the 2018 official ceremony.
The event ended with several Maya and Garifuna cultural presentations and musical performances by local bands.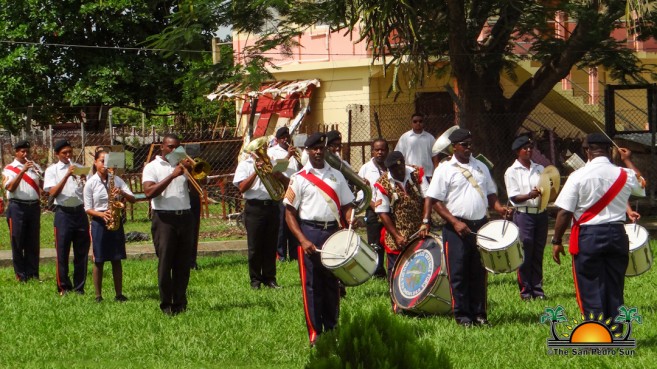 The National Celebrations Commission thanks everyone who came out to this event and encourages all Belizeans, at home and abroad, to have a safe September Celebrations.
September Celebrations calendar of events for San Pedro Town is as follows:
September 8th – Teen Rave Fete at the Honorable Louis Sylvester Sports Complex at 8PM
September 9th – Tribute to the Baymen at the Honorable Louis Sylvester Sports Complex at 8PM
September 10th – Battle of St. George's Caye Day / Coronation of Miss San Pedro and Uniform Parade at the Honorable Louis Sylvester Sports Complex at 10AM
September 15th – Children's Rally at the Angel Nuñez Auditorium at 9AM
September 16th – Central America and Mexican Independence at the Honorable Louis Sylvester Sports Complex at 7PM
September 20th – Independence Day Eve Celebration Block Party at the Honorable Louis Sylvester Sports Complex at 7PM
September 21st – Official Ceremony Independence Day Parade at the Central Park at 10AM
Follow The San Pedro Sun News on Twitter, become a fan on Facebook. Stay updated via RSS