Island Students Celebrate Independence Day with a Children's Rally
Wednesday, September 20th, 2017
With the purpose of promoting patriotism among Belizean children during the September Celebrations, the annual Children's Rally was celebrated across the country on Friday, September 15th. San Pedro Town was no exception, with upper division, primary and secondary school students, along with educators of San Pedro Town gathering at the Angel Nuñez Auditorium to celebrate Belize's 36th Independence. Under the theme "Belize: Confronting Challenges! Celebrating Triumphs! Renewing our Resolve", they all enjoyed musical performances, poems and drama, as well as an inspirational speech from Ismael Kay.
The Children's Rally commenced with a musical rendition of the National Anthem performed by the San Pedro High School (SPHS) music class. Mistress of Ceremonies Maryurit Trimino then invited two students from Isla Bonita Elementary School to give the welcome address. Each participating school had a presentation, showcasing their patriotism and delighting the crowd in attendance.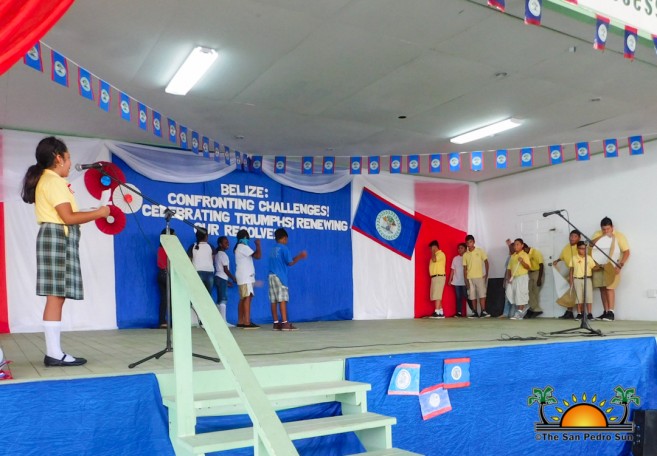 Next to take the stage was the guest speaker of the day Ismael Kay. A past student of SPHS, Kay graduated with honors in 2012. Thereafter he pursued an Associate's degree at St. Johns Junior College in Belize City, and is presently pursuing a Bachelor's degree in Taiwan. He is aspiring to become a doctor. Kay's address focused on the September Celebrations theme, telling the audience, that there will always be challenges in life, but to not let it stop them from accomplishing their dreams. ''I was not the perfect student when I was going to school, but I always made my education a number one priority, because I knew that to accomplish my dreams, education was needed," said Kay.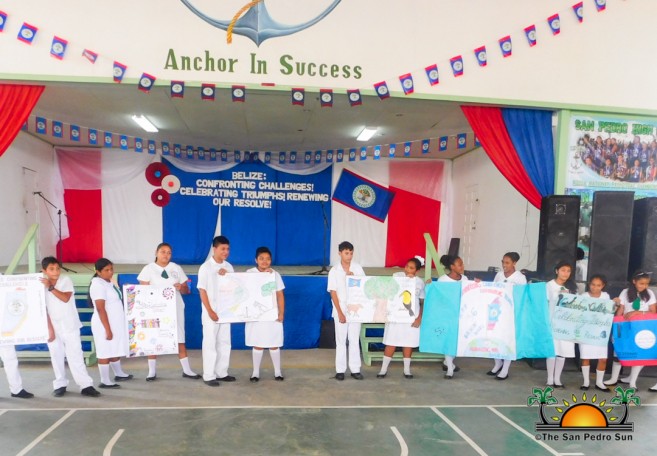 As part of the event, the Ministry of Education Youth and Sport San Pedro Branch awarded one teacher and one student of each primary school and high school on the island with the Patriotic Leadership in Education Award. The awards were issued by Mayor Daniel Guerrero, who shared a few inspirational words before doing so "This rally is very vital for the development of the community, and I thank all the students, teachers and invited guest that were able to make it to this year children's rally, education means a lot, I believe it is the best thing a child can get" he ended.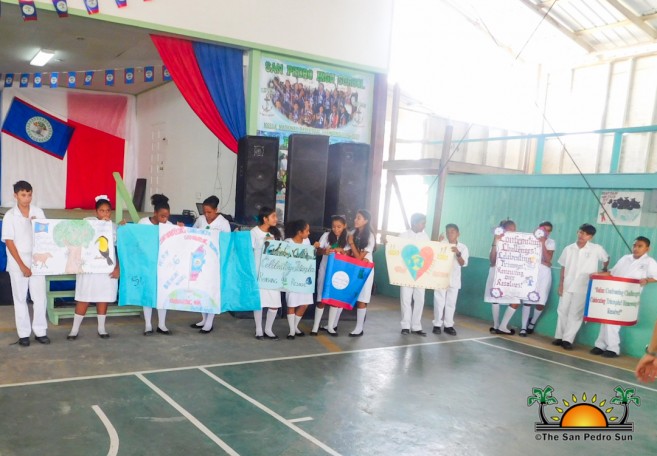 The teacher and students receiving the Most Patriotic awards this year included, Ms. Sylvia Flores and Orlinton Chacon from San Pedro Roman Catholic School, Ms. Delvi Flores and Scarlet Garcia form Holy Cross Anglican School, Ms. Yurelie Casanova and Jaquelin Patt from New Horizon Elementry, Mr.Angel Tzul and Kasey Gillet from Ambergis Caye Elementry, Ms. Reiny Cayetano and Tuly Lara from Isla Bonita Elementry, and Mr. Alex Nunez and Allan Ayala from the San Pedro High School.
Before the ceremony ended, Mayor Guerrero and Ismael were tasked with choosing a winner of the high school's illustration competition. The challenge was to portray this year's theme in a drawing. "It was difficult to pick a winner, after seeing so many beautiful pieces that perfectly illustrates this year theme", said Guerrero. "I will be giving $50 to all those who participated, and $100 to the winner, with the hope to motivate more children to get engaged in these types of patriotic competitions." The participants were ecstatic with their prizes, and so where the winners!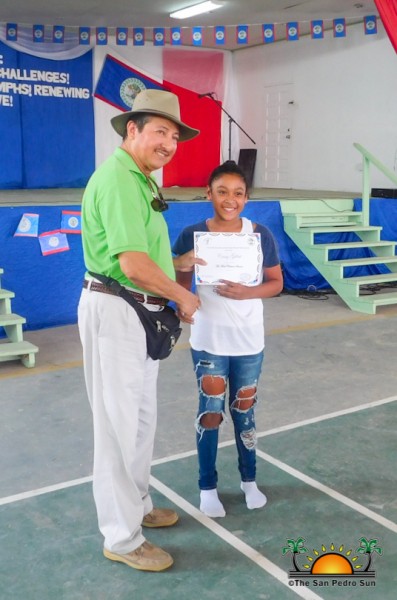 Also joining in the display of patriotism were primary school lower division students, parents and volunteers, who gathered at San Pedro Roman Catholic School to march on Barrier Reef and Pescador Drive. Participants proudly wore red, white and blue attire as they chanted their love for the country.
After an amazing show, the gathered students were treated to some snacks and drinks, followed by an early dismissal from school. Event organizers would like to thank all the schools that participated in the rally and made it another successful event.
Follow The San Pedro Sun News on Twitter, become a fan on Facebook. Stay updated via RSS