Mr. Pedro Salazar Sr. honored at the Tribute to the Belizean Patriots award ceremony
Thursday, September 21st, 2017
A group of outstanding Belizeans were honored on Thursday, September 14th at the annual Tribute to the Belizean Patriots Ceremonies. Among the honorees was Ambergris Caye's very own Pedro 'Pete' Salazar Sr., who was bestowed with the Meritorious Service Award. The award ceremony is part of the September Celebrations, and was held at the Bliss Centre for Performing Arts in Belize City.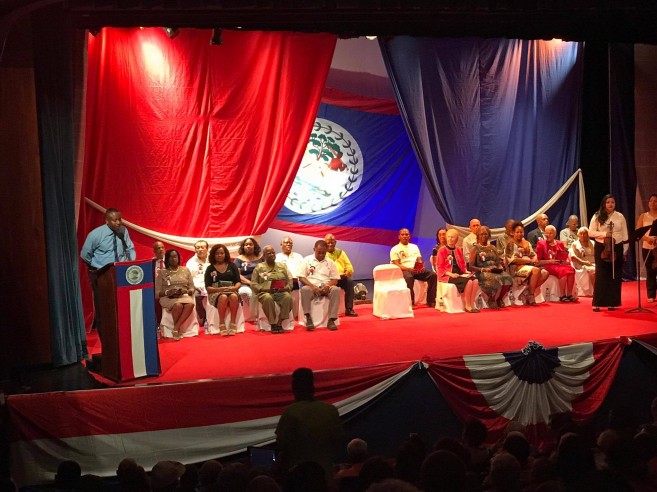 In total, 22 Belizeans were awarded for their work towards the betterment and development of their communities and the country. Presenting the awards to the recipients was Governor General of Belize, His Excellency Sir Colville Young. Many of the Belizeans who were awarded included politicians, teachers, military personnel and entrepreneurs. They are Patricia Bennett, Diane Finnegan, Lucille Hulse Heusner, Arcadia Carillo, Matron Christina Palacio, Rita De Four, Cordelia Raymond, Kathleen Skeen, Micaela Williamson, Ernest Tillett, Cuthbert Bailey, Henry Smith, Earlin Henderson, Eworth Garbutt, Fabian Garbutt, Sebastian Cayetano, John Young Sr., Robert Usher, Robert Pate Sr., Dr. Betty Flinchum, Henry Young Sr.,and Pedro Salazar Sr.
Ambergris Caye's Don Pedro Salazar Sr. has a long record of hard work and dedication to his community. As such, his Meritorious Service Award came as no surprise to his fellow San Pedranos.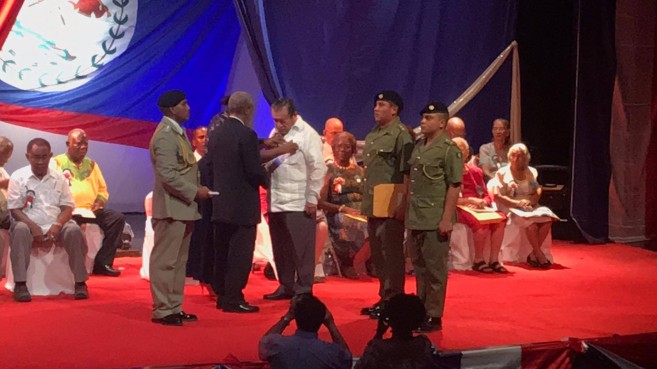 Don Pedro, as he is affectionately called, has been an educator, politician, community activist and today remains a successful entrepreneur. After graduating from St. John's College in June of 1963, Don Pedro became a primary school teacher at the San Pedro Roman Catholic School for about a year and a half.
He soon saw an opportunity to be of much assistance to his fellow islanders, and thus took employment in the newly established Caribeña Producers Society, chartered in March of 1963. He was initially hired as a cashier/payroll master and due to his dedication and hard work, he ended up becoming the General Manager of the company. Under his guidance, the cooperative achieved its highest peaks of exportation in seafood products, such as lobster, conch, and shrimp.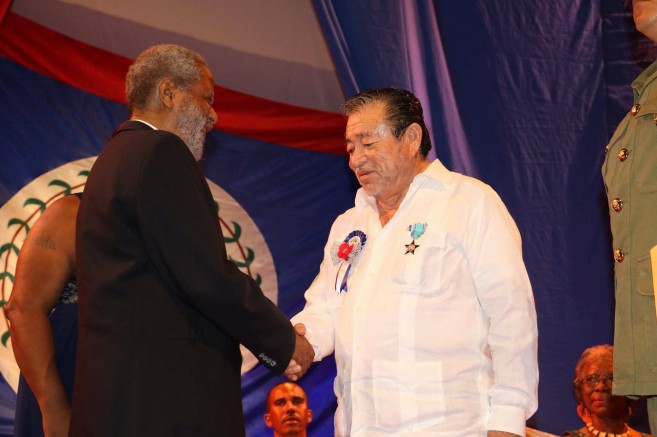 Don Pedro's aspirations and willingness to help develop his community did not end there, and he soon became involved in the local politics. He served as a member of the San Pedro Village Council from 1975 to 1984. In 1984 San Pedro was declared a town, where he served as first Deputy Mayor until 1985 when the first Town Board elections were held in the newly formed municipality.
Three years later he became the Mayor of San Pedro Town, and held the office from 1988 to 1991. Don Pedro was also a founding member of the San Pedro Lions Club International, which was chartered in 1975. He became the first President and some years later, he was appointed Director and Governor of Lions District Zone 59. Don Pedro's service to the Lions Club culminated with the achievement of earning the prestigious Melvin Jones Fellowship Award in July of 2000. He is still an active member of the San Pedro Lions Club and currently serves on the Board of Directors.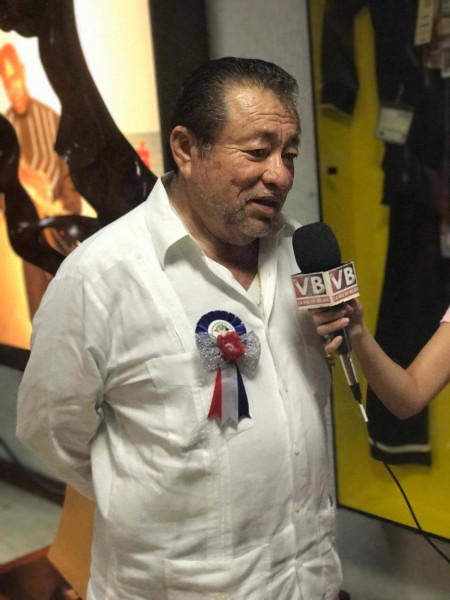 Other achievements under his belt include the appointment as a Justice of the Peace on January 1991, and once again due to his hard work and dedication, on December 5, 2007, he was made a Senior Justice of the Peace.
Presently he is the Managing Director of Caribeña Enterprises, a company he formed in 1994. It consists of three fuel service stations in San Pedro Town and one on the island of Caye Caulker. Don Pedro also owns and manages a taxi union, cable company and centers of entertainment. Up to today he continues to be very active in the community and is very much involved as a contributor and patron to many community projects, including education, sports, and other charitable organizations and community events.
The San Pedro Sun joins the island community in congratulating Don Pedro Salazar Sr. on his award at his year's Tribute to the Belizean Patriots Ceremony. Congratulations are also extended to the 21 other recipients for their magnificent work and dedication in the development of their communities.
Follow The San Pedro Sun News on Twitter, become a fan on Facebook. Stay updated via RSS