Belize Water Services says San Mateo water shortage is temporary
Saturday, March 17th, 2018
San Mateo residents are complaining of running water shortages, mostly periodic low water pressure that has forced them to fill buckets, bins, and bottles for backup. Belize Water Services (BWS), the island's water service provider, has indicated that the issue is temporary and attributes the cause to an increase in demand of the customer service water line feeding San Mateo. The line can no longer provide the necessary water pressure for the number of people living in that area. According to company personnel, the water line is being upgraded and it is due to such works that the supply of water to the said subdivision has been affected.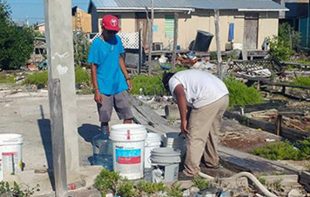 Residents say that for over a week, water flow fluctuates during certain hours of the day and even at night. In some areas, the water cuts off completely. BWS explains that this occurs when their ground personnel is working on the uplifting of the water line supplying water to San Mateo. The project is being done in phases, and as each one is complete, works move forward to the next area where an upgrade is needed. It is estimated that the project will take around a year to a year and a half.
BWS also further states that as the project progresses, residents may also experience low water pressure, as the company needs to ensure that the water being distributed is safe to use. "We need to test the water to ensure that it is healthy, and chlorinated. Due to the situation in San Mateo, there seems to be a lot of dirt inside the pipes, and that is why we can't past the tests when the samples are sent to the laboratory on the mainland for testing," said a representative from the company. "There needs to be a certain percentage that the water has to pass in order for us to allow people to use it. But at the moment, the results have not been positive and that is another reason for the water shortage."
The water company further explained that the problem is not isolated to San Mateo only, but in fact to the entire island. According to them, the increase in population and the tourism high season is affecting the way water is distributed around San Pedro Town. BWS states that their main water supplier, Consolidated Water in southern San Pedro, can only produce a certain amount of potable water. They believe that the current consumption of water exceeds the amount being produced.
The local authorities at The San Pedro Town Council are aware of the situation but have not made a statement as to how they can better the situation. Recently re-elected Mayor Daniel Guerrero previously indicated that he knew about the situation and that he was working it. However, no further comments have been issued on the matter.
Follow The San Pedro Sun News on Twitter, become a fan on Facebook. Stay updated via RSS