Placencia Airstrip to close temporarily for renovations
Thursday, March 19th, 2020
On Monday, March 16th, Tropic Air released what changes will be implemented during the temporary closure of the Placencia Airstrip. The closure will take effect from May 1, 2020, to September 30th. During the closure, the runway will undergo revamping, lengthening, widening, and installing of runway lighting. The renovations are being done by the Belize Airports Authority (BAA) under the leadership of Hon. Manuel Heredia Jr, Minister of Tourism and Civil Aviation.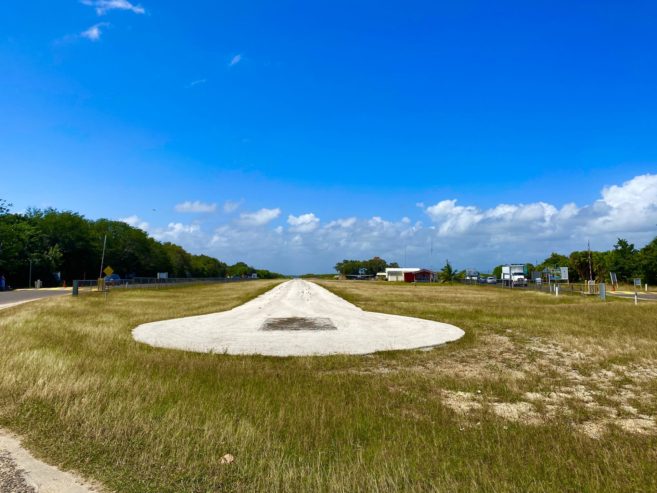 According to Tropic's release, they will use the Riversdale Airstrip at the north end of the Placencia Peninsula during the closure period and expect to resume normal operations no later than October 1st. The terminal, however, at the Placencia airstrip will remain open for business during the closure period. Passengers will also need to check-in at the Placencia airstrip due to limited infrastructure and lack of cellphone reception at the Riversdale Airstrip. Free transfers will be provided from the Placencia Airstrip to Riversdale and arriving passengers can opt to be picked up at either airstrip. Cargo will only be accepted, not sent during the closure period, and must be picked up at the Placencia Airstrip.
The BAA provided specifics via a press release issued February 10th about the renovations and they are as follows:
2800*40 feet hot mix asphalt with 10 feet unpaved, load bearing shoulders on each side.
New hot mix asphalt runway will have International Civil Aviation Organization, certified runway markings.
Threshold will be displaced 300 feet to the west, away from the public road, to enhance safety.
Extended aprons for aircraft parking and proper drainage.
Additional security fencing will be built to enhance safety and security.
Filling of 700 feet long*80 feet wide into the canal, west of the existing runway.
New runway lighting system that will allow night-time and medivac operations.
The renovations are a welcome change within the Placencia community. Resident Kashana Tonozzi shared with The San Pedro Sun that the airstrip has needed work for a while, and she is satisfied with the upcoming light installations. She said, "With the installation of lights which will allow for takeoff after dark, it'll definitely save lives during emergencies." She also stated the extension of the runway is necessary, "I am constantly impressed by pilots of Tropic and Maya for their amazing landings in such a short runway," she noted. As a member of the Placencia community, she commends BAA for going above and beyond to improve their facilities on the peninsula as it will benefit not only the Placencia area but also incoming visitors.
Tropic Air advises its customers to contact them via telephone number 226-2626 or through their website https://www.tropicair.com/ for further details or questions. The BAA can be reached via telephone numbers 223-4200/223-3784 or email [email protected].
Follow The San Pedro Sun News on Twitter, become a fan on Facebook. Stay updated via RSS