Amendment to new SI welcomed by tourism stakeholders
Saturday, November 28th, 2020
Stakeholders welcomed the amendments to the new Statutory Instrument (SI) regarding the COVID-19 Regulations 2020 No. 170, allowing open-air restaurants to accommodate a 50% seating capacity instead of only 12 patrons as previously announced. The 21-day curfew scheduled for Saturday, November 28th, will start at 10PM and not at 9PM as previously announced and ending at 4:59AM.
Tourism stakeholders were initially concerned after the Minister of Health and Wellness Honourable Michel Chebat announced the regulations on Thursday, November 26th, via a virtual press conference. Chebat firmly said that restaurants were not to close; however, those with outdoor facilities could operate with no more than 12 customers at a time. This regulation did not sit well, especially on Ambergris Caye, where tourism is the main business.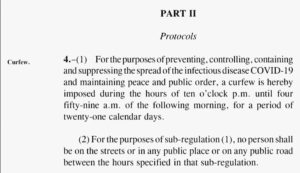 The amendment on the SI regarding the curfew and restaurants' regulations came from the outcry of the tourism sector and discussions involving members of the Belize Tourism Industry Association's (BTIA) San Pedro chapter and BTIA National Executive Board on Friday, November 27th. As a result, BTIA expedited a letter to Hon. Anthony Mahler, Minister of Tourism, requesting a reconsideration. They proposed that instead of limiting restaurants' capacity to 12 persons, restaurants would be allowed to operate at 50% capacity in relation to al fresco dining with proper social distancing protocols in place. They also suggested that the curfew be extended to 10pm to allow restaurant workers sufficient time to clean up and be home on time.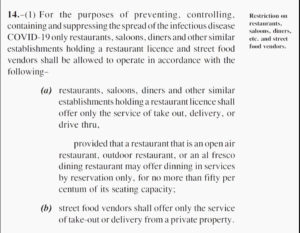 Later that day, SI amendments were issued in agreement with these recommendations and stated that establishments with no outdoor space could only offer takeout or/drive-thru/and takeout services.
All bars, rum shops, discotheques, night clubs, gymnasiums, casinos, and gaming establishments should remain closed. Businesses like spas can offer their services by appointment only, with two customers at a time if the square footage allows for social distancing.
The SI also says that no more than ten persons can be gathered in any public place. Also, the wearing of face masks and the practice of social distancing remains mandatory. Failure to do so can end in an arrest and charge.
Follow The San Pedro Sun News on Twitter, become a fan on Facebook. Stay updated via RSS