Tourism sector members 40+ now eligible for COVID-19 vaccine
Wednesday, March 31st, 2021

The COVID-19 vaccine rollout continues, and as of Wednesday, March 31st, Phase 2C is open, and members of the tourism sector ages 40+ are asked to get vaccinated. The authorities in the Ministry of Health and Wellness (MOHW) still urge persons ages 60+ who have not registered for the vaccine to do so. In San Pedro Town, residents can be registered to get the vaccine by accessing the online google form by following this link – https://bit.ly/39wbB4i
The vaccine (Oxford AstraZeneca) is being administered by phases, as illustrated below.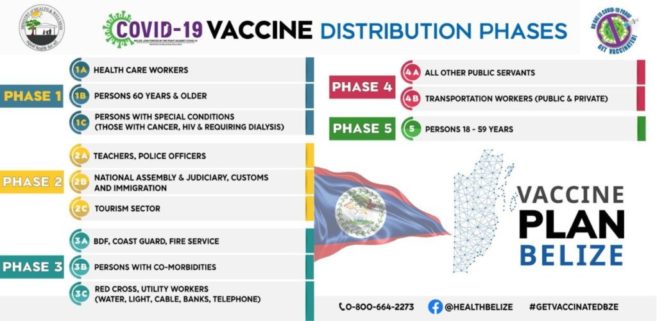 The vaccine program began with health care workers, persons 60+, persons with special conditions. It then moved to teachers, police officers, and members of the National Assembly, Judiciary System, Customs and Immigration. While the campaign went well in the above-mentioned groups, the amount of persons 60+ has been low.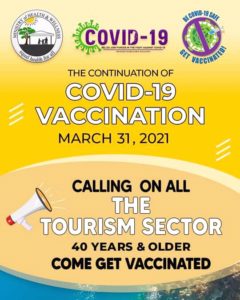 People are asked to check on their neighbors and assist them if necessary to register. The San Pedro Town Council has been encouraging islanders to get vaccinated. To help those falling behind, Councilor Marina Kay encourages residents 60+ to call 226-2936/226-2198 for assistance with registration and getting to the clinic.
Registrants are requested not to miss their appointment as a no-show will result in the vaccine given to someone else.
The total number of persons up to now who have been vaccinated is 20,411. MOHW encourages Belizeans to get the vaccine when their time comes. The ministry also encourages people not to bring down their guard, as COVID-19 is still around us. After getting the vaccine, persons are still required to wear masks, correctly washed their hands, and practice social distancing.
Follow The San Pedro Sun News on Twitter, become a fan on Facebook. Stay updated via RSS