Oil rig spotted in Belizean waters raises concerns; Government says it's was here to replenish stores
Thursday, June 1st, 2023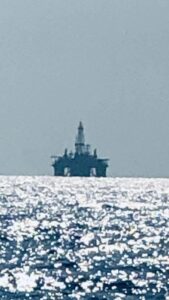 The sight of an oil rig near Ambergris Caye on Thursday, June 1st was cause for much concern across the island and the country. To dispel any rumors, the Belize Port Authority (BPA) quickly issued a release explaining that the rig, identified as the Semi-submersible drilling unit MV 'Frida 1', is in Belize to replenish stores and is not authorized to conduct any other activity while in Belizean waters. On December 29, 2017, the Government of Belize passed a law banning oil exploration in its territorial waters; however, Belizeans remain vigilant and strongly oppose this idea as it could jeopardize industries like tourism and fisheries.
According to the BPA release, Frida 1 did not enter the Belize City Harbour as intended, due to its draft restrictions. From this location, it conducted inbound and outbound clearance formalities. It was in Belizean waters for approximately six hours before returning to Mexico. The BPA explained that Frida 1 is considered a ship under international law, and Belize must facilitate services for it.

The Ministry of the Blue Economy and Civil Aviation (MBECA) also acknowledged the concerns shared by Belizeans and further explained the presence of the floating oil rig in the country. MBECA issued an official note that Frida 1 is on Belizean waters as part of its re-licensing exercise with Mexican authorities. "This exercise requires the rig to leave Mexican waters temporarily, and its presence in Belizean waters aligns with the required protocols," they said. MBECA further reaffirmed its unwavering commitment to protecting the country's marine reserves and the maritime space of Belize. They also reminded Belizeans that the government has a moratorium on offshore oil drilling.
Stakeholders concerned that GOB did not notify the public
Many stakeholders, including non-governmental organizations like Oceana Belize, say they are unhappy that the relevant authorities provided no advanced notice about the oil rig entering Belize's waters. Vice President of Oceana Belize, Janelle Chanona, said it was unfortunate that the maritime community was not notified prior to the rig's arrival, as it could have prevented the reactions and concern raised on Thursday. "This incident does illustrate how quickly things can happen if Belizeans are not meaningfully involved in the decision-making process if any government wants to lift the offshore oil moratorium," Chanona noted. They say the ship's movements will be monitored until it leaves the country.
Under current laws, oil exploration in Belize is illegal. This became the norm in 2017 when the then government under the United Democratic Party passed a moratorium against offshore oil exploration in Belize. This law is known as the Petroleum Operations (Maritime Zone Moratorium) Act 2017, and it was implemented after strong opposition from the public, particularly in Ambergris Caye, after hearing that the past government had reportedly agreed to begin offshore oil explorations in the country.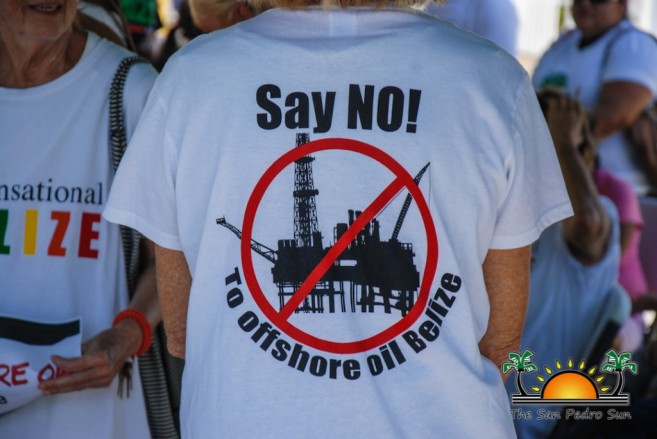 The most recent incident regarding offshore oil exploration occurred in November 2022, when Oceana reported that the current government, headed by the People's United Party, was considering allowing seismic testing in Belizean waters. The government quickly clarified that it has not entered into any agreements for seismic studies or offshore oil exploration.
Stakeholders and environmentalists remain on guard regarding this concern of national interest, and organizations like Oceana believe that if the current government wants to consider such activities, Belizeans must be consulted first. As a result, they are currently conducting a countrywide signature drive to trigger a national referendum regarding oil exploration in Belize once more.
Follow The San Pedro Sun News on Twitter, become a fan on Facebook. Stay updated via RSS