Private sector helping to transport North Ambergris Caye students to school
Sunday, June 25th, 2023
Students in North Ambergris Caye will no longer struggle with transportation. For families living ten miles north of San Pedro Town, sending their children to schools in the downtown area has been especially difficult. A solution has been decided after an agreement between island businessman Walter Moreno and the local authorities (San Pedro Town Council). The deal entails that Moreno's company Elite Transfers, transports the students to and from their schools and, in return, receives fuel assistance. Moreno is transporting 15 students from the northern community.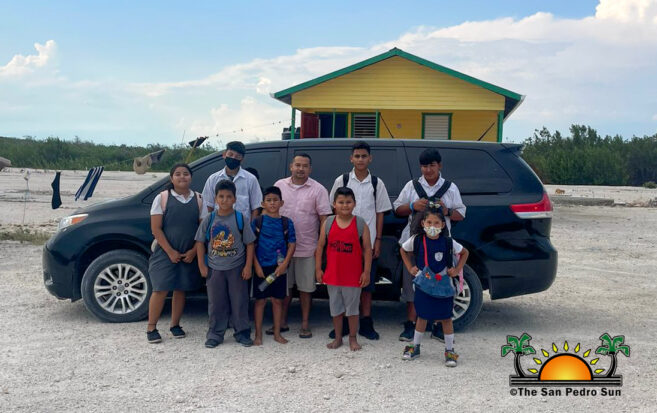 The initiative started following a public meeting held on May 17 to engage islanders living ten miles north of San Pedro Town. Organized by the San Pedro Town Council and the office of the Area Representative, Honorable Andre Perez, the gathering allowed attendees to present several issues. One, in particular, was student transportation. Residents from this isolated community said they relied on generous neighbors to get their children to schools as far as ten miles south. While Perez and Mayor Gualberto 'Wally' Nuñez discussed ways to address the matter, Moreno stepped in to offer his services. He said an agreement was made with the organizers, and since then, he has been assisted with fuel to provide the daily commute service for the students.
The students are picked up at an open area near their homes, where the northern police substation is located. This large open terrain is also the home of future schools, which will serve the growing population on this part of the island. Some students are dropped at Holy Cross Anglican Primary School, Isla Bonita Primary School, and the San Pedro Roman Catholic Primary School. Two students are expected to start high school in the next school year. He looks forward to continuing this service.
As the population grows on Ambergris Caye, more classrooms will be needed. Plans to build schools in northern Ambergris Caye have been ongoing since December 2019. The large open area where Moreno picks up the students was the venue for a ground-breaking ceremony on December 19, 2019, to construct a preschool, primary, and high school. The then Mayor Daniel Guerrero, former Area Representative Manuel Heredia Jr., and former Minister of Education Honourable Patrick Faber (all under the United Democratic Party administration) officiated the event. The construction of the schools would be possible through a loan agreement through the Caribbean Development Bank. This loan agreement was approved in 2015 and included building 35 schools and 22 preschools nationwide. Some schools have reportedly been made in other parts of the country. That is not the case in northern Ambergris Caye.
Follow The San Pedro Sun News on Twitter, become a fan on Facebook. Stay updated via RSS