Stakeholders discuss North Ambergris Caye development
Friday, June 16th, 2023
On Tuesday, June 13th, a group of stakeholders met with local authorities at the Sunbreeze Hotel conference room to discuss the future infrastructure of the island and the improvement of services. The meeting provided important feedback, which will be used to create a better development plan for areas like northern Ambergris Caye, which continues to develop at a fast pace.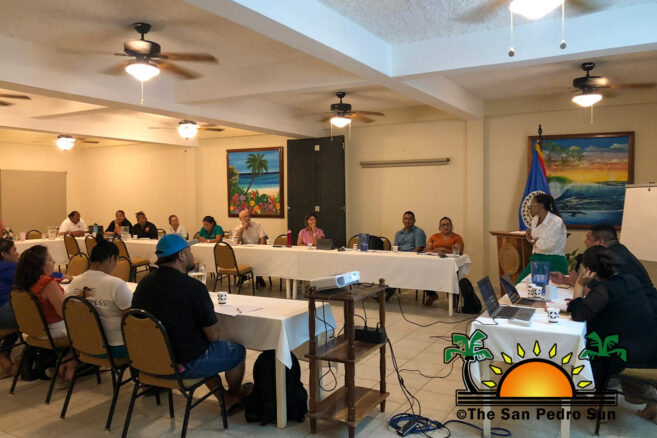 Mayor Gualberto 'Wally' Nuñez, Area Representative Honourable Andre Perez, and members of the Ministry of Economic Development (MED) presided over the gathering. Following a welcome address by Hon. Perez, a presentation was held regarding the plans for development on the island. Participants representing all areas of the island offered suggestions and shared the challenges they've experienced. The lively discussion is aimed to develop future sustainable projects with the least environmental impact.
One of the topics discussed was the need to properly extend or improve services, such as electricity and potable water, in the newly planned subdivisions and commercial areas like Secret Beach. Proper waste disposal was another important point, along with traffic and the reported approval of large buildings. Mayor Nuñez said this is the first step toward creating a response plan for the future development of Ambergris Caye. He stated that his administration had issued fines to different persons and businesses for illegal dumping, adding that additional enforcement is coming, and he asked the community to continue reporting these illicit activities. Mayor Nuñez explained they are in conversations with truck owners and setting rules for truck drivers reportedly speeding on the northern road. This has been a highly volatile issue, and residents have been urging the local authorities to look into the matter before a tragedy occurs.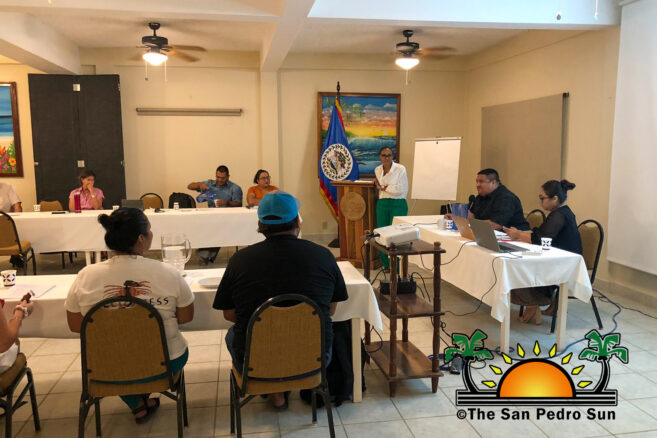 Approval of large-scale buildings
Many residents are concerned about proposed plans for large buildings in north Ambergris Caye. The stakeholders present said that while they understand development is inevitable, authorities need to ensure that these projects are safely executed and proper vetting is done before any approval. Regarding approval of tall buildings, Mayor Nuñez indicated that all feedback is being recorded and cases are being studies as presented. He agreed with those present that these proposed projects must be carefully studied, and he intends to work with the Central Building Authority before making any decisions. While he spoke briefly on this matter, Mayor Nuñez emphasized that residents/stakeholders can voice their opinions and concerns via these consultations.
An international airport for Ambergris Caye
The idea of an international airport is not being considered at this moment. Mayor Nuñez and attendees did agree that another municipal airport in north Ambergris Caye would alleviate the congestion caused at the John Greif II Municipal Airport in downtown San Pedro. Nuñez said those living and conducting business in northern Ambergris Caye would benefit from the flights and cargo service to that part of the island. Additionally, traffic in the town's center would be alleviated.
Tax revenues
While Ambergris Caye is a prime tourism destination in Belize, stakeholders believe that a larger portion of the taxes paid to the central government should return to the island. The San Pedro Town Council has indicated its intentions to lobby for more tax funds from the Belize Tourism Board, to improve tourism services. They will also lobby for the BTB office to reopen in San Pedro. Another plan to increase revenues shared was the collection of dock fees. Everyone agreed that the more funds the local administration can keep, the more improvements can be achieved.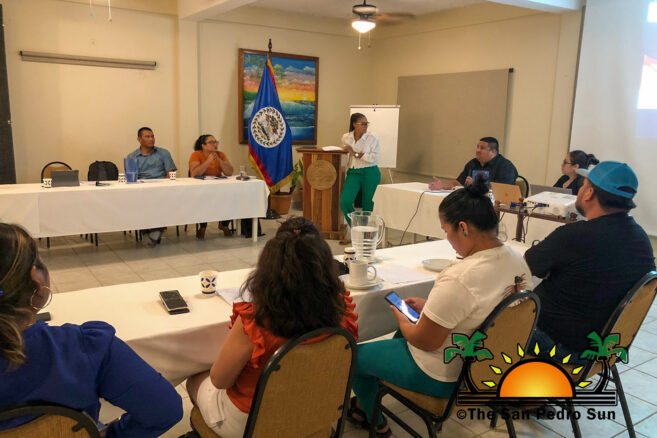 Area Representative Honourable Andre Perez commented that this is the opportunity to get things right as the island is growing haphazardly. He noted that implementing a development plan will guide the town to avoid the reoccurrence of certain issues currently affecting San Pedro. These include inadequate and unsound structures, street issues, and the need for improved building standards, among other factors that can impact the daily lives of residents.
At the end of the meeting, MED representatives collected written suggestions from the stakeholders. A follow-up session is expected as a master plan for north Ambergris Caye begins to take shape, with the inclusion of islanders' recommendations.
In November, 2022, Prime Minister Honourable John Briceño highlighted the need for a sustainable development plan for northern Ambergris Caye. According to PM Briceño, once the plan is complete, it will be presented to the island community.He also spoke about the appointment of the Northern Ambergris Caye Development Committee. PM Briceño noted that this proposed development involves the input of local island authorities (the town council and Area Representative), stakeholders, and the Ministry of Tourism. Northern Ambergris Caye is currently considered a commercial area, dotted by several beachfront resorts and other tourism-driven businesses. As such, a well-designed development plan is imperative for this part of the island.
Follow The San Pedro Sun News on Twitter, become a fan on Facebook. Stay updated via RSS