Tarpon Club reels in the top prize at Tres Pescados Slam 2017
Tuesday, August 8th, 2017
44 anglers participated in this year's 9th annual Tres Pescados Slam Tournament, the only international fly-fishing event in Belize. Held from Thursday, August 3rd to Saturday, August 5th, the three-day fishing tournament saw different participating teams attempting to land the best slam in order to claim the top prize. After three days of intense competition, it was team Tarpon Club who took home first place and top prize of $5,000 cash.
The anticipated catch and release tournament has become one of the greatest events in the fly-fishing industry in Belize. According to organizers, not only does the event provide for the livelihood of guides and fun activities for sports fishermen, but it also serves to bring awareness for the protection of Belize's marine ecosystem. The three species of fish involved in the tournament, the Tarpon, Bonefish and Permit, are all protected species. Organizers want islanders and fishermen to protect these species, as they are a valuable part of the fishing industry. If these fish disappear, so will the lucrative fly-fishing industry of the country. During the competition, participants are required to handle the fish properly to ensure their survival. A team also accumulates points according to the size and species of the fish caught.
The event started on Wednesday, August 2nd with the Captains' Dinner at Caprice Bar and Grill at Holiday Hotel. The following morning, at 5:30AM teams headed out to sea for the best catch of the day. Throughout the three days of the competition, all catches had to be checked in by 3PM.
According to most of the participants, day one was the best day as the weather was very cooperative and lots of fish were caught.
The other two days of the tournament saw unfavourable weather, and the catches were low. However, despite bad weather, team Tarpon Club: Nano Guerrero and Alejandro Vega, managed to reel in a good catch to lead the competition.
On Saturday, August 5th, anglers tried their best to earn their final points. Despite the uncertain weather, participants kept trying, catching and releasing in hopes of landing one of the three top prizes. At the end of the competition, a total of 48 Bonefish, 11 Tarpon, and 5 Permits had been caught and released.
Later that day, an award ceremony was held at Caprice Bar and Grill to recognize the top three teams. In third place, with a total of 800 points was team 'El Pescadorians'- Guide Gordy Marin and Anglers Chris Weaver and Isa Rodriguez. They won a cash prize of $2,000.
In second place was team Spydermen: Guide Luis Acosta, and Anglers Lars Munson and Jonathan Farber. They accumulated a total of 1,275 points and won a cash prize of $3,000. Taking home the top prize was team Tarpon Club, with an impressive 1,675 points. The team comprised of Alejandro Vega and Guide Nano Guerrero also took home $5,000 in cash.
After the team awards, it was announced that the Sport Fishing Association of Belize was to receive a donation of $18,000BZ through the Yellow Dog Community and Conservation Foundation, and Oceana in Belize. The tournament was once again declared a success, and everyone was invited to participate in next year's tournament to take place on August 2 through 4, 2018 on Ambergris Caye.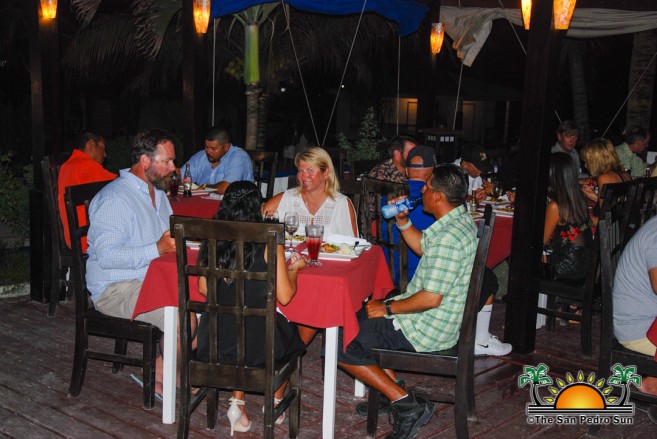 Organizers would like to thank all event sponsors, including Oceana in Belize, Belikin Beer, Belize Tourism Board, Yellow Dog Fly Fishing Adventures, SIMMS, Victoria House Resort, HATCH, Belize Fly, Tangelo, Belize Coastal Zone Management Authority and Institute, El Pescador Resort, Belize Permit Club, Holiday Hotel, Scott, MARELCO, Tropic Air, Mustad, YETI, Costa and Angler Abroad Fly Shop.
Follow The San Pedro Sun News on Twitter, become a fan on Facebook. Stay updated via RSS