Taxi Operator Dionicio Trujillo found murdered
Monday, May 4th, 2015
There has been yet another day light murder in Ambergris Caye in less than five days. The body of local taxi operator 42-year-old Dionicio Trujillo was found sometime around 7:30AM on Sunday, May 3rd lying next to his vehicle at the southern end of San Pedro Town around the Marina Area. Trujillo, a Naturalized Belizean originally from the Stann Creek District, had apparently suffered three stab wounds as well as a slit to the throat. Since the incident, San Pedro Police have detained five men for questioning, with two being the main suspects.
While the exact time of death is still unknown, police believe that Trujillo was killed between the hours of 6AM to 7AM. A neighbor of the deceased indicated that on the same date at about 4:30AM he saw the victim's taxi van (License Plate # D-0208) parked in front of his residence on Seagrape Drive. Upon checking a couple hours later, he noticed the van was no longer there. As such, the neighbor believed Trujio had gone to work.
Police received information of a body from a passerby in the area and immediately dispatched a unit to the area. According to Officer in Charge of the Coastal Executive Unit, Assistant Superintendent Henry Jemmott, the body was found lying face down. "When authorities arrived at the scene, they noted a grey Toyota van parked in an eastern direction at the edge of the main road in the Marina Area. No one was in the van. The lifeless boy of Trujillo, who was later identified as the driver of the vehicle, was found in about a foot of water in a ditch on the right hand side of the road," said Jemmott.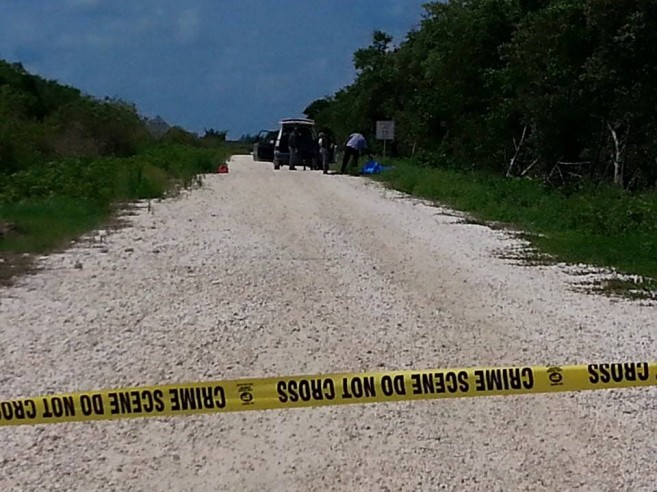 Trujillo had apparent stab wounds to the chest, abdomen, left forearm as well as a cut wound to the neck. "We cannot assure what were the motives of the murder. We believe it to be a robbery, but it is too early in the investigation to confirm. The Scenes of Crime personnel has processed the murder area. The vehicle was dusted for finger prints and we were able to identify several prints. We have also interviewed several person that have provided useful information which has ultimately led to the detention of five persons of interest, two of which are main suspects," said Jemmott.
The body of Trujilo was transported to the Karl Heusner Memorial Hospital morgue where a postmortem examination was carried out.
Trujillo's wake service will be held on Monday, May 4th at his residence in Alta Vista Village in the Stann Creek District. Funeral Services will be on Tuesday, May 5th at the Assemblies of God church in Alta Vista starting at 1PM.
Follow The San Pedro Sun News on Twitter, become a fan on Facebook. Stay updated via RSS