Cyril Jones gunned down in San Pedrito Area, San Pedro Town
Wednesday, November 14th, 2018
A family in the San Pedrito Area is grappling for answers following the murder of their beloved 37-year-old Cyril Jones, who was gunned down at his house on Tuesday, November 13th. Jones apparently received one single fatal gunshot to the face after being summoned outside his home by an unknown person. Jones' lifeless body was later retrieved by police and transported to the Dr. Otto Rodriguez San Pedro Polyclinic II, where he was pronounced dead on arrival. Police investigation at the moment has led to the detention of several persons of interest, believed to be associated with the island's 12th murder of the year.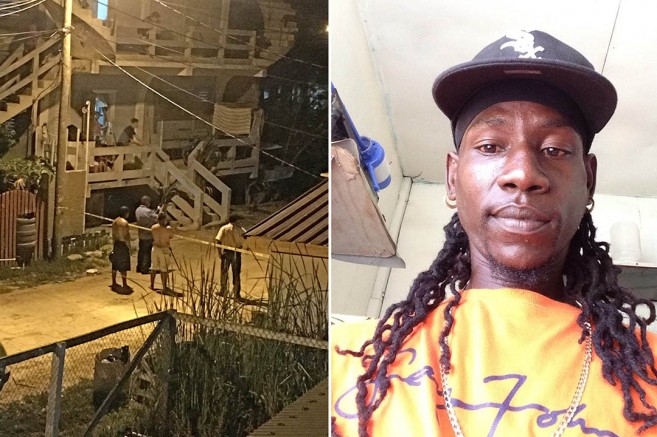 The incident reportedly took place shortly after 7PM, when police responded to reports of a shooting in the San Pedrito Area. When visiting the area, officers observed the motionless body of a male dark-skinned individual with long dreadlocked hair. He was in a face down position, with half of his body in the door way and the other half on the porch area of his apartment, lying in a pool of blood. Upon further inspection, police noted a gunshot injury above Jones' mouth.
The deceased's wife, Imel Jones, revealed to police that her husband was at home with his family when someone whistled from outside. Jones went to the door and peeped outside to see who it was. Suddenly a loud bang was heard, and Jones fell to the floor with a gunshot wound to his face.
Neighbours shared that they heard around six to seven shots, and at some point even thought they were firecrackers. They remember Jones as a peaceful and fun person, who did not seem to have problems with anyone in the vicinity.
Jones leaves behind his beloved wife and two young daughters.
More on this story in our print version this Friday, November 16th.
Follow The San Pedro Sun News on Twitter, become a fan on Facebook. Stay updated via RSS