Tracy Betancourt arraigned for the murder of Lamont Lipka; police seek one more suspect
Tuesday, November 6th, 2018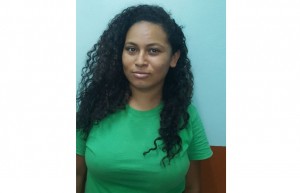 21-year-old island resident Tracy Betancourt was arraigned on Monday, November 5th at the San Pedro Magistrate Court for the murder of American businessman Lamont 'Monty' Edward Lipka. She is to return to court on January 30, 2019. While she has been remanded to Belize Central Prison, police investigation continues, and they are looking for one Leon Walford, who is believed to be connected with the murder.
Lipka was shot and killed at his restaurant, Tropicana Bar and Grill, on Coconut Drive on May 13th of this year. An unknown gunman walked into the establishment after 9PM and shot him six times in the presence of patrons. Lipka was hit in the head, neck, chest, abdomen, and arms, killing him almost instantly. The culprit then ran in a southerly direction, making good his escape.
Police have not provided details about their investigation, however, one day after Lipka's murder, Betancourt and 18-year-old John Carlos Hernandez were arrested and charged with Kept Ammunition without a Gun License. The duo was charged with the offense after San Pedro Police searched Hernandez' apartment and discovered seven 9mm live rounds of ammunition. Betancourt was present in the apartment, thus she was also charged.
Betancourt did not spend much time behind bars, and after a few months, she was out and back on the island. Meanwhile, police revealed during a press briefing on October 25th that they had found the gun used to murder Lipka. According to Assistant Superintendent and Commander of Crimes Investigation Alejandro Cowo, police investigation had led to a pistol that was found on the island. The weapon, along with expended shells on the crime scene was sent to the National Forensic Science Service for testing and matching. After the tests, it was concluded that this was pistol used to kill Lipka.
Betancourt is well known to the police. She was first charged for Drug Trafficking back in September of 2016. Acting on information, police intercepted a yellow Mazda Protégé four door Taxi at the corner of Caribeña Street and Barrier Drive. Betancourt was sitting in the front passenger side of the vehicle with a brown cardboard box on her lap. After a search was conducted inside the box, police found four wrapped parcels consisting of cannabis. The drugs were weighed at the San Pedro Police Station amounting to 1,875 grams. She was arrested and charged.
In April of 2017, she was charged for the offense of Kept Ammunition without a Gun License, when police searched her residence. The research resulted in the discovery of eight unlicensed 9mm rounds of ammunition. In the beginning, police had only charged her then-boyfriend Jimell Paul Jex, who was killed in January 2018. But a few days later, Betancourt was arrested and charged for the crime.
Follow The San Pedro Sun News on Twitter, become a fan on Facebook. Stay updated via RSS