SPJC celebrates largest graduating class yet
Thursday, July 7th, 2016
The San Pedro Junior College (SPJC) held its 15th Commencement Exercise on Saturday, July 2nd at the Angel Nuñez Auditorium. Since its establishment in 2000, classes have grown significantly. This year, SPJC was proud to announce its largest graduating class yet. At 5PM, 50 proud students dressed in their cap and gowns marched to the tune of Pomp and Circumstance. This year's theme was, "Nothing is really over until you stop trying," and the Master of Ceremonies was Alex Nuñez.
Parents, family members, friends, and special guests joined the graduates in singing the National Anthem. Abel Guerrero Sr. led the audience with the invocation, and Karen Cunil, who held a Grade Point Average (GPA) of 3.59 delivered her salutatory address. Minister of Tourism and Civil Aviation Hon. Manuel Heredia Jr. served as the guest speaker of the ceremony. Within his speech, he acknowledge the milestone each graduate accomplished in their academic career, while offering encouraging words.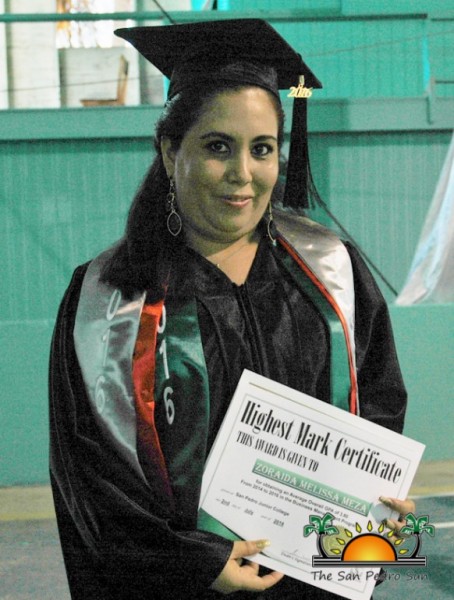 Gustavo Ellis, Dean of SPJC, gave the Dean's Report, and Neima Gomez and Froylan Gilharry distributed the awards to students who had a GPA of 3.0 to 3.49. Jose Paz, Chairperson of the SPJC Board, gave the Chairman's Address. Holding a GPA of 3.8 was the valedictorian for the Class of 2016, Zoraida Meza. She proceeded to give her valedictory address, and spoke about how learning is endless.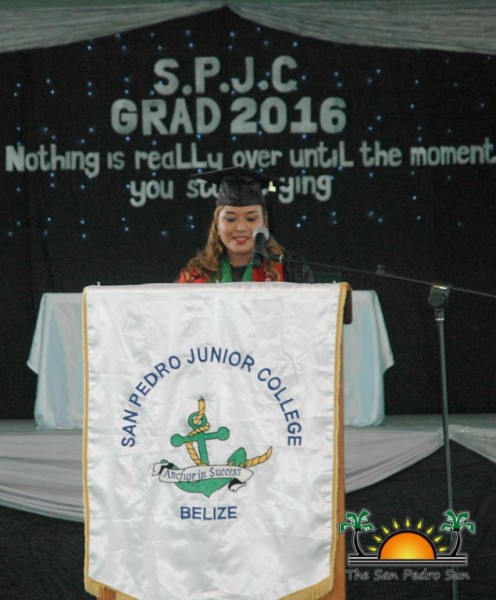 Under the distinguished patronage of Paul L. Kelly, and Odeilia Caliz, Associate's degree diplomas were distributed to the graduating class. Marthalicia Vasquez serenaded the class with a rendition of "Never Give Up" by Yolanda Adams. To conclude the ceremony, Lucilia Perez gave the Vote of Thanks.
List of Graduates
Associate Degree in Business Administration Majoring in Accounting: Victor Ake*, Alisha Cadle*, Noel Caliz*, Karen Cunil*, Samantha Galeano, Lucila Perez*, and Daliny Quintana.
Associate Degree in Business Management: Josselyn Briceno*, Delmi Caliz, Geovanna Carrillo*, Alberta Cucul, Amari Duncan*, Pedro Garcia*, Ashley Hancock*, Jamyka Jones*, Tisane Martinez*, Zoraida Meza**, Isaura Nunez*, Lisa Pook*, Isolene Bailey*, Albert Cassasola, Elveria Choco* Cesar Cordova*, Amarilis Ayala*, Mayrita Gongora, Yakarelis Hernandez*, Amir Marin*, Israel Mejia*, Vivian Noralez*, Jessica Pinelo*, and Justin Ritchie*.
Associate Degree in Tourism Management: Meldre Astacio, Josue Cerritos*, Alfonso Cruz, Kirsty Perez*, Kelsy Sanchez*, Jeriel Catzim*, Kyle Crimmins*, Kristie Franco*, Louis Pitterson, Randy Selgado, Antonio Solis*, Janelle Tillett*, Rafael Torres*, and Alfredo Trejo*.
**Honor Roll & Valedictorian                Highest Marks                 *Honor Roll
Congratulations to all of the graduates!
Follow The San Pedro Sun News on Twitter, become a fan on Facebook. Stay updated via RSS