SPJC students place 2nd in tertiary level business fair
Saturday, April 1st, 2017
In celebration of Coastal Zone Awareness Week 2017, San Pedro Junior College (SPJC) competed and placed second in in the first annual "Coastal Awareness" Tertiary Level competition on Thursday, March 23rd. Under the theme, "Business and the Environment: A Foundation for Sustainable Growth", the competition took place at Corozal Junior College's (CJC) school grounds.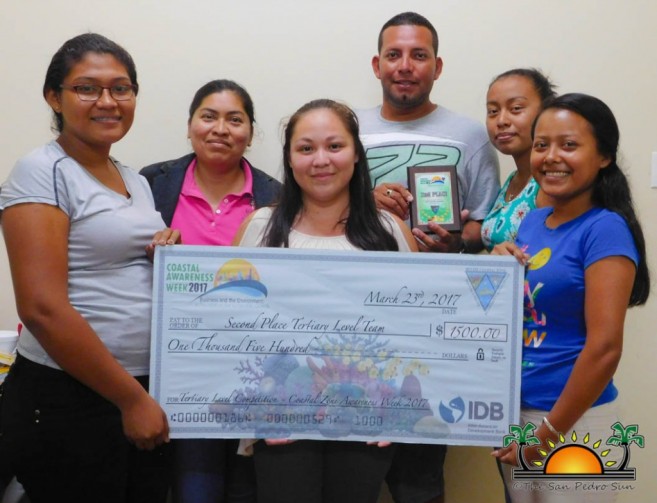 SPJC's team members Damaris Morales, Dora Trejo, Kelcy Alamilla, Pablo Mendoza, and Heidi Cruz presented their project, "Sea Grass Eco Fuels". The competition was aimed to spread awareness, and showcase sustainable entrepreneurship. SPJC'S business proposal was about converting sea grass into raw material, which produces methane gas. With their motto 'Harvest today, harvest tomorrow; safer environment', the team explained that the seagrass is dried completely in the sun, transported in a can to decompose, and it then produces methane gas.
Morales said that team's inspiration was derived from sargassum. "The sargassum accumulates on the island every year. It has created a lot of issues in our society, primarily its unpleasant stench. It also makes our beaches less attractive, and it destroys our seagrass beds, which affects our fish habitats," said Morales.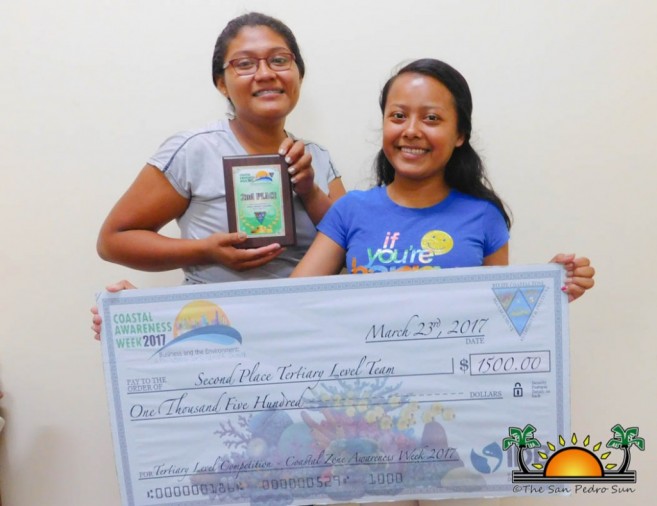 The business aspect of the project notes that the community gets a cheaper alternative to butane gas, as it can be used for cooking or to power a generator. Environmentally, the project provides a method of removing and reusing the Sargasso effectively. The community benefits from a cleaner beach and cheaper alternative to fuel. St. John's Junior College's project "Coco Plum" came in first place, while CJC took third place with "Marine Algae". SPJC's second place award included a $1,000 check and a plaque.
SPJC's faculty and staff congratulates the students for representing the institution well. Special thanks also goes to the team's mentors: Neima Gomez, Miguel Alamilla, and Pedro Garcia, for making this project successful. They also thank the judges: Ishmael Lucien Quiroz of the Inter-American Development Bank, Jaime Williams, Branch Manager of the Development Finance Cooperation, and Jorge Gentle, Business Advisor of the Small Business Development Center.
Follow The San Pedro Sun News on Twitter, become a fan on Facebook. Stay updated via RSS