Bailando a Todo Color: Carnaval 2016, a festival of colors
Thursday, February 11th, 2016
The island came alive from Sunday, February 7th through Wednesday, February 10th during the 2016 El Gran Carnaval de San Pedro. The traditional celebration is held to usher in the 40-day Lenten Season, and this year's carnaval was held under the theme "Bailando a Todo Color". From painting to the comparsas' presentations, festivities were bigger and more colorful than ever.
Originally, festivities were scheduled to commence on Saturday, February 6th with the annual block party at Central Park, but due to inclement weather, the party was postponed. Nevertheless, the spirit of carnaval was not dampened, and on Sunday, February 7th, the fun started in earnest. During this time, traffic access on Barrier Reef Drive and a portion of Pescador Drive was closed. Those not wanting to participate in the painting were encouraged to avoid these areas.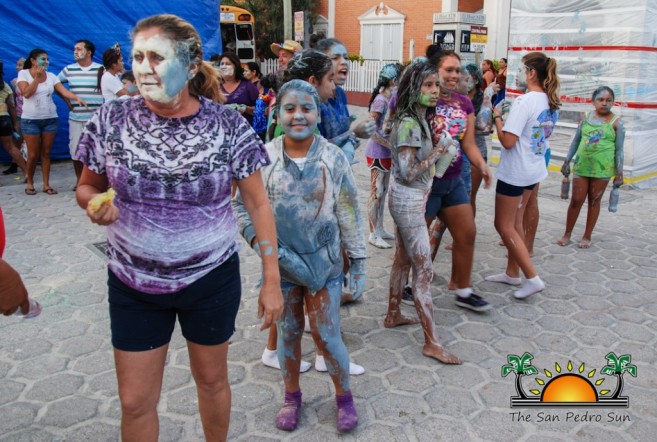 The three days of painting and comparsas presentations started with a Color Powder and Foam Party at Central Park at 3PM hosted by DJ Debbie and DJ Karma.
It was a fun filled day, as children, adults and even visitors reveled in the island's tradition of painting each other while enjoying the new addition of a beach party. 
Of course, the comparsas were also out delighting the crowds with their humorous dance presentations. Three out of the four registered groups took part in Sunday's festivities: San Pedro AIDS Commission as the Hawaiians, Flora Ancona's Comparsas Group as the Tourists and the Black and White Charikanari Dancers.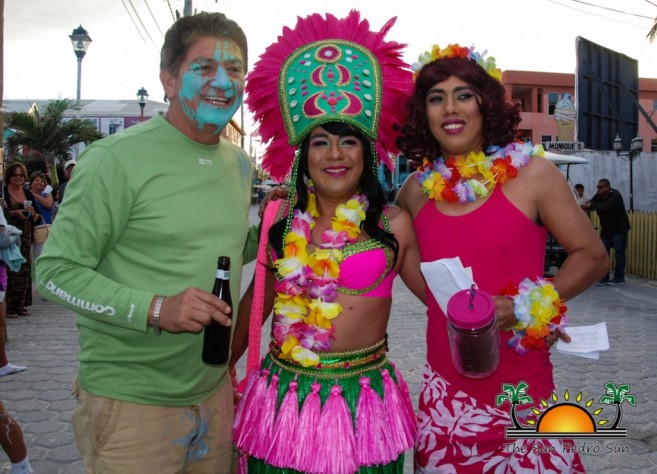 The fun continued on Monday, February 8th with more painting and comparsas' presentations. This time all four groups were out. San Pedro AIDS Commission presented under the theme "Quiero chupar, pero no hay cerveza", inspired by the Belikin shortage in San Pedro during the Christmas and New Year's holidays.
Flora Ancona's Comparsa Group depicted their presentation to the Miss Universe scandal when the wrong winner was announced.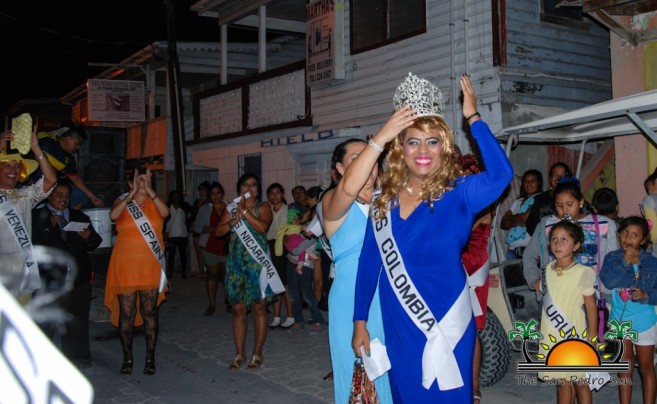 The Black and White Charikanari Dancers also took to the streets with their unique fusion of Garifuna culture and the Carnaval tradition.
Finally, making their debut was the all-male group dressed as women, the Barbos. Dressed in drag, the Barbos surely gave one entertaining presentation.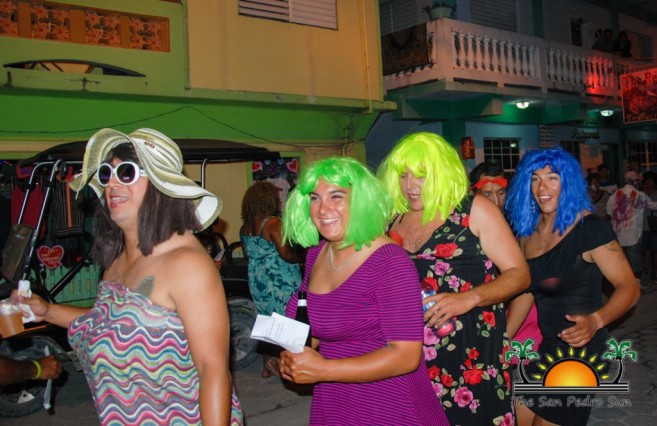 New Sensation Band and DJ Debbie also provided entertainment at Central Park from 6PM.
Tuesday, February 9th was the highlight of festivities, as it was the last day of painting and comparsas presentations. Everyone came out in full force to celebrate the islands tradition. New Sensation Band, DJ Debbie and DJ Dalla provided musical entertainment at Central Park starting at 6PM to a crowd of carnaval partiers. Since this was the final day, the comparsas went all out.
Of course, the comparsas groups were not only performing for the crowd's entertainment, but they were also hoping to catch judges' eyes and win the title of top comparsas. In the end, it was the San Pedro AIDS Commission Comparsas group who took the coveted 2016 title.
In second place was Flora Ancona's Comparsas group
Third place went to the Black and White Charikanari Dancers Comparsas group
The Barbos settled for fourth place.
Carnaval celebrations ended on Wednesday, February 10th with the burning of Juan Carnaval. To close off the celebration, islanders participate in the reading of Juan Carnaval's will, followed by the traditional burning of his body. The burning of Juan Carnaval is an island tradition done to expel bad luck and negative vibes from the island.
In typical humorous fashion, Don Juan got the last laugh with his will, which is as follows:
SPANISH VERSION:
"Buenas noches a todos mis hijos, hijas, entenados, sobrinos y amigos. Hoy me quiero despedir de todos pero antes de hacerlo, lamento decirles que tengo una mala noticia. Este año con tanto bar de mujeres y strip clubs, me fui a Captain Iguana's y Blue Hole y gaste todo mi dinero en mujeres y en el alcohol. Asi que este año, todo lo que les puedo ofrecer es mi sabiduría y consejos.
Ahí les va:
• Dejen de comerse como perros y gatos que al fin de cuenta cuando no hay comida, el perro y el gato comen del mismo plato.
• Pongan mucho repelente y limpien sus patios y casas por que sino se mueren por borrachos, el Zika los va llevar.
• Dejen tanto vehículo y pónganse a caminar. Que cuando les pesa tanto las nalgas no buscan a quien culpar.
• No pierdan sus cabezas por un culito, que cuando estén viejitos ni sus culitos les van a limpiar.
Por ultimo, a mi queridísimo San Pedro, Como siempre, les dejo buena vibra, que la armonía siempre triunfe…Que tengamos un año de prosperidad, sin desastres y mucha fiesta! Que Viva la Tradición! Que Viva el Carnaval de San Pedro!"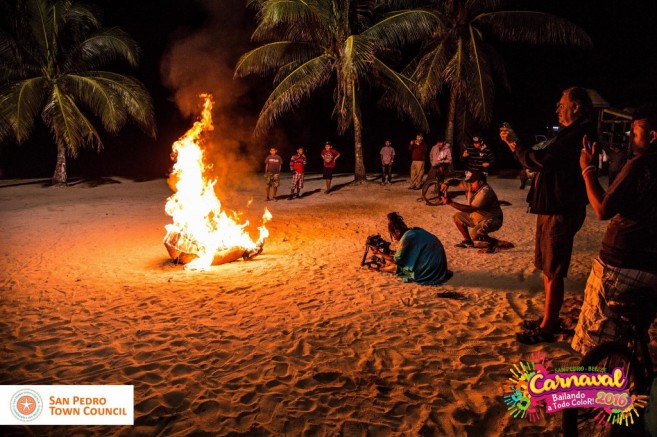 ENGLISH VERSION:
Good night to all my sons, daughters, step-children, nieces and nephews, and friends. Today I want to bid farewell to all; but before I do, I have to give you some bad news. This year, with so many bars and strip clubs, I went to Captain Iguana's and Blue Hole Bar and spent all my money on women and rum. So, all I have to leave you is my advice and knowledge.
Here goes:
• Stop fighting with one another like cats and dogs. After all, when the food is scarce, both cat and dogs eat from the same plate.
• Spray on repellent and clean your yards and homes, because if you do not die an alcoholic, the Zika virus will take you down.
• Park your vehicles and start walking, because when your butt starts getting big, you run out of excuses on who to blame.
• Don't lose your minds over flings, because when you're gray and old, no one will want to clean your behind.
Lastly, to my lovely San Pedro, like always, I wish you all good vibes and that you all live in harmony. May everyone have a year filled with prosperity, without disasters and lots of parties! Long live the tradition! Long live the San Pedro Carnaval!
The San Pedro Town Council and the San Pedro House of Culture would like to thank everyone who helped in making the 2016 Carnaval a huge success. Que viva El Gran Carnaval de San Pedro!
Please help support Local Journalism in Belize
For the first time in the history of the island's community newspaper, The San Pedro Sun is appealing to their thousands of readers to help support the paper during the COVID-19 pandemic. Since 1991 we have tirelessly provided vital local and national news. Now, more than ever, our community depends on us for trustworthy reporting, but our hard work comes with a cost. We need your support to keep delivering the news you rely on each and every day. Every reader contribution, however big or small, is so valuable. Please support us by making a contribution.
Click to Donate
Follow The San Pedro Sun News on Twitter, become a fan on Facebook. Stay updated via RSS