SPTC addresses unregulated beach dredging in northern Ambergris Caye
Friday, September 14th, 2018
The site of what appeared to be unregulated dredging in front of a beachside property nearly ten miles north of San Pedro Town caused much concern on Thursday, September 6th, as the practice is not just illegal, but the area is known for turtle nesting. Images of the incident on social media prompted The San Pedro Town Council to pay a visit to the area, where they observed a large pile of sand, a hole on the beach filled with Sargassum, and clear evidence that heavy machinery had been used.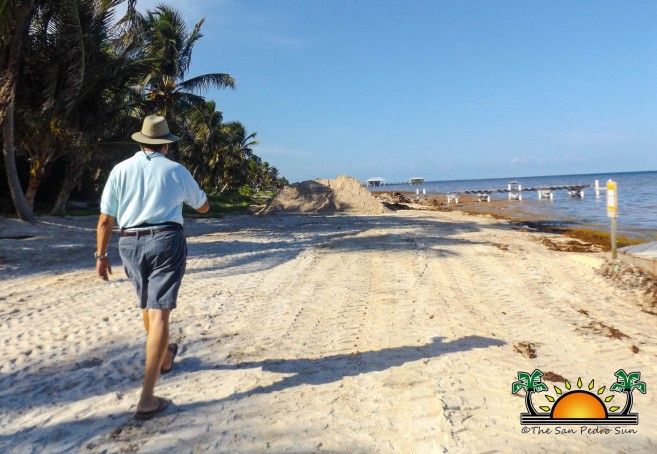 Reports from eyewitnesses stated that unidentified men had been using a backhoe, digging up sand and then loading it onto trucks and transporting it away. The destination of those trucks loaded with sand could not be determined. Mayor Daniel Guerrero was able to get in touch with the owner of the property and ordered him to discontinue the practice and to spread out the sand that had been dug back in place.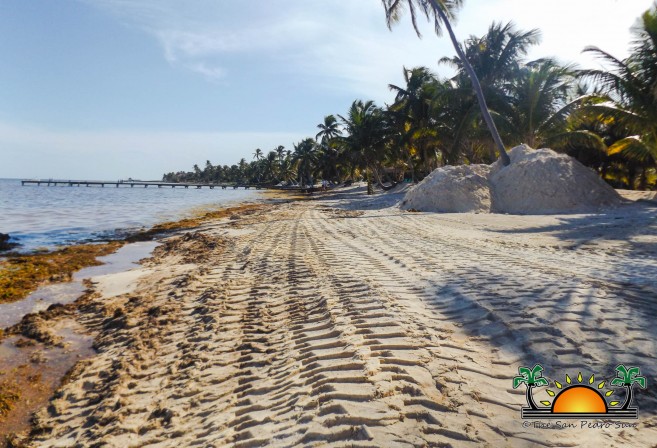 The property owner complied with the order, and by Friday, September 7th the sand had been returned to the beach. He tried to justify the actions as a normal method to get rid of the Sargassum that is affecting the entire coast of the island. He alleges that nearby residents are doing the same, digging a hole in the beach and then burying the seaweed. He further declared that there were no turtle nests in the area that he was aware of. Hol Chan Marine Reserve sent out personnel to inspect the area and confirmed that it is a turtle nesting area and that all property owners in the vicinity should be cautious.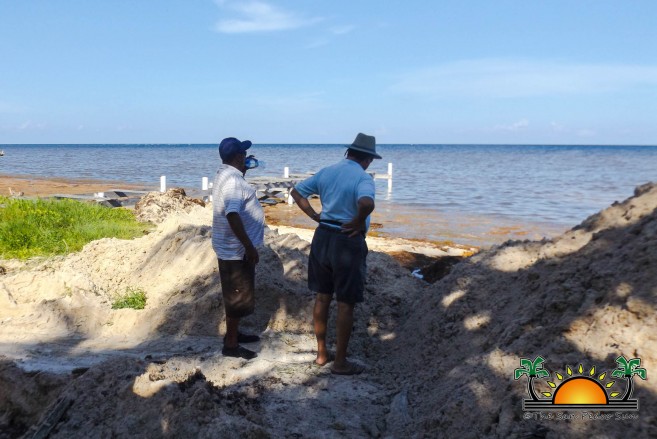 Mayor Guerrero said that the practice is intolerable as it damages the beach, which is 'Queens Land.' "I can understand that people are trying to do their best to get rid of the Sargassum, however, in this case, they have been wrongfully advised. Nobody can just dig up holes on the beach or use heavy equipment. They must contact the Town Council for guidance before engaging in practices that are against the law and damages the environment," said Guerrero. The Mayor was accompanied by Councilor Gabriel Nuñez, who assessed the activity on the beach and concluded that the practice was detrimental to the state of the beach. The SPTC is poised to make another visit to the area to monitor if similar activities are taking place.
The Laws of Belize prohibits such activities on crown land. According to the Lands and Surveys Department of the Ministry of Natural Resources, national lands include the seabed and all reservations along all water frontages including rivers and the sea, commonly referred to as the 66-feet reserve measured from the high-water mark. This means that permission by the Minister of Natural Resources is necessary to use the seabed or 66-feet reserve and additional authorizations are required by law for purposes such as dredging.
Follow The San Pedro Sun News on Twitter, become a fan on Facebook. Stay updated via RSS