Ambergris Caye's Carina Paz recognized as Oceana's 2020 National Wavemaker of the Year
Monday, October 26th, 2020
On Saturday, October 24th, islander Carina Paz was recognized as the National Wavemaker of the Year during Oceana's first virtual Annual General Meeting. Paz graciously accepted the award and thanked Oceana for recognizing the various conservation activities she has been involved in.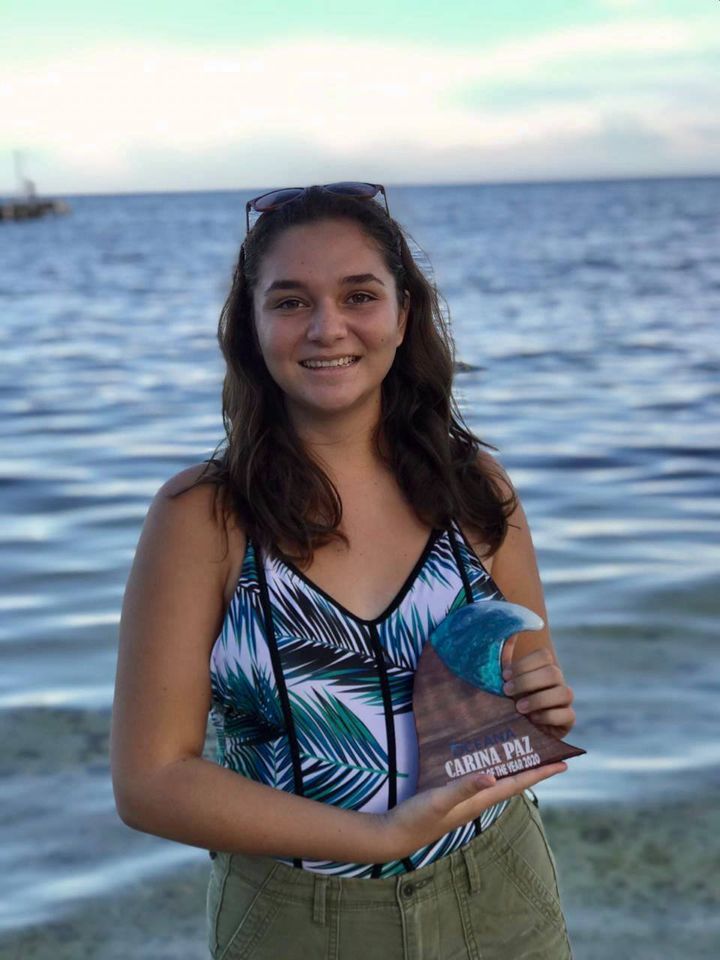 Paz further encouraged young Belizeans to join in protecting Belize's natural resources, challenging them to make it a priority and protect one of the most important ecosystems in the country, the Belize Barrier Reef. "Let's protect and preserve our Belize Barrier Reef," said Paz. "It is our marine heritage; become an Oceana wavemaker – make a splash, make a difference." She looks forward to engaging in more environmental activities and hopes more islanders become guardians of the fragile marine ecosystem, supporting thousands of livelihoods.
Carina's environmental background
Paz became a swimmer and mastered her snorkeling skills on the reef at the tender age of three. She surprised everyone when she was able to identify over thirty species of tropical reef fishes at the Hol Chan Marine Reserve. Her passion for the ocean and marine creatures only intensified as she grew older. Paz first showed commendable characteristics of a humanitarian on her eighth birthday. Instead of presents, Paz requested that her guests make a monetary contribution to her grandmother, who was rebuilding her water-damaged home at the time. This was the first community outreach initiated by a little island girl.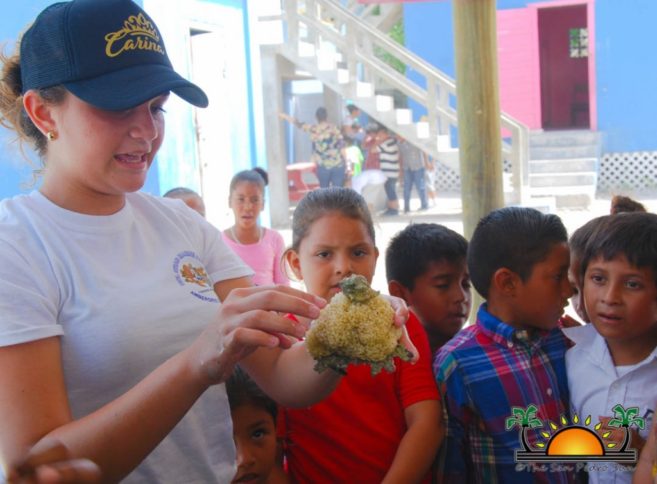 At the age of 12, Paz decided she shouldn't keep her passion and knowledge of the ocean to herself. She believed that it was pivotal for her peers to gain a better understanding of the marine environment. For two consecutive years, as a Standard 5 and 6 student at the San Pedro Roman Catholic School, she organized a "Touch Tank" display with live marine creatures including starfish, conch, sea urchins, sand dollars, sea cucumbers, and other marine plants and algae. Her exhibition overwhelmingly attracted over 1000 students and teachers each year because of the hands-on experience and close encounters they could have with marine life.
Paz remained determined to help conserve and protect Belize's natural heritage. Paz's first community outreach was in the capacity of a volunteer for the Belize Tourism Industry Association, Green Reef, and Hol Chan Marine Reserve. She was an active participant in several garbage clean-up campaigns and tree planting events for Earth Day, World Environment Day, and Reef Week. Paz also volunteered and participated in sea turtle research and monitoring with Hol Chan biologists at the sea turtle nesting beach at the Bacalar Chico National Park and Marine Reserve.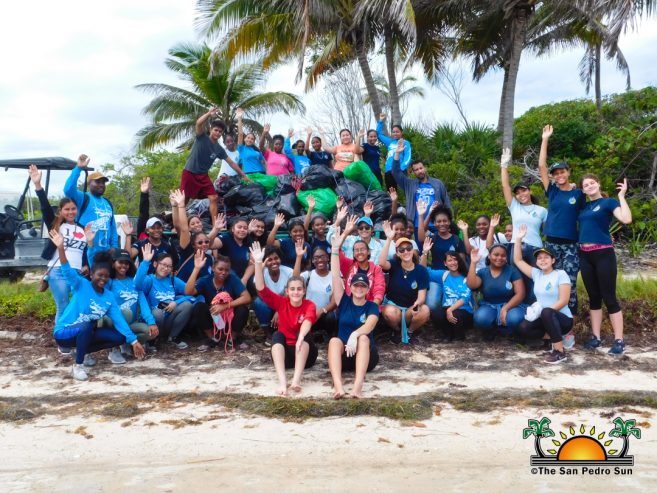 Paz soon became a certified Junior PADI scuba diver, and since then, she has dived with spotted eagle rays, sea turtles, sailfish, bull sharks, dolphins, manatees, reef sharks, whale sharks, and an abundance of marine life. In 2014, she did her first decompression dive at the Great Blue Hole.
Paz has also displayed immense leadership skills by serving as a Youth Ambassador, a lecturer, and a trainer at the Annual Green Reef Summer Camp in the Bacalar Chico National Park. Between 2013 and 2015, she gave lectures on coral reef fish ID and on the life cycle of sea turtles to children from Belize City and youth from rural communities. She was also one of the snorkeling instructors for the youth at the summer camp.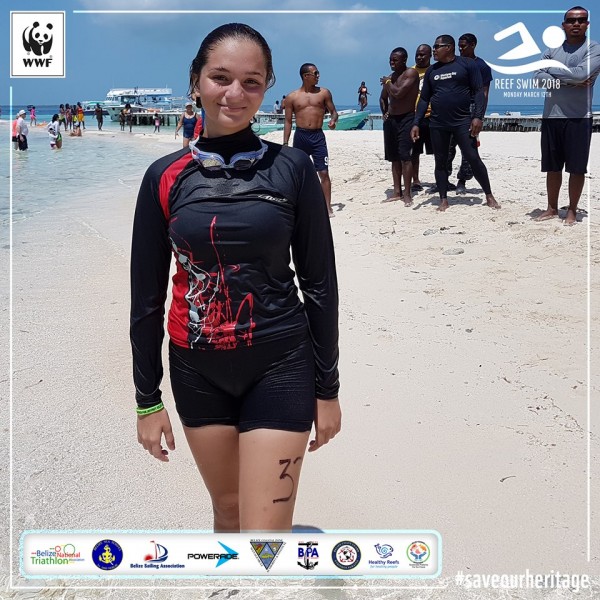 In 2017 and 2018, Paz participated in Hol Chan's annual Swim to the Reef event to raise awareness for reef conservation. She was the youngest swimmer to complete the challenge in both years. In 2018, at the age of 14, she participated in the Annual Swim Challenge from English Caye to Goff's Caye. This was organized by the World Wildlife Fund to raise awareness on the preservation of Belize's Barrier Reef System. Her participation in this event earned her the youngest swimmer's title to complete the 1.6 nautical miles swim across the English Caye Channel.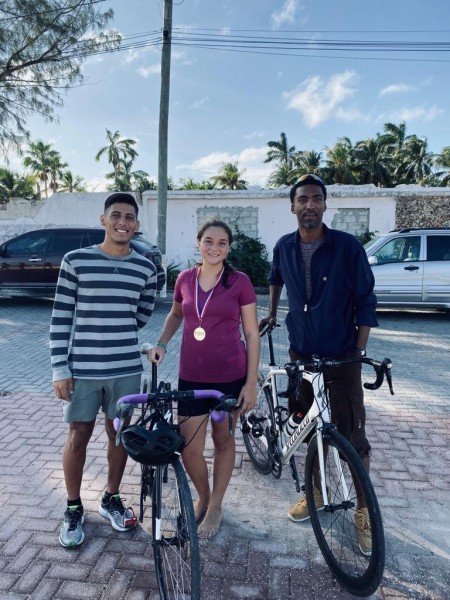 A year later, she emerged as the winner in the individual category during an annual Triathlon held by St. Catherine Academy (SCA). The competition included three disciplines: swimming, cycling and running. Apart from her contributions to the broader community, Paz has also been active in her school community. Paz has been an active member of SCA's Oceana's Wavemaker Club and has been the Vice-president for two consecutive years. As a board member, she has been an integral contributor to SCA's Water Project to ban water bottles and plastic pouches on campus and organized two beach clean-up events in North Ambergris Caye.
In January of this year, as a young person with an unwavering passion for marine conservation, Paz was asked to be the voice of the youth as a speaker and panelist at two climate change conferences – the Climate Change and Youth Forum at SCA's Foundation Day, and the Adolescents and Youth engaged for Change and a Sustainable Future Forum organized by Spouses of CARICOM leaders Action Network in partnership with Special Envoy for Women and Children.
Support for a reduction in climate change and preservation of the environment
Climate change has now become an urgent threat to marine life and the environment on the whole. This has sparked global concern, and the world is in dire need of environmental activists. Paz appeals to Belizeans to ensure that the country's natural features remain available for those who come behind us. They have the right to be able to experience these natural wonders. Paz embraces the statement of former U.S. 1996 presidential candidate Ross Perot. "The activist is not the man who says the river is dirty. The activist is the man who cleans up the river."
Paz is genuinely an example of how powerful the youth movement can become when there is a vision and a passion for making changes. Ambergris Caye and the rest of the country relies heavily on natural resources; thus, it is paramount that each Belizean becomes a guardian of what keeps the country alive, the fragile ecosystems that feed this Jewel.
Oceana's AGM also saw several Wavemakers receiving certificates of appreciation for their sensational support for the organization's campaigns and initiatives over the past year. The awardees included the Rotaract Club of Corozal and the SCA Wavemaker Club from Belize District. Individual awards include Kanisha Cocom from Cayo, Ishmael Garbutt from Stann Creek, and Marvin Vasquez from Toledo.
The San Pedro Sun joins the entire nation in congratulating this year's awardees and all the best to our very own Carina Paz in her future endeavors as the 2020 National Wavemaker.
Follow The San Pedro Sun News on Twitter, become a fan on Facebook. Stay updated via RSS