Carina Paz excels in Triathlon competition in Belize City
Thursday, November 21st, 2019
San Pedro's very own Carina Paz competed in a Triathlon in Belize City on Saturday, November 16th, where she conquered three of the sport's disciplines (swimming, biking, and running) in 42 minutes. The competition had categories including three-member teams, who relayed each step of the Triathlon. Paz opted to participate as an individual, which came with a triple challenge that she completed.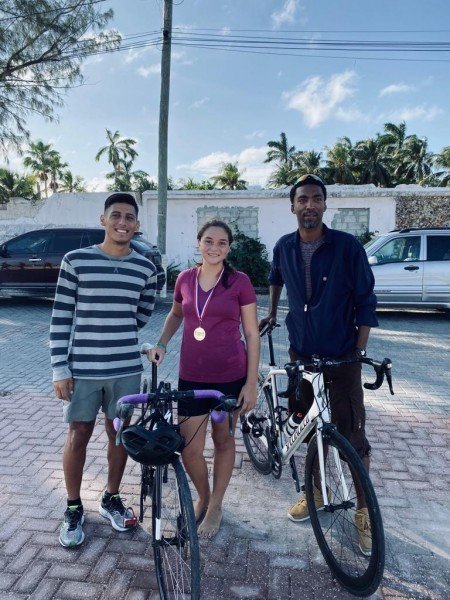 The event is an annual fundraising activity put together by St. Catherine's Academy. This year's competition started after 6AM at the Radisson Fort George Hotel and Marina, with swimming being the first challenge. After swimming four laps in the hotel's pool, the athletes biked to the round-a-bout in front of St. John's Junior College and back to Radisson Fort George Hotel. The last part of the sporting event involved a run to the MCC Grounds Stadium (across from Ramada Princess Hotel) and back to the starting point.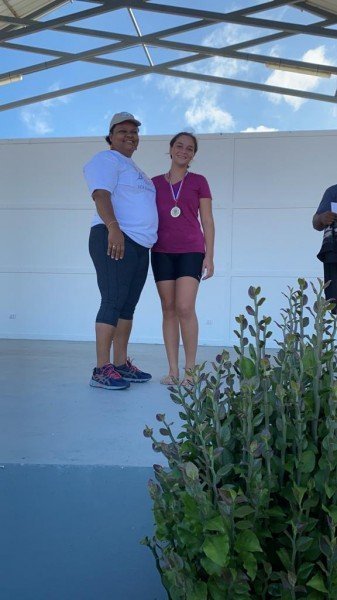 Paz completed all three activities in less than an hour, while other teams count with the advantage of having an athlete for each obstacle. However, Paz did not participate to win but rather wanted to prove to herself that she was capable of doing a triathlon all by herself. This personal challenge she was able to overcome with the support of her family and training team.
Her mother, Catherine Paz is proud of Carina's achievement and thanks Kent 'Bob' Gabourel, Kian Trejo, and Brandon Santos for their support. Gabourel told The San Pedro Sun that Carina approached them for help (with her mother's permission), and over six consecutive Saturdays, they trained before the triathlon. Gabourel added that the training team is happy to have helped Carina achieve her goal. He recalls that the strong winds of a cold front blowing made things even tougher for the competitors, but in the end, they all made it to the finishing line. This is the second time Paz has participated in the triathlon. Two years ago, she completed the swimming part of the race as part of a three-person team.
At the end of the event, everyone was recognized for their sportsmanship and invited to take part in next year's competition. The San Pedro Sun congratulates Carina Paz and all the other athletes on a job well done!
Follow The San Pedro Sun News on Twitter, become a fan on Facebook. Stay updated via RSS