Sargassum surge returns to island beaches
Tuesday, April 20th, 2021
As tourism slowly returns across Belize and San Pedro Town, the invasion of the macro-algae, Sargassum, is also making a comeback to our beaches. This is not good for regions dependent on tourism, and as Belize struggles to recover from the COVID-19 pandemic, Sargassum represents another challenge. While hoteliers and the sanitation department of the San Pedro Town Council (SPTC) remove as much as they can, massive mats of algae continue to wash ashore daily.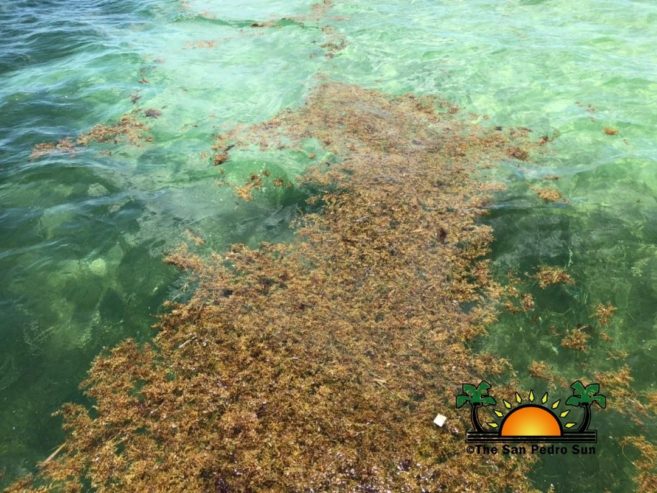 This ecological threat appears far from over. According to a report from a satellite monitored by the University of South Florida USA and the National Aeronautics and Space Administration, the 2021 Sargassum season looks less than ideal. The algae bloom has accelerated growth as of December 2020. The cause of the surge is attributed to deforestation, climate change, and increased fertilizer runoffs in the South American Amazon region. These causes continue unabated.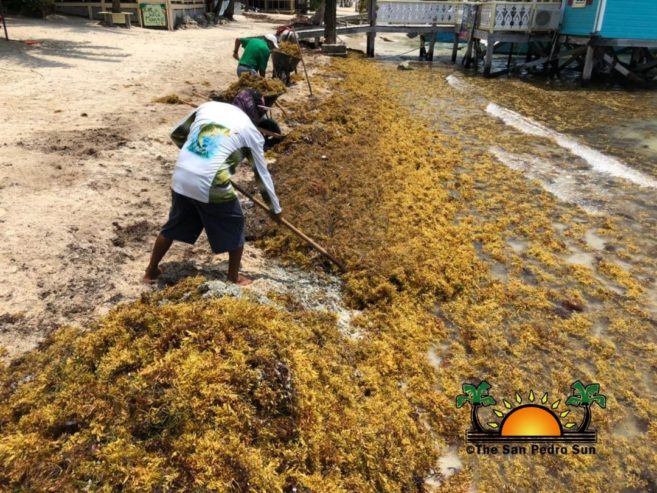 Along the eastern coast of San Pedro, Sargassum has been piling steadily since the beginning of March. The SPTC takes care of public areas, while beachfront property owners continue to do their best to keep their areas clean. Other parts of the island, however, have been choked with brown seaweed. Out in the Caribbean Sea, scattered Sargassum mats slowly drift towards the islands' shores and the mainland.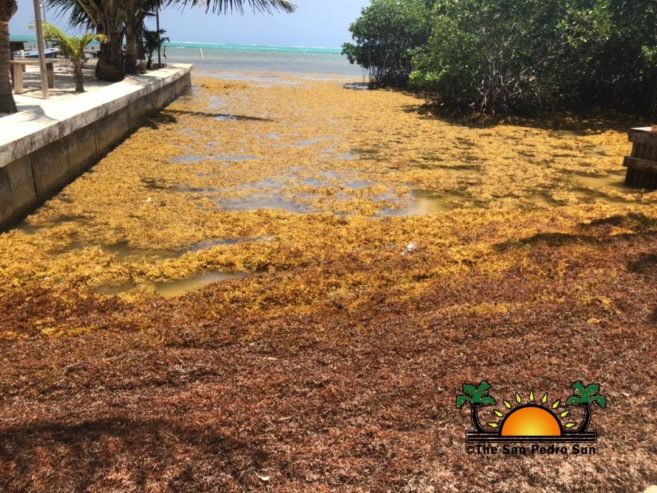 Stakeholders say the situation in front of their properties is somewhat under control, but they believe that if the seaweed invasion is not adequately addressed, it could worsen. This could significantly affect the tourism industry, which is a primary source of income in San Pedro. The threat Sargassum poses to tourism is its foul odor when decomposing on the beach. The natural phenomenon also turns the turquoise sea waters brown, kills marine life, and makes beaches unattractive. The algae invasion is known for affecting seagrass, mangroves, reefs and threatens fragile economies. There have been no reports of significant economic losses or any mass killing of marine species by the seaweed around San Pedro at this time.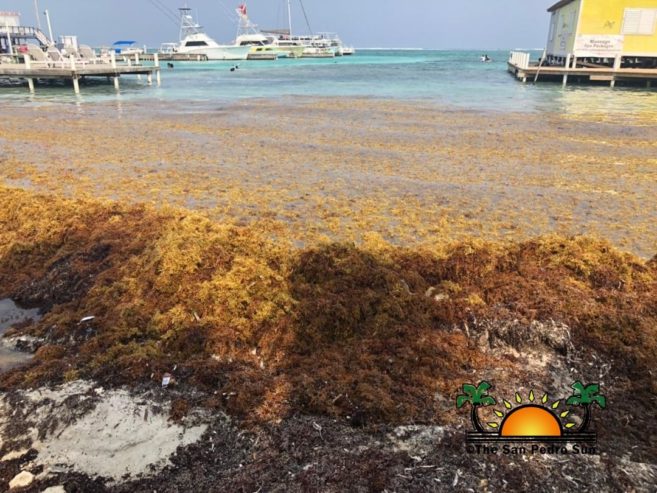 The current status of the amount of Sargassum out on the Caribbean Sea is around 4.3 million metric tons as recent as March. According to monitoring reports, this is similar to the record amounts in 2019. This influx of the algae is expected to move west on the Caribbean Sea, beaching on the island nations along its way, including Belize and the Mexican Quintana Roo coast, before heading north into the Gulf of Mexico and onto Florida USA.
Follow The San Pedro Sun News on Twitter, become a fan on Facebook. Stay updated via RSS