The influx of Sargassum on Ambergris Caye blamed for the death of juvenile fish
Saturday, June 12th, 2021
The persistent inflow of the Sargassum seaweed is taking a toll on juvenile fish around Ambergris Caye. As a result, vast amounts of small to medium dead fish are floating around the mangroves on the lagoon side of the island. Some of the species observed included pufferfish, barracuda, bonefish, reef fish, and young snapper.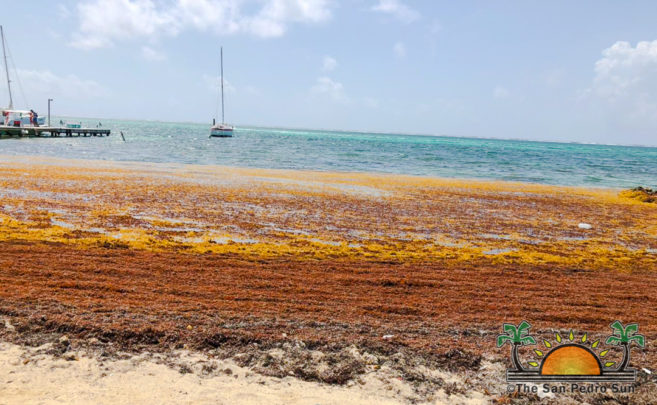 Sargassum is the main suspect as it makes its way through the mangrove channels that snake along our island borders. The Hol Chan Marine Reserve (HCMR) personnel is aware of the situation and is testing water in the different areas where the Sargassum accumulates. According to them, the oxygen levels near the island's eastern coast and the lagoon side are low. This is catastrophic for juvenile marine species that grow and develop in these shallow waters.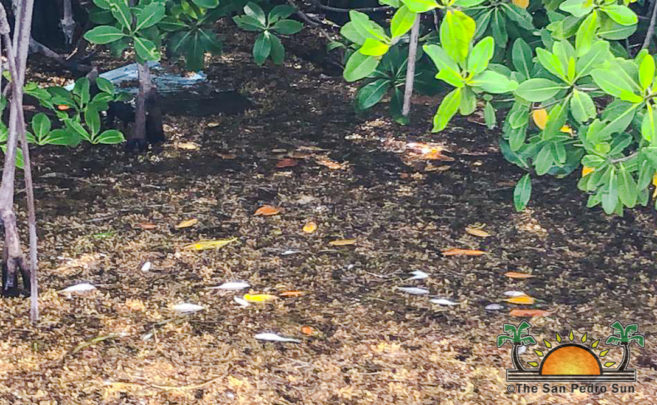 Large amounts of Sargassum consume oxygen, leaving fish gasping for air near the shore and, in this case, shallow mangrove areas. The most affected are juvenile fish near the coast and mangroves and return to the open sea once they have matured. HCMR agrees with the observation of islanders like Elito Arceo, who believe that the fishing industry may be impacted if more juvenile species continue to be affected. Arceo said that fewer fish would make it back to the open sea if nothing is done, resulting in the decline of fish and lobster populations. Therefore, it is essential to find a solution to decrease Sargassum beaching on the island.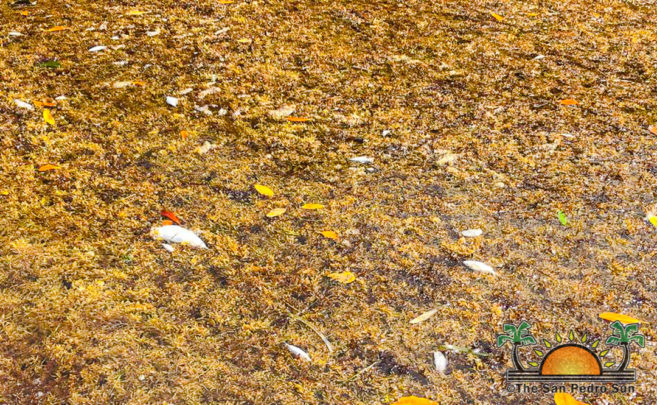 The outcome of the 2021 Sargassum bloom not looking good
Unfortunately, more Sargassum is forecast for the Caribbean region. According to a report (https://optics.marine.usf.edu/projects/SaWS/pdf/Sargassum_outlook_2021_bulletin05_USF.pdf) from the optical oceanography lab at the University of South Florida (USF), since May, the amount of the brown seaweed has increased across the central west Atlantic and the Caribbean Sea, setting a historical record. The Sargassum amount in the Caribbean is expected to expand into the summer, accompanied by more beaching events. The reports from USF indicate that for June and July, large amounts of Sargassum on the Caribbean Sea will slowly drifting west. These large mats of seaweed will eventually arrive on the coasts of Belize and Mexico, threatening juvenile marine life and the business sector in tourist areas.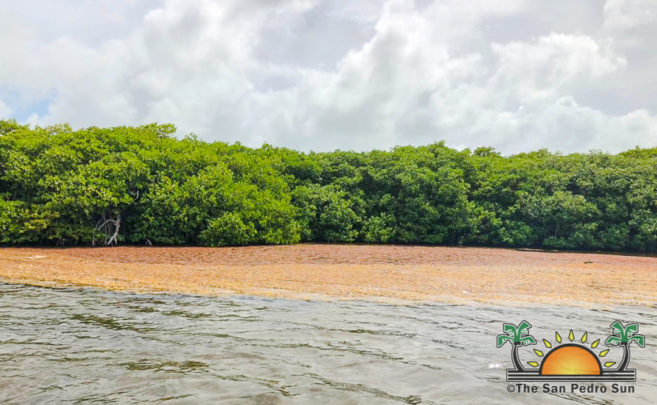 Residents on the island are advised not to consume these dead fish which can be tainted with harmful substances.
Follow The San Pedro Sun News on Twitter, become a fan on Facebook. Stay updated via RSS