GOB makes first payment towards BTL acquisition
Friday, July 22nd, 2016
On Wednesday, July 13th, the Government of Belize (GOB) made the first payment of over $190 million dollars to the Ashcroft Alliance as part of the arbitration award for the nationalization of Belize Telemedia Limited (BTL). While the entire award was for $458.4 million, the GOB had already paid off $65 million in September 2015, decreasing the amount required for the first installment.

After the GOB's acquisition of some 45,199,996 of BTL's shares in a span of eight years, the Permanent Court of Arbitration awarded the Ashcroft Alliance BZ $5.6547 per share, at an 8.34% interest per annum, along with a $4.4 million arbitration fee.
Managing Director of Legacy Fund, Ervin Perez told the Amandala Newspaper that as of June 15, 2016, the amount of excess liquidity (in terms of hard cash) in the system is $451,802,000, up about $81 million from the same time last year. The GOB is currently making use of the increased liquidity of Belize's financial system, and reports indicate that GOB was able to finance the payment by Treasury Notes sold to the Central Bank. Since the payment was made through domestic borrowing, the debt burden has increased to about 86%.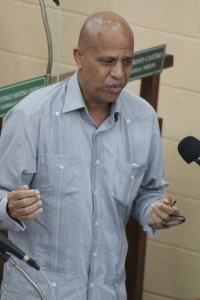 Financial Secretary Joseph Waight shared that the Central Bank, the GOB's fiscal agent, will purchase the Government's notes and bills and then sell them to institutional investors such as commercial banks and insurance companies via a bid process.
The difference using treasury notes are that they have a fixed, longer term and they vary in maturity from one to 10 years. The interest rates also vary: 3% for the one-year notes, 4% for the five-year notes, 4.5% for the seven-year notes and 5.25% for the 10-year notes.
Waight further explained that since Dunkeld International Investments Limited held 34 million shares in BTL at nationalization, they are to receive two-thirds of the funds. The remainder is to go to the BTL Employees Trust, another Ashcroft-controlled entity, which held roughly 11 million shares at nationalization.
According to figures provided by the Financial Secretary, Belize's debt to the Gross Domestic Product ratio will spike up to a high of 91-92% after the GOB makes the second half of the payment this year.
Follow The San Pedro Sun News on Twitter, become a fan on Facebook. Stay updated via RSS