Oceana Belize and Coalition for Sustainable Fisheries to commit over two million dollars to assist fisheries' transition from gillnets
Saturday, November 16th, 2019
Oceana Belize and the Belize Coalition for Sustainable Fisheries (CSF) have committed via letters of intent to the Government of Belize (GOB) over two million dollars to assist Belizean fisheries transition from gillnet use in Belize's waters. Both Oceana and the Coalition require that the GOB take the necessary legal steps in 2019 to declare a ban on gillnets at the beginning of 2020. This policy change will support sustainable fisheries management efforts and ensure that Belizean fishers will always be able to fish. Eligible beneficiaries for this initiative have been identified by the Belize Fisheries Department in response to the request made under the Freedom of Information Act.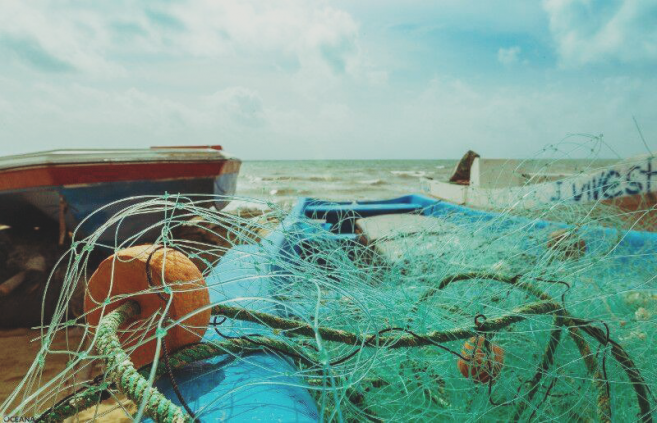 Gillnets are notorious for indiscriminately trapping and killing marine life. This practice, if allowed to continue, will jeopardize biodiversity, the fishing and tourism industries, and our food security. Moreover, gillnets are believed to be the gear of choice for illegal fishing, which continues to degrade the integrity of marine resources, threaten the national security, undermine Belizean livelihoods, and further compromise our food security. Addressing illegal fishing activity in Belizean water is, and therefore, should be treated as an urgent national priority.
In addition to removing an increasingly large number of fish from the ocean, gillnetting can be extremely destructive when lost or forgotten in the water because they continue to catch animals, a phenomenon known as "ghost fishing." Without anyone profiting from the catches, they are affecting already depleted commercial fish stocks. Caught fish die and in turn attract scavengers, which are also caught in the same net, thus creating a vicious cycle of death. Moreover, when caught on a reef, nets not only catch fish, turtles, crustaceans, birds and marine mammals but also destroy hard and soft corals, wiping out complete ecosystems while tossing around in the current.
Oceana and the Coalition, along with various marine biologists and environmental organizations have long condemned the use of gillnets, believing that it poses a threat to the environment and economy. Therefore, at the beginning of 2019, they launched various educational campaigns to educate Belizean fishers on the negative impacts of gillnets. Both organizations remain committed to supporting fishers as they transition away from gillnet use in Belize's waters. However, the GOB is yet to comment on this.
The call for GOB's action into the matter has also been voiced by the Belize Network of Non-Governmental Organizations (BNN). In a press release issued on Wednesday, November 13th, the BNN said it was appalled by reports that non-resident fisherfolks entered Belize via the southern border allegedly without clearing Customs or Immigration. The group, believed to be from Guatemala, and who fish in Belize waters, set a protest in Belmopan in favour of the continued use of gillnets in Belize. BNN also shared their concerns regarding the allegations that such a group was supported in Belize by a former senior employee of the Fisheries Department.
The BNN takes this opportunity to reiterate its public position that gillnets are notorious for indiscriminately trapping and killing marine life. This practice, if allowed to continue, will continue to jeopardize our marine life, the fishing and tourism industries, and country's food security. The organization collectively call for a strategy to address illegal fishing activities, of which gillnets are the gear of choice.
According to the Belize Fisheries Department, in 2018 the number of license gillnetters was 83 persons. GOB is expected to be taking all necessary legal steps to implement measures to phase-out the use of gillnets in Belizean waters. BNN ended their statement by indicating that the Belize Coast Guard has already publicly stated that a phase-out/ban of gillnets would significantly boost enforcement efforts against illegal fishing activities.
Follow The San Pedro Sun News on Twitter, become a fan on Facebook. Stay updated via RSS